Florida Winter Tour - 2011
Follow the links below the Florida image
to the latest day of our Winter Tour.
Updated: 06/21/11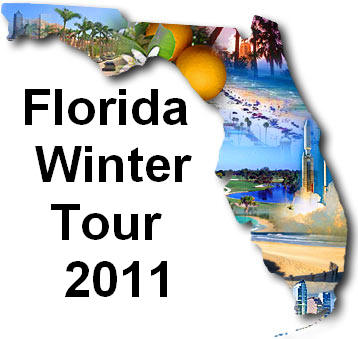 We are saying "Winter Tour" because we will move around the state experiencing what the state has to offer. We have not been in Florida since a two week long trip in the mid-90s. Our "Winter Tour" will include a trip to the Fort Lauderdale to board the Navigator of the Sea for a five day Caribbean cruise. This is our first extended stay in a warm climate during the winter.
Our plan included extra travel time because leaving Michigan and traveling in the winter can be challenging. We were supposed to have two long driving days with dry roads - Sunday and Monday. Our plan worked great because the Jet Stream dove south and brought a sever winter storm. We had one long driving day, a two day layover due to the winter storm, so we will need the extra travel days to reach warm weather.
Join us as we travel and enjoy the "South".
On the road to Florida: Sunday Monday Wednesday Thursday Our stay in Ocala, Florida
Our first two reserved camp sites in Florida: Heading to and at Kissimmee Prairie State Park
Our Next Stop, Big Cypress RV Resort
We interrupted our stay at Big Cypress for a cruise: Our Cruise - 2011
A brief tour of our home for a month: Big Cypress Seminole Reservation - 2011
One event we attended was the: Rodeo at Big Cypress - 2011
A side trip to the Florida Keys and Key West - 2011 made for an enjoyable three days.
We really had fun at Billie Swamp Safari - 2011 on the Big Cypress Seminole Reservation.
Another day was spent in the Everglades City area.
We visited the AH-TAH-THI-KI Museum - 2011 just before we left Big Cypress.
A day at Weeki Wachee Springs - 2011 was enjoyed while we were staying in Zephryhills visiting friends.
Our reason to stay in Zephyrhills - 2011 was to spend time with HH friends, Rex and Marilyn
Join us On the Road to Michigan as we leave the sunny south for the remainder of the cold Michigan winter.
On the road to Florida:
We left home at 7:00am Sunday to travel a long day on dry roads and in daylight.


Fred made this photograph of a huge truck warehouse depot in Ohio.
This photograph was possible because Mary Lou was driving.


North of Cincinnati we have always appreciated a large sculptor of
Jesus with up-stretched arms. It was hit by lightning and destroyed.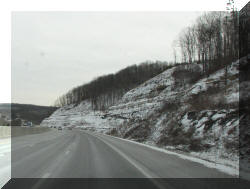 W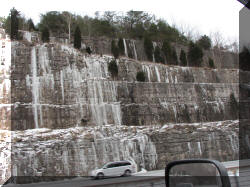 hile the roads were dry, the evidence of cold temperatures was visible.
Our first driving day was clear, dry and sunny. We drove 461 miles - many more miles than out usual 250 mile maximum. We traveled all the way to Corbin, KY. Getting into the campground raised the question about getting out - hills and icy roads could be a challenge.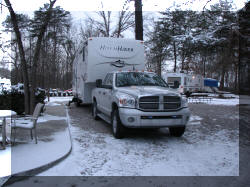 Our campsite at the KOA in Corbin, KY ($38 a night) offered a patio with furniture. We did not use it. The 23 degree temperature was to cold for enjoyment.
We only extended our bedroom slide to reduce the amount of space we had to keep warm. It makes our swivel rockers inaccessible and confirms our decision to have comfortable chairs for extended living. We miss them.
The white HitchHiker and the silver Ram make the amount of salt spray covering them difficult to see.
Monday morning was frustrating. We wanted to get across Jellico Pass before the weather worsened. As we were getting ready to leave, the motorhome that was next to us last night returned to their site. They were also heading south but were advised by a local police officer that Jellico Pass may be closed soon. After over an hour of unsuccessful research using the phone and Internet, we used the CB t talk to the truckers. Based on their reports, we left our campsite about 10:30am. We question if we would have been able to leave without a 4X4.

I-75 had one lane or more wet but open. Judging from the car in the ditch and the salt/plow trucks on the road, it may have been good that our departure was delayed.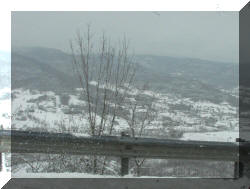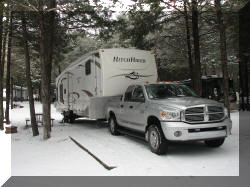 You will note two things in this photograph - more snow and what appears to be a clean HH and Ram. We would have been unable to drive through the campground to our site without a 4x4 and the HH and Ram appear much cleaner than they are.
We only drove 76 miles Tuesday to get over Jellico Pass. We stopped at Volunteer Park ($20 a night winter rate - Passport America park) in Heiskell, KY. It is a Passport America park but the seasonal rates are half price anyway. We paid $5 extra ($25) a night for a super site - pull-thru, long and on a level slab. The owner is a neat guy who looks like and seasonally portrays Santa Claus along with his wife - Mrs. Clause.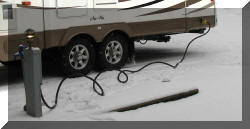 A 50amp cord coils up like
a long wood dowel when it is cold.
We decided to spend an extra day in Volunteer Park to wait for the snow handlers south of us to get their job done.
. . . But after watching the 11:00pm News reporting that I-75 through Atlanta had some lanes open but wet. We changed our minds and went to bed planning to leave about 9:00am.
Leaving the campground at 9:30am Wednesday, I-75 was clear and dry. Posted speeds were possible. We continued hearing the truckers talking about bad conditions in Atlanta.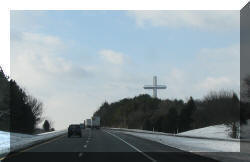 We saw another cross along side the road.
Once we crossed the Georgia state line, warning signs were common.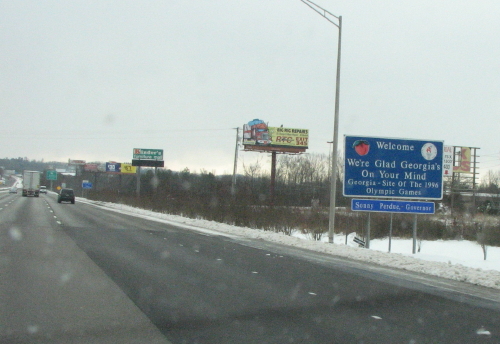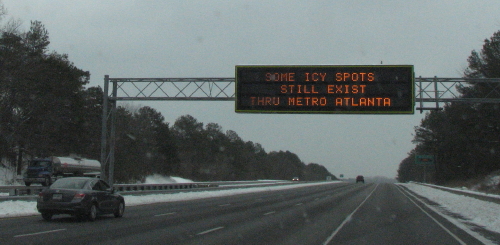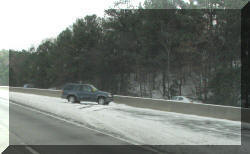 Every once in a while, a car could be seen in the ditch or facing the wrong way.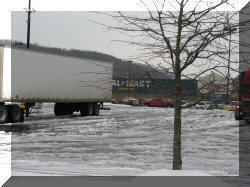 Like some minor streets, the Wal-Mart parking lot was covered with frozen ruts.
It was a bumpy ride for us and the HH. Thanks again to the 4x4 Ram, we made it.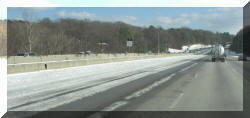 Approaching Atlanta, the left lane was seldom clear of snow.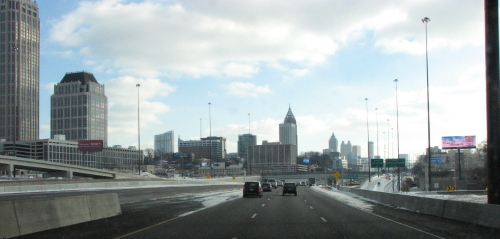 The skyline was beautiful
... but ...
once in the city, I-75 was far from clear.
Some entry and exit ramps were glare ice.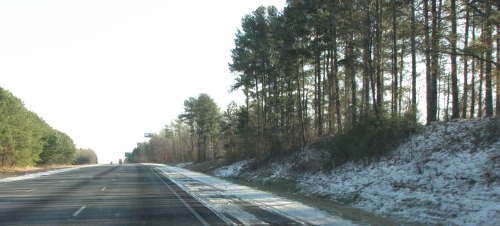 Not far outside Atlanta city limits, the road was again clear and dry.
Around Macon, GA there was no evidence of snow on the ground.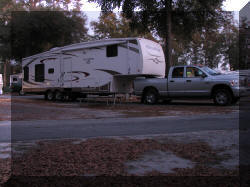 It was another long driving day 'for us' - 341 miles.
The sun was setting and darkness was near when we arrived at Fair Harbor RV Park ($19 a night, cash) in Perry, GA.
The campground owner told us the low tonight will be about 15 degrees.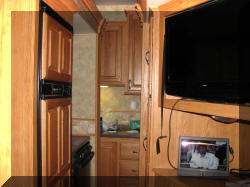 It is Thursday morning and we survived another another cold night. When we started our trip, we expected two nights of 'winter camping' - not four. We have been opening only the bedroom slide to reduce the space we need to heat. Our floor plan permits access to all features of our HitchHiker with the two big slides still in. The aisle is small but passable.
Tonight, we will be in a warmer location - we hope. We are looking forward to enjoying the 'full-size' of our HHLS.
Daylight brought a brighter look at our HHLS and Wednesday night's campsite.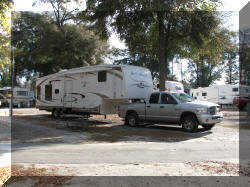 Snow is absent . . . Just COLD.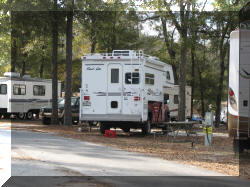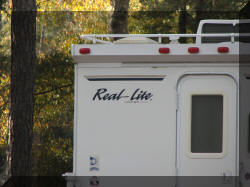 We also saw that the truck camper across the road from us was a Real-Lite.
That was the brand of the first truck camper we bought in 1969.
We enjoyed eleven years in that 8.5 foot - for a short time, all five of us.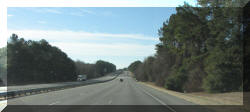 I-75 was clear and dry all day Thursday.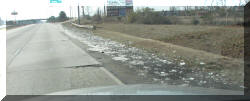 We saw very little snow the entire day. However, the ice and snow on vehicles would fly off in sheets. If a small section broke loose, shortly thereafter, the wind would catch the new edge and large sheets of ice and snow hit the pavement. We did not follow trucks with ice and snow on top due to the damage the flying sheets of ice and snow could cause. This area had a large amount perhaps caused by the crack at the edge of the pavement.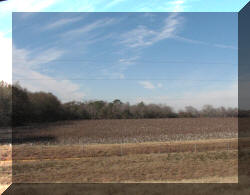 During the day, cotton fields dotted the roadside and billboards were plentiful.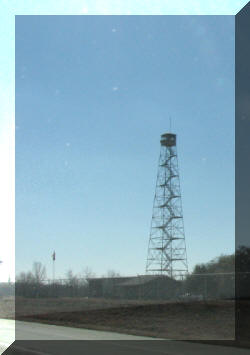 Watchtower . . .
Crossing the state line into Florida, we saw our first Rebel flag and palm tree.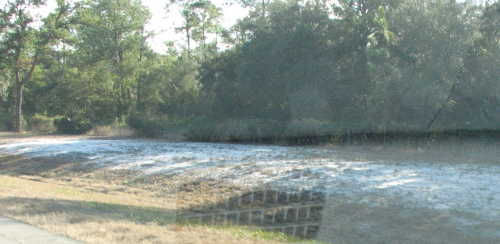 We had to include this photograph of snow on the ground in Florida. Hidden from the afternoon sun, it was the only evidence we saw of snow in the Sunshine State.
We heard on the news today that 49 of 50 states had snow on the ground. If show is on the ground in Florida, which is the snow-less state?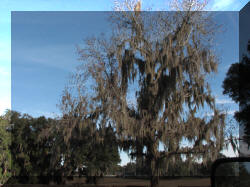 Oh yes, moss hanging in the trees . . .
Finally, after 1,125 miles, camping in Florida . . . ALL the slides are out . . . Home Sweet Home.
We drove 247 miles today. We arrived at the campground at 3:50pm, leaving plenty of daylight to de-winterized. It will be nice having hot and cold running water in the HitchHiker tonight.

A palm tree across the road from our campsite . . .
and . . . more to come.
We stayed at Ocala North RV Park four nights ($18 a night). It is a very nice Passport America park. Verizon tells us we have no Internet connection because they are having trouble with a switch in our area.
A good rule in the park is that you can wash your RV as long as you use a nozzle that can turn off the flow of water. Our HH was so dirty from the trip south, it looked grey. The truck's mudflaps offered little protection from the watery mix of road salt and dirt rolling off the edges.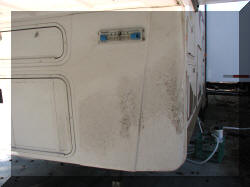 The gray tinge was all over the HH. Fred had no difficulty seeing where he left off while washing it.
Heading to Kissimmee Prairie State Park
It was raining a little when we left camp. Our first destination was the Verizon store in Ocala. Our USB760 had not worked for four days. The second technician we talked to on the phone suggested we stop by the retail store in Ocala for technical assistance. To make a long story short, there are no technicians in any retail store in Florida. The clerk called the same customer service technician I would have. This technician confirmed my USB760 had died ... so ... we are now the proud owners of a UML290 (4G) AirCard.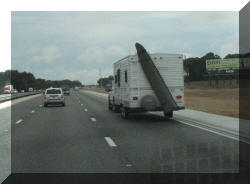 This is a RV-Double without the
boat trailer in tow.


We saw our first Florida orange grove today.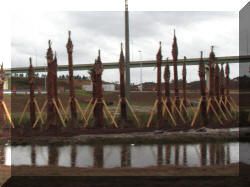 The newly planted palm trees are held up with braces consisting of a band around the trunk and braced to the ground.

The more mature trees were also braced.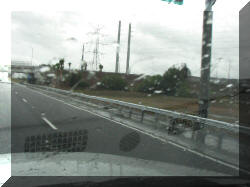 We ran in and out of rain all day.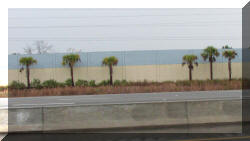 These trees were not braced. It must depend on the age of the tree or type of soil.
A couple times the wipers could not keep up with the heavy rain.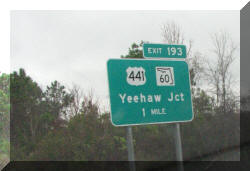 Our exit . . .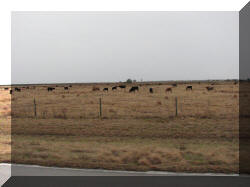 There were a lot of cattle grazing.
Antenna system for WYFR, a shortwave international radio station. (We're Your Family Radio)
The station is owned by Family Stations, Inc., as part of the Family Radio network, and broadcasts traditional Christian Radio programming to international audiences.
Click on the thumbnail to see the large number of towers and the "V" shaped wire pattern.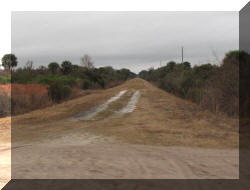 The directions to the Kissimmee Prairie State Park stated that during times of heavy rains, road conditions may become hazardous. So, when Fred saw these grass roads, he was a little concerned. However, because of the heavy rain we experienced, we called ahead to ask if the roads were passable. The Camp Host told Mary Lou the roads were fine, only time they have had problems was during a hurricane.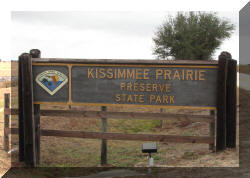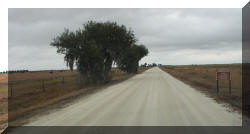 Today we drove 200 miles to the gate but the campground was five miles beyond the gate. The road surface is what they call 'shell rocks'. Immediately inside the gate, the road was a washboard.
The 80# of air in the truck rear tires and the 90# of air in the HitchHiker tires made for a slow and bumpy ride. We never reached the 25mph speed limit.
The state park includes 54,000 acres, making it one of Florida's largest state preserves. Water and electricity are provided at all 35 campsites. The modern bathroom building offers a washer and dryer for the campers convenience. There are 100 miles of multi-use trails - hiking, biking and horseback riding are very popular at this park.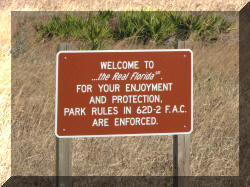 A sign on the road in said "Welcome to the Real Florida."
On this trip, we have driven through more of Florida that doesn't look like any
areas of Florida we have ever seen before - less commercial, more rural.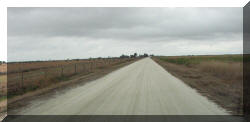 The rest of the five miles were also a washboard. The drive seemed much more than five miles.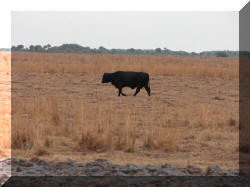 Cattle grazed in fields along the road.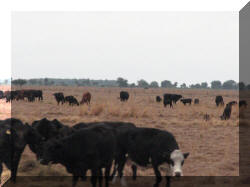 The route turned, but the washboard road continued.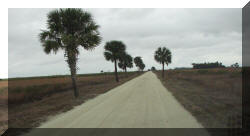 We hoped this was a Verizon tower that we saw in the distance.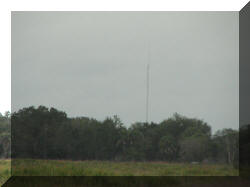 Based on the weak cell and Internet signals we experienced, it wasn't.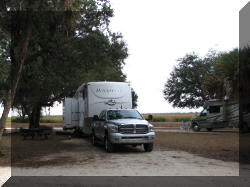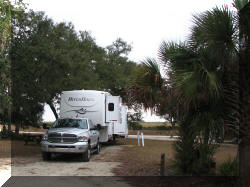 When we pulled into the campground ($17 a night), the Camp Host walked over to us, look up and said, I think you are too tall for Site #10 - the site we had reserved. She suggested Site #16 was available, so we took it. Because it was 40 miles to anything, we did not unhook the truck for five nights. We did drop the legs and rear stabilizers.
The view behind our HH Tuesday evening.
The view out our door.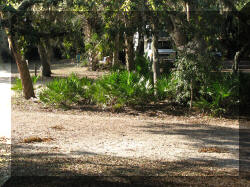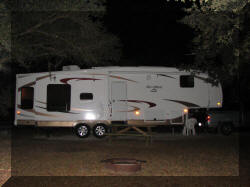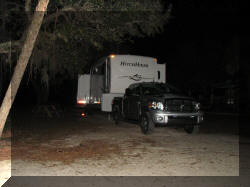 While out to look at the bright moon lit sky Wednesday night,
Fred used flash to photograph our HHLS.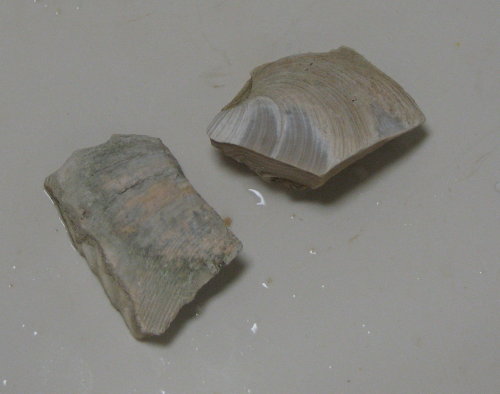 Out for a walk on Thursday, we picked up a couple samples of the shell rock used on the roads in the state park.
When the water from our HH's gutter washed away the fine shells and dirt, you could clearly see all the shell rock.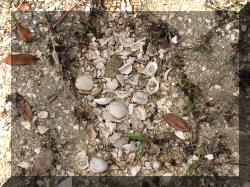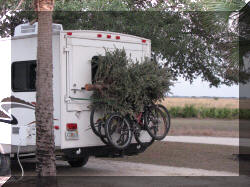 Also on our walk we noticed a travel trailer with bicycles and a pine tree carried on the bike rack.
We found out the the pine tree was brought to camp as a source of firewood.
It smelled fresh-cut when they drove by us on the road. It would not provide very much or very dry firewood.
Different!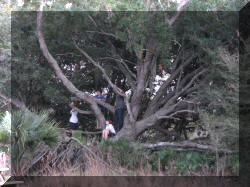 As the weekend approaches, more campers are arriving and the children are climbing the trees. Eight RVs pulled in today - many of them families.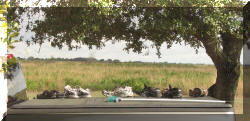 It rained Friday morning. Do you think our neighbors left their shoes outside Thursday night?
(They were not on the truck bed rail during the afternoon rain.)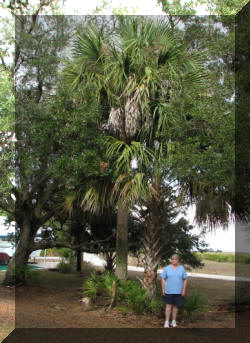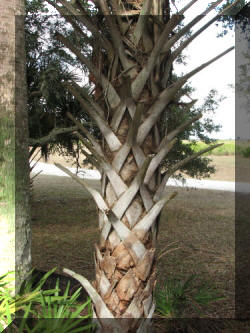 We took the camera on our walk today - between rain showers.
On our way Fred made a photograph of a palm tree in our campsite for Caitlin. She asked Grandma in an e-mail what a palm tree looked like.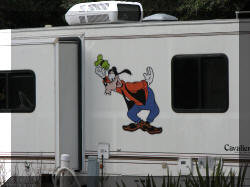 Our Camp Hosts have a image of Goofy on both sides of their class "C" motorhome - aka: Grandma and Grandpa's house.
We leave Kissimmee Prairie State Park in the morning. Our next stop, Big Cypress RV Resort.
Before leaving the campground, we look back at the grove of trees where the campground is located. As the acorns from the 'live oak' trees dropped on our fifth wheel, we questioned why with 54,000 acres of prairie, the campground was in a grove of trees. Then we thought, in the heat of normal weather, the shade from the trees may be appreciated.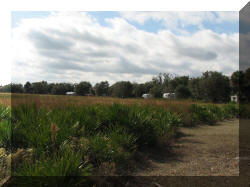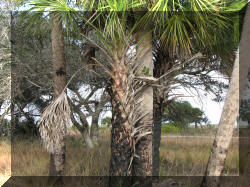 Palm tree fount ready to fall . . .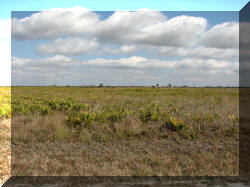 A look across the prairie on the long straight road out of Kissimmee Prairie State Park.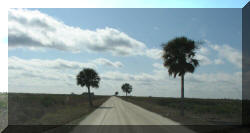 And, another look back at the campground. This time from the road out.
The little white dots at the base of the trees are the RVs.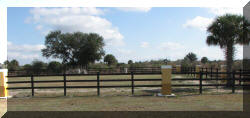 This was a fancy corral or a fenced in lot.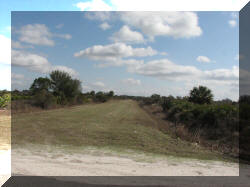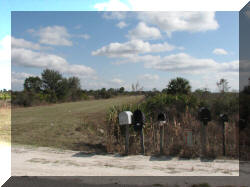 You might remember, Fred was concerned about the grass roads. Come to find out, the grass roads have names and people live on them. Just like rural roads in Michigan, mailboxes are at the end of the road for residents to pick up their mail.
Signs along the road advertised services like surveying and sales of sites where you could build your dream home.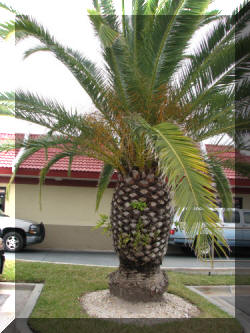 We saw this different shaped palm tree when we stopped for lunch.
Campsites abound near Lake Okeechobee. Most of them were served by a system of canals connected to the lake.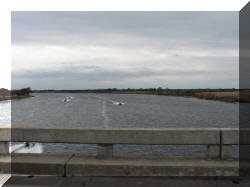 This waterway crossed our route
heading inland.
Farther down the road homes and cottages were along canels.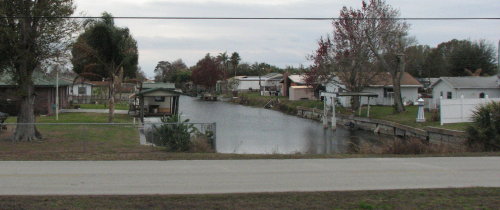 Cattle were numerous along any route we traveled down the center of Florida. Hard to believe, but we think the cattle outnumber the tourists. Some friends who own a ranch in Wyoming told us . . . unlike Michigan where an acre will support ten head of cattle, in Wyoming, each head of cattle requires ten acres. Florida appears to need more grazing land per head as well.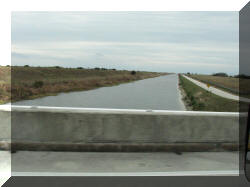 A canal and a road . . .


A colorful Catholic church . . .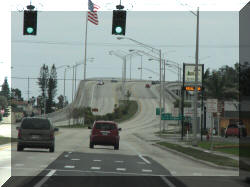 In Moore Haven on US-27 we went up and over the Intracoastal Waterway.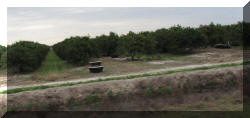 Another orange grove . . .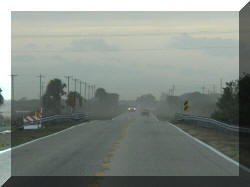 What we thought was rain in the distance turned out to be dust storm.
A citrus processing facility was at the corner of our route to the campground.

In this photograph, you can see several truck trailers loaded with oranges.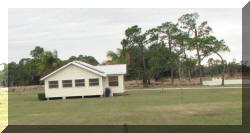 Many of the homes and cottages are built on cement blocks.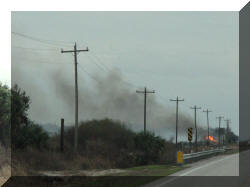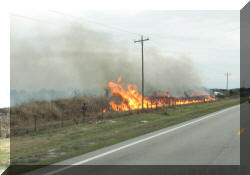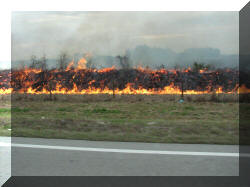 The smoke in the distance was from a roadside burn off. A water truck was nearby.
As we drove by, the heat from the fire was intense.
Mary Lou had read that this was the time of year when farmers may burn off their fields.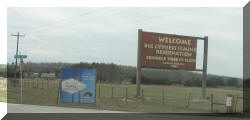 Finally, we reached the Big Cypress RV Resort.
It is owned by The Seminole Tribe of Florida.
It seemed more than a 121 mile day.
There are 110 sites managed by a very nice couple.
He is a retired NASCAR mechanic and she is a retired librarian.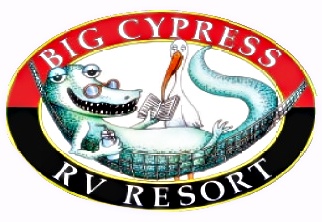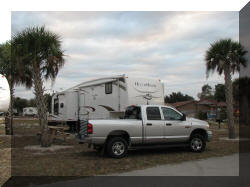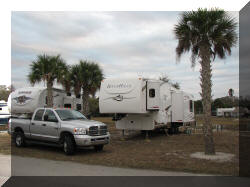 Our site ($545 for a month) is narrow but long with a grass (say it quick) surface. We did not have sewer, however, they pump out our holding tanks every Monday and Thursday. It is close to the clubhouse giving us a strong WiFi signal. For an extended stay of three months or more, the monthly fee is $495. The fee includes electricity.
Our immediate neighbors were from Michigan, Ohio and Florida.
Television reception of 12 channels is good. Verizon cell phone service is not very good - dropped calls, no service and rough on your battery searching for a signal.
We began our month at Big Cypress conversations with our neighbors, chores around the HH and laundry. Wednesday we started packing for the cruise.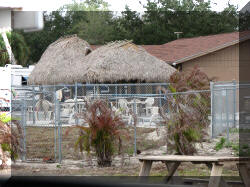 In addition to the pool and hot tub, we have seen some interesting things out our window . . .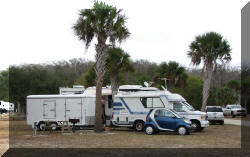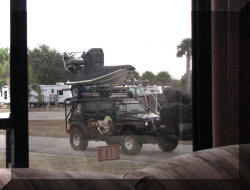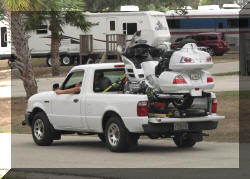 1 - A van conversion carrying their Smart Car in a cargo trailer.
2 - A motorhome, with a motorcycle on the rear platform, towing a Jeep carrying a boat.
3 - A mid-size pickup carrying a big GoldWing. The pickup is pulled by a motorhome.
After a some rain showers on Tuesday, a rainbow.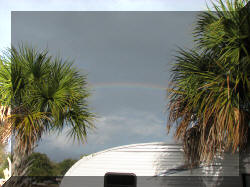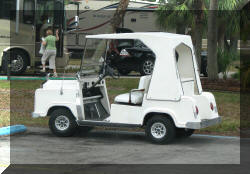 There are not very many golf carts in Big Cypress. This is a sharp looking one.
We do not remember ever seeing a slide-out that included the entire wall of a fifth wheel.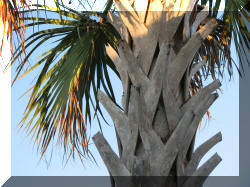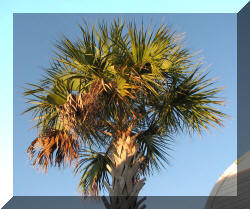 One of the palm trees on our site . . .
Go back to the Florida Winter Tour - 2011 page.