The Zephyrhills Area - 2011
Updated: 06/19/11
Rex and Marilyn spend the winter in the Southern Charm RV Resort. We were able to get reservations in the park's overflow area, then the park called to say we had a site by the fence - not in overflow. A short-term winter site in Florida can be difficult to get. We were glad to get one on somewhat short notice. The population of Zephyrhills balloons from about 51,000 to about 85,000 when the 'snowbirds' arrive.
Parkesdale Farms Skydive City A Parade Driving by Festival Park Planted Airstream Travel Trailers
Launch of Space Shuttle Discovery More About Our Site
On the road to and around Zephyrhills
The first thing we HAD to do was go for strawberry shortcake at Parkesdale Farms in Plant City. The largest family operated Strawberry and Citrus market in Florida. They harvest more than three million pounds of strawberries every year.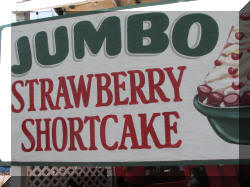 This was a great place to visit. Fred doesn't particularly like strawberry shortcake. But . . . he really enjoyed this visit. The line moves fast because you order by the number.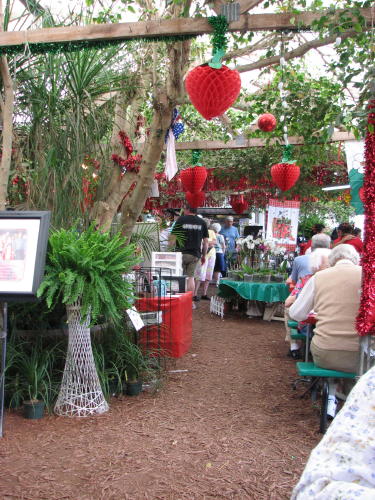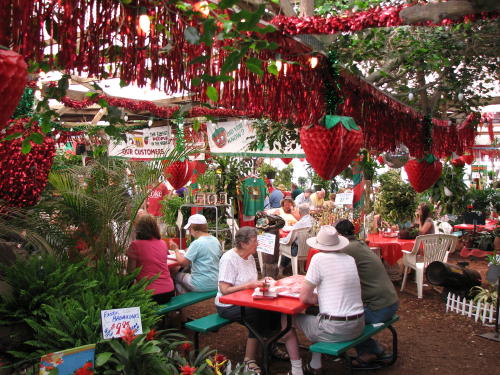 And, the promotion of how popular their business is with political folks. It has to be the place to be seen.
The fruit washing machine was not working the day we visited. There were a few oranges in the bin but no activity.
.....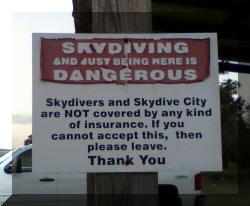 After dinner one night we drove to Skydive City, one of the world premier drop zones. We were fortunately enough to happen on to 13 people jumping out of a plane right after we got there. Rex said people come for all over the world to jump at this facility. Because we were just going to dinner, Fred did not take his camera. He had to use his phone's camera.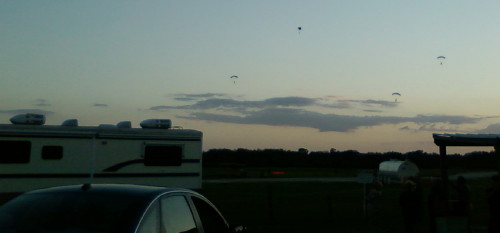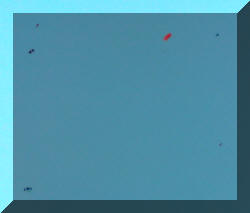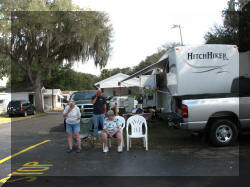 Everyone likes a parade. We are sitting in the street in front of Rex and Marilyn's HitchHiker waiting for the parade to pass in front of us.
It was the day the Canadians in Southern Charm showed their pride.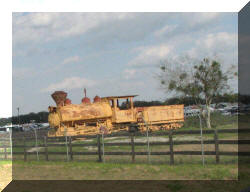 Driving by Festival Park after dinner another evening, we could see the big car show sponsored by Zephyrhills Action, Inc. The event included a swap meet, car corral, and vintage car racing. We could not see much but it is one of many venues in and around Zephyrhills. A motocross track was nearby. During the winter, the dense population of people attends the various events.

Airstream travel trailers have been popular almost since RVing began. One day Rex wanted to go to Camping World at the nations largest RV dealer. To complete the tour, he drove by the location where Airstream travel trailers are 'planted' in the ground.
He told us that to his knowledge, they have not grown an inch since being 'planted'. Must be the drought.
We were in Zephyrhills on the day the Space Shuttle Discovery was launched for the final time. We found a path to a farm field where we could hopefully see the launch over the trees. Even at a distance of 150 miles, it was still a thrilling experience. It might be a repetitive event for others, it was a 'first' for us.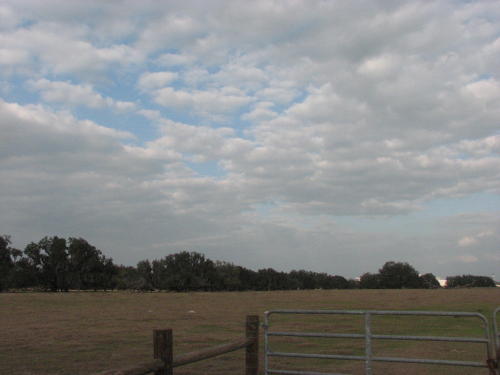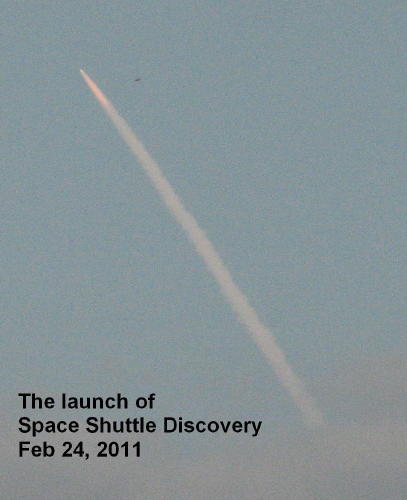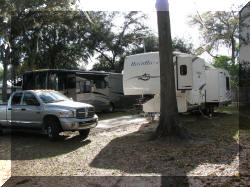 Okay, complaint time - more about our site. This will probably only be enjoyed by fellow RVers. While we were thankful for a spot to stay, it was the second most difficult site to park in for us in 20 years.
There were several reasons . . .
> Corner of patio ... A sharp corner of the cement patio would have damaged our tire if we hit it.
> Big tree ... you can see the big tree. Fortunately, so could Fred.
> Landscape island across from our site ... This you can not see. But, it made maneuvering into our site on the narrow street almost impossible
> Sewer connection .... the location of the sewer connection meant we had to be within four inches of the cement patio
> Finally, we were in our spot ... It was a good thing we work so well together parking our HHLS.
> Sand pit ... the site had sand dumped into it and was very unlevel.
> Asked for a shovel ... After 45 minutes unsuccessfully trying get level using all the boards we had. We called for help.
> A crew arrived ... instead of delivering a shovel, a small crew showed up. They brought more boards and younger bodies.
> A half hour later we were 'almost' level. Close enough!
Not a good start to our stay ... but ... the staff came through for us.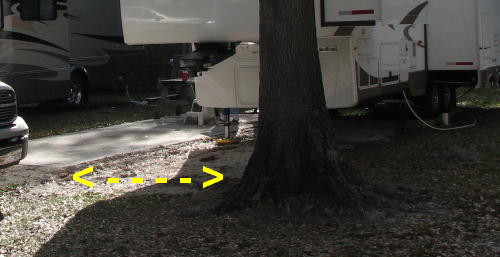 On the road to and around Zephyrhills . . .
While in the Zephyrhills, we ttok a ride to check out some campgrounds for next year. The following are some sights along the way.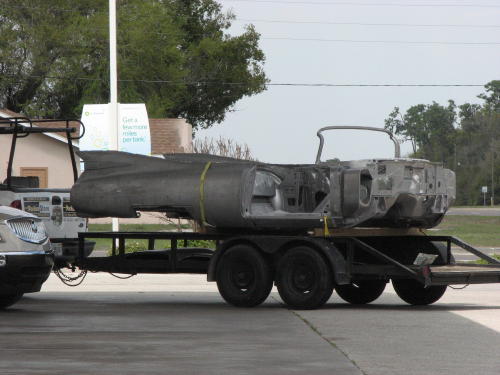 A Cadillac body . . .
More oranges than you could ever count . . .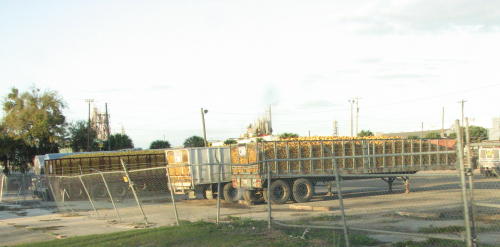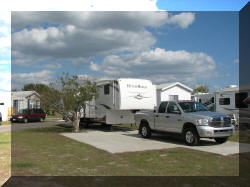 We spent the night in one campground that was our first choice when we left Big Cypress. We stopped to test our cell phone signal and Internet connection. The campground was "OK", but fell out of favor after we gathered more information.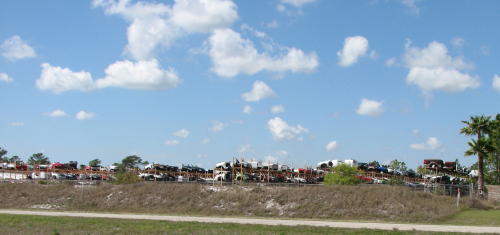 Thousands of pickup truck cabs and beds on racks . . .
A young and a mature orange grove . . .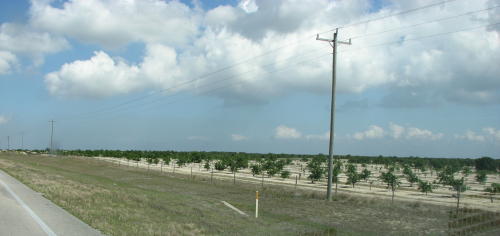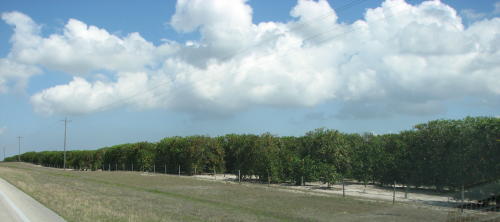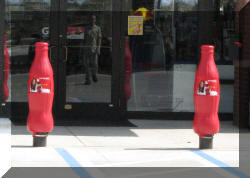 Neat post covers . . .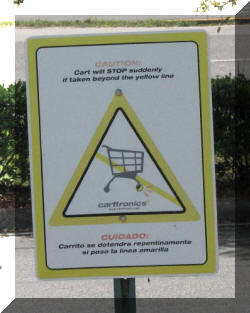 A certain way to keep your grocery carts in your parking lot . . .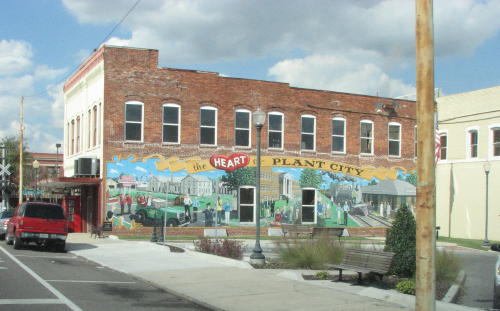 A mural in Plant City . . .
We spent a couple evenings playing a board game - Aggravation with cards and golf tees and attended a musical program in the club house. Before we knew it, the time to head home arrived. Rex was quick to point out it was still COLD in Michigan. But, it was time to go.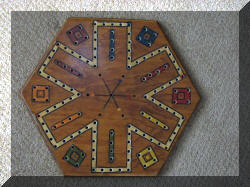 MAIN PAGE - Florida Winter Tour - 2011