Rodeo Qualifying Competition - 2011
Seminole Big Cypress Reservation
Updated: 06/16/11
The Billy Osceola Memorial Tour Rodeo is one of several rodeos in the Dodge National Circuit Rodeo. Here at the Dodge Southeastern Circuit Finals, cowboys and cowgirls accumulate points to qualify for the Dodge National Circuit Finals Rodeo. They can then advance to the Indian National Finals Rodeo in Las Vegas, Nevada.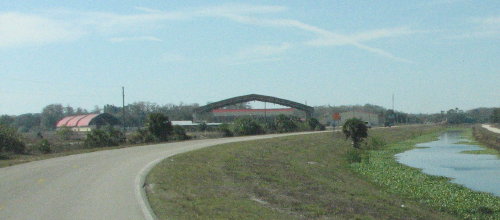 As the approach the town area from the south,
you can't miss the Rodeo and Entertainment Complex.


Inside the arena of the Rodeo and Entertainment Center . . .
The rodeo was scheduled to begin at 7:00pm. We were advised by Dorothy in the campground office that we did not have to go early to get a seat. She also mentioned that it might not start on time anyway.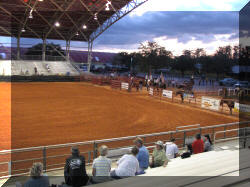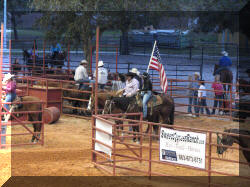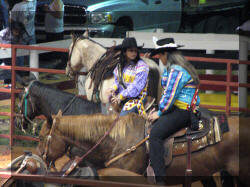 The flag gal sat on her horse waiting
for the word that the rodeo would begin.
By the time the late registrations were completed and the timers and judges were ready, it was almost 8:00pm.
And, there were plenty of seats still available.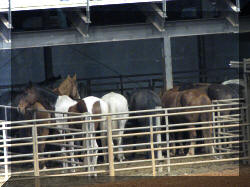 Some horses just stood around also.
The performance opened with the Presentation of the Colors, the National Anthem and "God Bless America". We were impressed with the displays of patriotism on the reservation. The American flag was prominently displayed at several locations.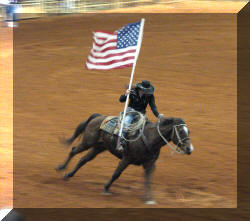 Finally, the competition began.
The evenings events included Bareback Riding, Steer Wrestling, Tie Down Roping, Saddle Bronc Riding, Team Roping, Bull Riding and Girls Barrel Racing.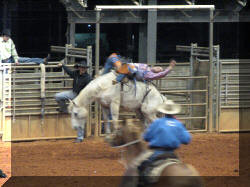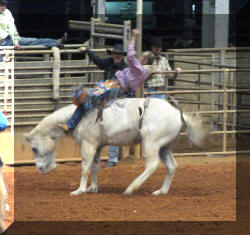 This has to tough on your back.
When you fall off, you hope the horse keeps going.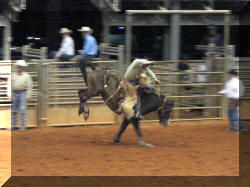 That is better.
After each event, the animals were easily led/chased to the exit gate. This horse had a mind of his own. He wanted to stay and play some more.
It was nap time for the steer. He had to be encouraged to lay down.
Real cowboys with lassos.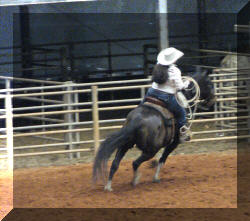 . . . and, cowgirls.
Barrel racing . . .
Bull riding is tough . . .
. . . especially, if you fall off and get stepped on.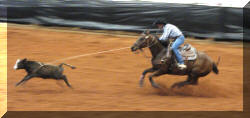 Lasso, take down and tie legs . . .
Sometime it doesn't go so well . . .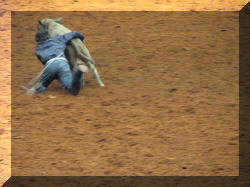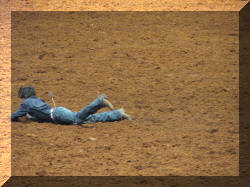 This was a teenaged cowboy just learning the event.
It looks like he 'drew' a big calf.
Good lasso work . . .
Lasso head and hind legs - team work!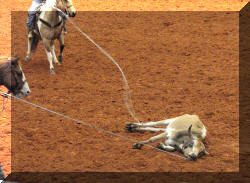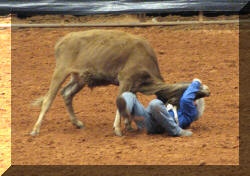 Ouch! It looks like that should hurt.
We attended the first night of a three day event. Admission was free. Seating was hard - take a 'sit-upon'.
MAIN PAGE - Florida Winter Tour - 2011