Michigan Good Sam - Chapter 52 Campouts
Updated: 08/10/17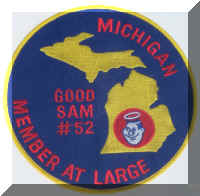 Michigan Good Sam 'Members At Large' Chapter 52 annual campouts are held the first FULL (Saturday and Sunday) weekend of August. While the official days are 2:00pm Thursday through Sunday, many of our members arrive the Monday prior to the weekend - they make it a week of fellowship and fun. Sunday has no scheduled activities - it is a departure day or a relaxing 'dinner' out day. We meet at various locations in Michigan. This works well because, while we are called a local chapter, our chapter members are from communities across the entire state of Michigan.
The first annual chapter campout in 2003 drew 27 RVs and 64 people at the Saturday potluck. Since then, we have had similar numbers of RVs and people - but the same people do not attend each year. While we try to attend each year, we were in Alaska in 2005 and the Pacific Northwest in 2008 so missed those campouts.
Believing that most people like seeing themselves and their friends participating in our campout events, we post a lot of photographs on our pages.
Note: Most photographs on these pages are thumbnails - permitting you to view the larger image by clicking on the thumbnail using your left mouse button. To return to the original page, click on the "back arrow" on your browser.
* * * *
Photographs from Chapter 52 campouts in
2010, 2009 and prior years are included on this page.
Click on these links: 2010 2009 Prior years . . .
Beginning in 2011, we have provided a page link to each campout to speed loading.
If you share our Web site with others, we ask your cooperation. For safety and security reasons, we do not use our last name, the last names of others or exact home locations on our Web site. With the popularity of SOCIAL MEDIA, our anonymity is more at risk. We ask that our social media friends and their friends not associate our last name with our Web site domain name with others using social media. Please use e-mail or text to share our domain name with your social media friends if you wish to share our Chapter 52 and other pages.
Our 2010 campout was held at Leisure Lake Family Campground in Sumner, Michigan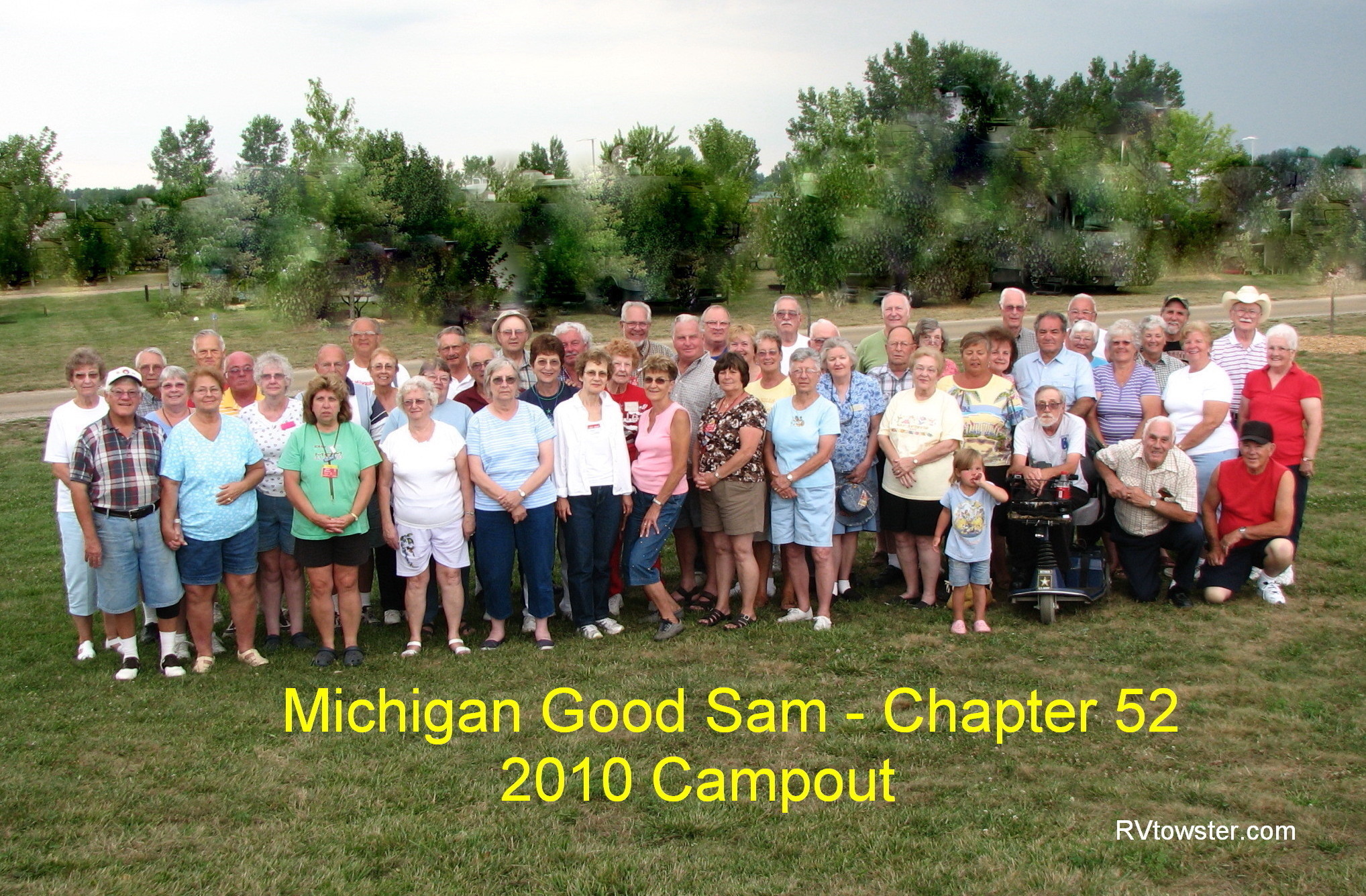 We have posted this photograph for you to download and print for your enjoyment.
Some have asked how: The best way is to 'right' click on the photograph,
click on 'save picture as' and save the photograph in a folder on your computer.
It is a very nice campground. The owners let us use the pavilion and the area around it for our activities. That worked out very well.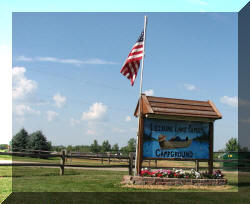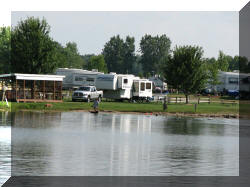 We arrived several days in advance
directly from a couple weeks with
Michelle's family.
Our Chapter 52 members were scattered around the campground in small clusters based on what amenities each wanted - water and electric or full hookups. A total of 27 units were on the grounds.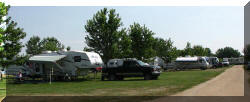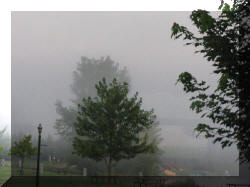 One morning Fred made photographs
from our window of the fog
settling over the lake
Thursday morning Lucy and Cliff provided a breakfast of biscuits and sausage gravy.
Let the games begin.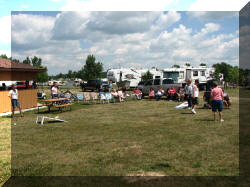 Recipe for fun . . .
Fill old socks with beans.
Cut a hole in a board.
Add some eager player.

Bean Bag Baseball is another popular game and a lot of fun for both the players and the spectators.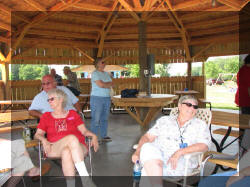 Some spectators took cover from the sun in the gazebo.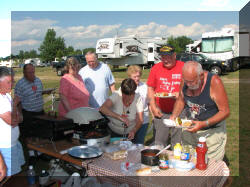 Like most camping groups, we eat well. Mick and Mary provided hot dogs, buns and the fixings for dinner Thursday. The rest of us brought a dish to share.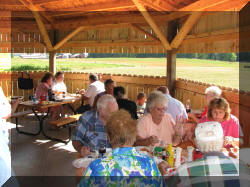 We had an over-flow crowd.
Everyone looks forward to the evening informal gatherings. Mick played alone for a night or two until Ralph arrived.
One night Ralph didn't have many songs with him.
He told Mick, "I only have one more song" . . . six times.
(We reminded him of that the next night.)
Lucy pops the popcorn. One night we had pie, cake and ice cream. Remember? I said we eat well.
Another night we were distracted by a flying machine. But, only briefly.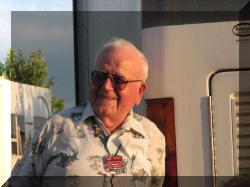 Jim, a former Chapter President was introduced
for the benefit of our newer members.
The horseshoe tournament drew avid players and some fans.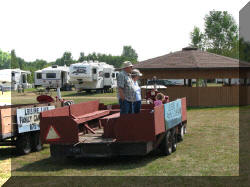 Some fans were in the bleachers.
The croquet tournament had a large number of participants. Quite few spectators showed up.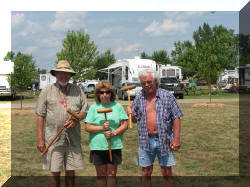 First round winners.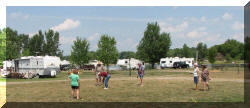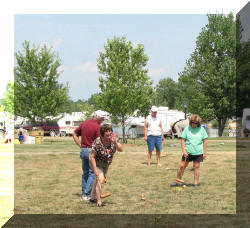 Nancy shouted at the fans.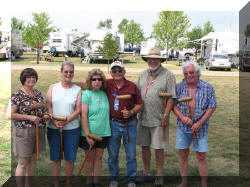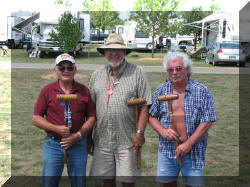 The finalists and the overall winners.
But, all admitted it was the fun of the game not the score.
The White Elephant Bingo was held in the gazebo.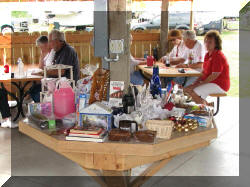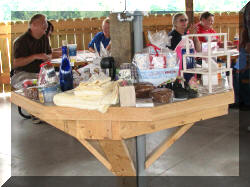 We had so many fabulous prizes, towards the end, people were 'forced' to take two.

Only once was there a battle over the same prize.
I think the gentleman gave into the lady.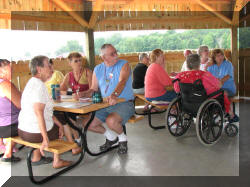 What was that number? "G" what?
After Bingo, everyone rushed back to their RVs to prepare for the potluck. Remember? We eat well.
We had so much food on the round table and the extra table . . .
. . . desserts had to be placed on a picnic table outside the gazebo.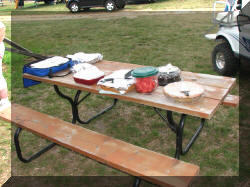 No problem, we found them.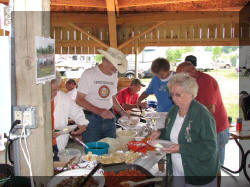 Awards were handed out to the many game winners. The golfers also received some awards.
The Bean Bag Baseball team had to split a bag of candy - evenly.
Mick announced that next year our campout will be at Camp Cadillac.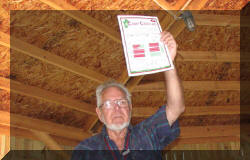 Be sure to put the first full weekend of August, 2011 on your calendar.
We will see you at Camp Cadillac
August 19 - 21, 2011.
Yes, most people come early.
We express our thanks to all those who shared their time in the planning and execution of another great Chapter 52 campout.
* * * *
Our 2009 Chapter 52 Campout was held at Beaver Lake County Camp near Alpena.
The officers planned a trip to to the Forty Mile Lighthouse. Those that drove to the lighthouse posed for a group photograph.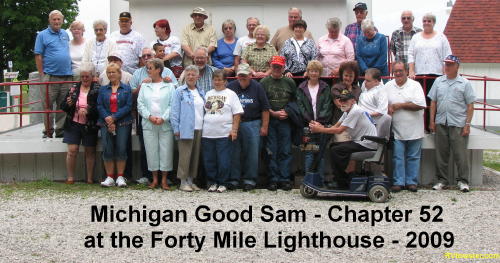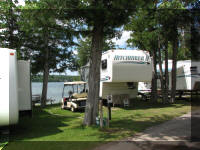 Most of our time was spend at the campground. Our site was one of four on the waterfront. It is a small campground so we were all in close proximity of each other.
Sometime you just want to be alone. Sometime you want company. If you look closely, you will see 'loners' in the group.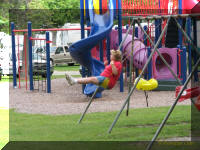 Kathy will find out when she sees this posting that you can sneak off for some 'alone' time - but, you risk being photographed.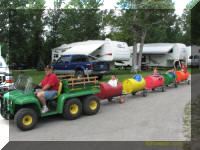 Joe took the kids on several 'train' rides.
One evening 'Chef' Paul and Kathy invited everyone for grilled hotdogs. When they were ready, we all showed up with our dish to share.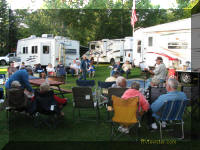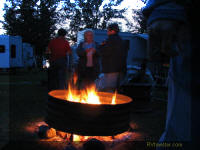 A camp fire was ignited every evening. While we had a great time around the campfire, the grounds manager expressed his appreciation that we turn-in early and are not a noisy bunch.
At several campfires Lucy cooked the popcorn and the rest of us ate it.
On the way back to our fifth wheel, Fred paused to make a photograph of the lake.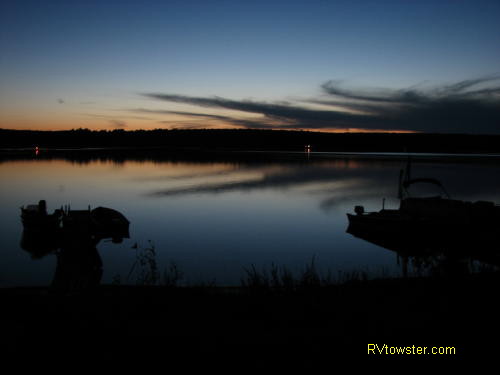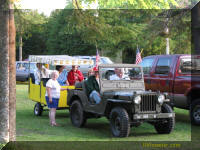 Cliff brought his restored military Jeep and a small 'people mover' to the campground. Paul drove groups out to fields where every night deer came out of the woods for dinner - a lot of deer came out of the woods.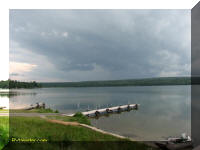 In spite of an unusually rainy, cool and breezy time, we had a great time. This front reached us with quite a bit of precipitation.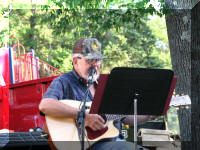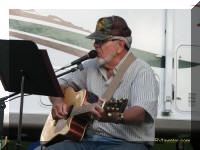 Mick's entertainment was a good addition to our campfires. One evening we had a 'sing-a-long'.
Game day gave people the opportunity to show off their athletic abilities.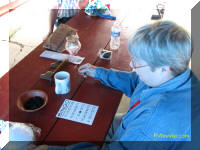 Bingo is a low contact game. It was fun even if your cards were 'almost' worthless. The prize stealing got a little hectic. Mary Lou ended up being the big winner - a fleece throw made by Lucy.
The thing we do best is eat. Look at all those 'hot' and 'cold' dishes set out for our potluck.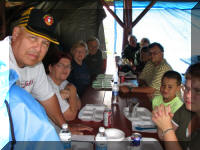 Fred paused again for another beautiful view of Beaver Lake.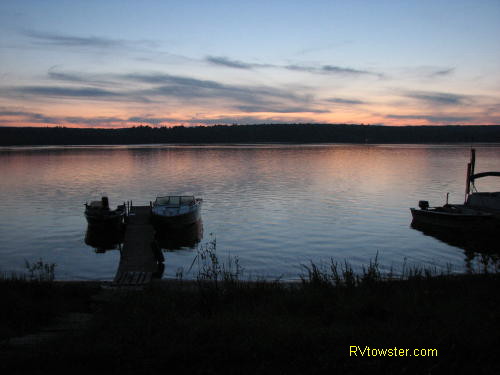 We'll see you next year at Leisure Lake Family Campground - Sumner, MI
The dates next year are July 29 - 31, 2010.
* * * *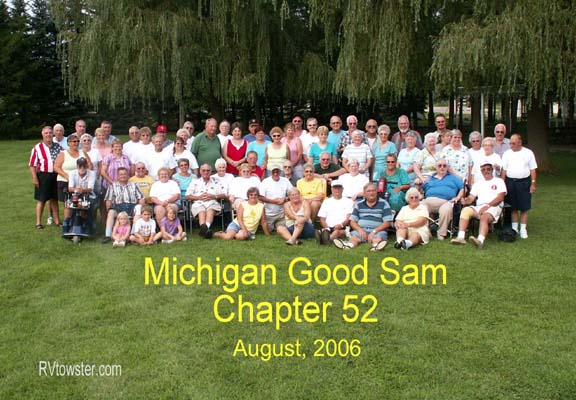 Our first two campouts (2003 and 2004) were held at Ber-wa-ga-na Campground near Vassar, MI. It provided a group camping area and some individual sites for our chapter. They have a nice swimming pond for all ages and a play area for children. We returned there in 2006. A different location is being considered for 2007.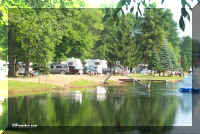 That's our group across the road.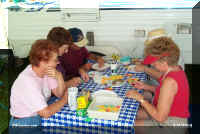 The early arrivals work on goodie Goodie Bags for a future Samboree. These members are working on the last 50 of the 500 needed.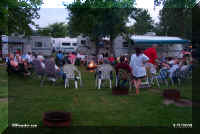 The campout starts with a campfire on Friday night. And, of course, we had another campfire Saturday night. We gather early for the fellowship.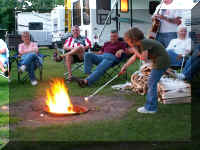 This girl's marshmallow barely touched the fire. But, she was happy and enjoyed eating it.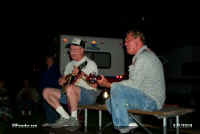 Some of us have musical talent and are willing to share it with the group. One afternoon they held a jam session.
Saturday morning begins with a pancake breakfast.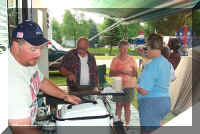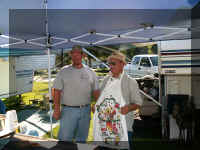 Our pancake chef and his assistants.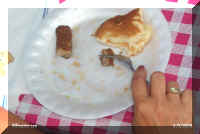 They are always so good!
Thanks, Jerald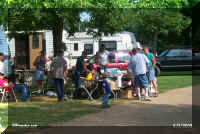 The morning games are delayed for a while so we can go to the garage sale held by the 'seasonal' campers in the campground. Some treasures were found and purchased. In 2004, they started holding the garage sale in a grassy field instead of at the individual sites in the campground.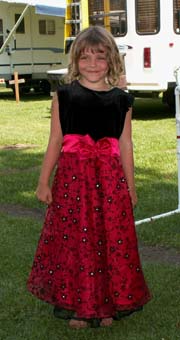 A special 2006 garage sale purchase - a $1 dress-up outfit.
Games begin Saturday morning and occur several times during the day. Some are organized. Some take place when a challenge is made. Everyone seems to have a lot of fun.
How long has it been since you played croquet? We had a croquet game set up in the grassy field next to the garage sale area.
Table games were also available.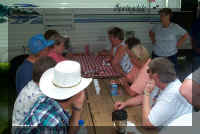 We played Bingo.
Some of us had better 'batting' form than others
for bean bag baseball.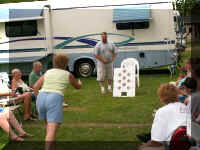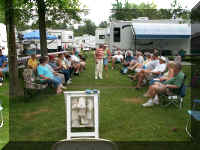 The dugouts were a line of chairs.
Washer game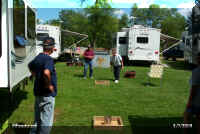 Ladder golf is always popular.
Some of us made better spectators than combatants.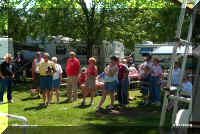 And, a very popular activity was ... just plain conversation.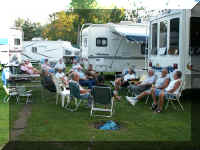 Whatever you were doing there were cameras everywhere to catch you doing it.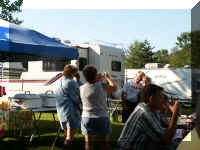 Easter was the theme for the 2006 campout. The children hunted for eggs and found very sweet 'yokes' inside.
Shaggie came out of his RV to talk to the children.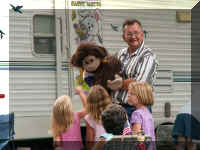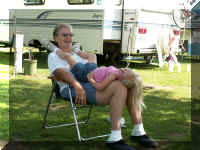 Some were tired from all the activity. A nap was in order. Is she on her grandmother's lap upside down or backwards?
No campout would be complete without a potluck! More tables had to be moved in to hold all the food coming out of the RVs. There was separate a table for desserts.
Everyone comes out for the potluck. It has to be the smell of the food.
The tables are usually set up in one straight line - a long straight line.
No one leaves hungry.
Some sit nearby ...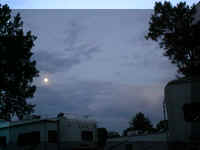 The moon was shining on our gathering Saturday night.
As the fire went out, people headed for their RVs.
Our great weekend was almost over.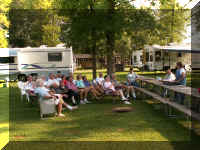 A church service is scheduled for Sunday morning for those not already on their way home or in town at a local church. The 2006 service included a dialog with a monkey on our theme, The Easter Story.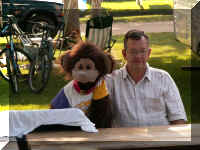 After the church service, we said our 'good-bys' and headed to our next destination. Many of us will meet again at the Michigan Fall Samboree or further down the road.
* * * *
Our thanks to the people who gave
their time to organized and coordinate
the events during our weekend campouts.