Michigan Good Sam . . . Members-At-Large Chapter
Annual Campout - 2016
Updated: 08/13/16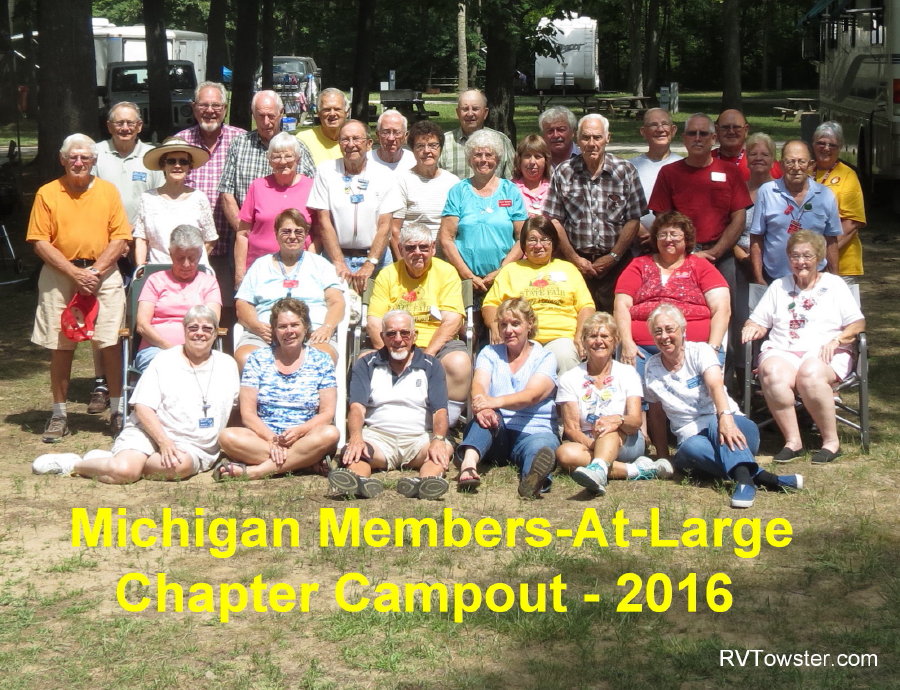 We have posted the above photograph for you to view.
If you want to download and/or print a high resolution file, right click the link below:
MGS Chapter 52 Campout - 2016 - Group Photo - LARGE IMAGE
Select "Save Target As".
Then, print as usual using your printer or photo editing software.
Once a year Chapter 52 gets together to relax, play and eat. This year was no exception. We gathered at Covenant Hills Campground in Otisville, MI. The weather was hot and humid most of the time but we had a wonderful time. Having the canopy of trees and Cliff's canopy helped a lot.
Follow these links to the day during our campout you would like to visit:
Monday Tuesday Wednesday Thursday Friday Saturday
Fred and I arrived late afternoon. While we were setting up our trailer, the rest of the group held a "impromptu" pot luck. We were invited to join them but waited until our work was done to have a little of what was left.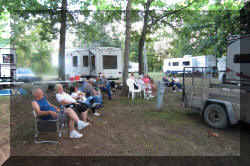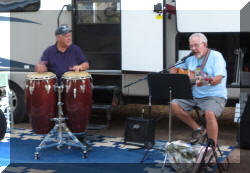 Monday is the day some members arrive. A couple arrived as early as Friday.
A neighbor (Jim) joined Mick to provide entertainment for the evening.
Mick's utility trailer was not an acceptable site decoration. He moved it the next day.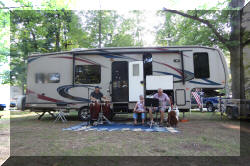 Tuesday evening's entertainment followed an easy day and included Mary and another neighbor. The young man did not have his own Ukulele with him so he borrowed Mick's new one. Mick was very trusting.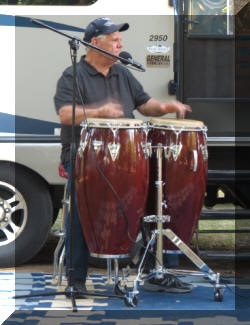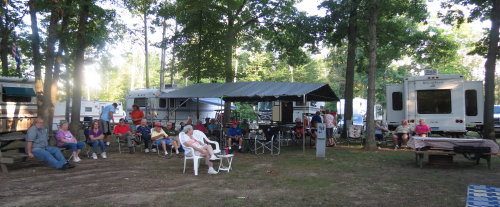 The audience grows as the week progresses.
This was a "do whatever you want" day. It started off real slow with coffee under the canopy.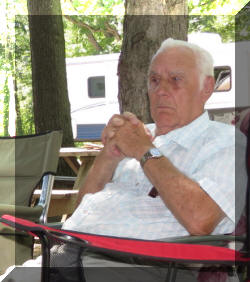 Then at 2:00pm, it reached Euchre speed.
Some of the guys decided to just sit around and chat. Jim decided to pass out a hug.
Others enjoyed sitting under the canopy solving world issues.
The baked potato bar was almost ready. Everyone brought out toppings for the potatos and their side dishes to share.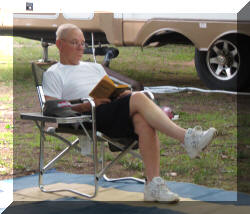 A relaxing read . . .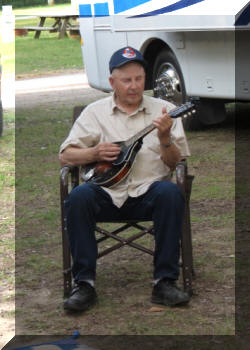 Entertainment tonight, drew out Larry and his mandolin.
The audience . . .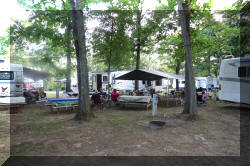 We had a "common" area behind our
RVs which made a great place to gather
and a place to erect Cliff's canopy.
The day started with the usual gathering under the canopy for coffee and conversation.
Then, the competitive blood started to flow . . . BEANBAG BASEBALL began.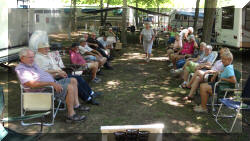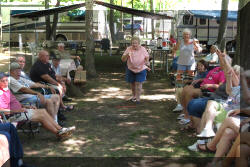 Men against the women is a fun tradition - lots of trash talk during the game. The men won this game.
Rest-time followed . . .
It was a very hot day, the enthusiasm for another game evaporated in the hot, humid air.
Our annual hot dog dinner preparation began . . .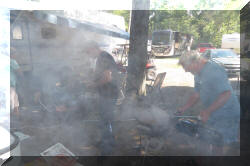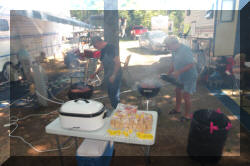 Anyone for well done dogs? When the smoke cleared, all was well.
The "go withs" were brought out and soon the eating began.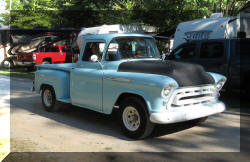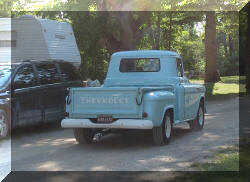 This 1950s truck was driven by our campsites.
The passenger told me they had a 1970s travel trailer of the same color.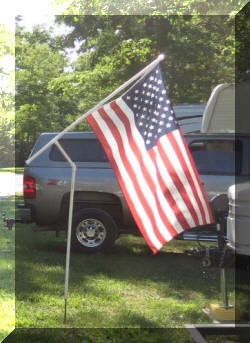 When Fred made the photograph of the truck, the sun was hitting this American flag just right.
Jim brought Molly out to meet us . . . or . . . for us to meet her. She is a Congo African Gray parrot.
He said she did not like it, but he laid her on her back in a chair,
This is what he does when he trims her claws.
Our musicians were on strike tonight due to the HEAT. If you just sat and did nothing, it was almost bearable.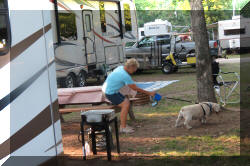 Who do you think won . . .
Sherry who wanted to sit down?
Or, Ozzie who wanted to walk?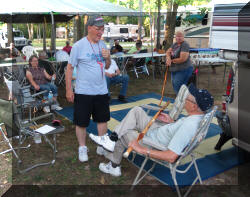 Gerry is showing Dale the walking
stick he carved and painted in memory
of his dog.
Breakfast . . . sausage and biscuits.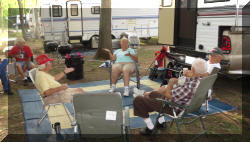 After we stuffed our stomachs again, it was time to rest and converse for a while.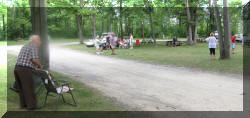 Cliff was staking out his viewing location for the croquet games.
Soon, others joined him. We had a row of chairs and people along the road.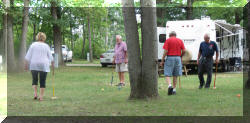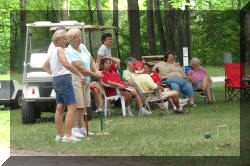 Some spectator sat closer to the start/finish post. Those of us lined along the road had a 'full court' view.
Our players would not know how to play on smooth ground. It is interesting to see where your ball ends up after rolling across uneven campground sites - frequently, luck beats skill.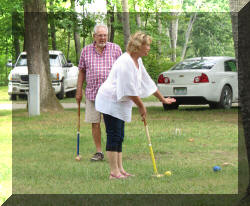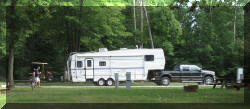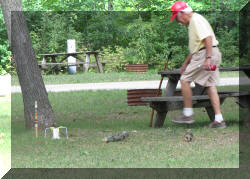 Bonnie and Bud had to leave early
due to family responsibilities.
They honked 'good-by' as they drove past.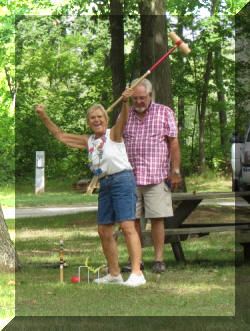 Can you guess who won?
If you guessed Sherry, you were correct.
And, the games continue.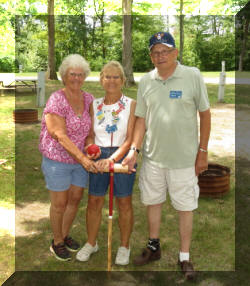 Lucy, Sherry and Dale were the
winners the three game competition.
ALL three winners played RED . . .
Red was 'hot' today.
While we did not have a potluck this evening, some of our musicians were on duty.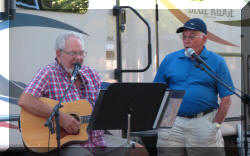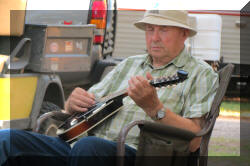 We even had a guest 'soloist' . . . long-time member - Ken.
Some of the audience members decided to become involved with the evening entertainment.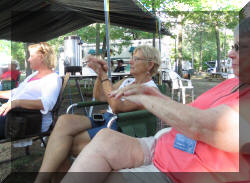 Chair Hula dancing . . .
Bubble dancing . . .
Line dancers . . .
Then, the entire audience returned to its normal attentive listening.
Until . . .
. . . a little girl camping across the road walked into Mick and Mary's site. She wanted to sing a song. During her second visit, she sang and thought playing Mick's guitar would be fun. She would wander away from her group before anyone missed her. Each time, someone came to get her. They must have started watching her closer - the visits stopped.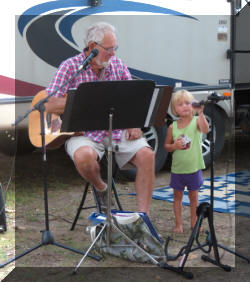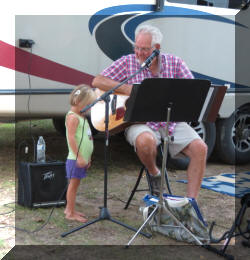 Mick showed his usual 'understanding' nature as she stole his show.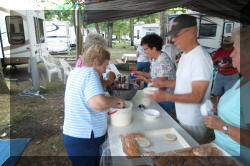 The evening ended with
strawberry shortcake
and ice cream.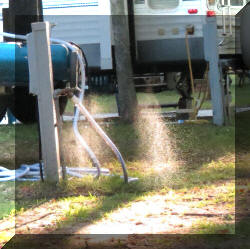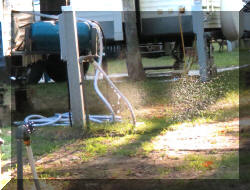 One thing we experience during the campout was unexpected squirting faucet back-flow valve . If you walked close to an active valve, you could get startled and wet.
Saturday morning's schedule was clear. So, a men against the women bean bag baseball game was started.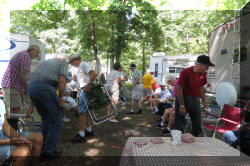 Game over the men won.
Move your chair for another game.
Because bean bag baseball is so popular, an impromptu MIXED game followed. Sides were chosen with a deck of cards - "Red" against "Black". As it turned out, the "Red" team won. Are you seeing a pattern here? Red again.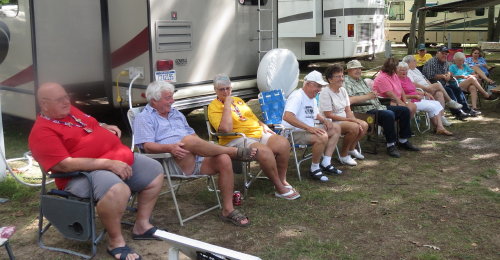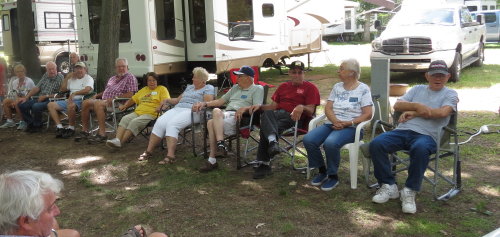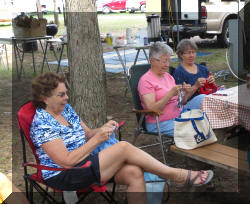 What game? Keep knitting.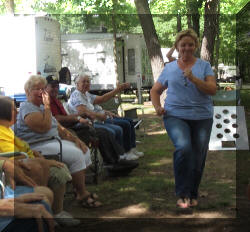 We even had an actual base 'runner' in our mixed bean bag baseball game. Usually, it is a walk or limp between bases.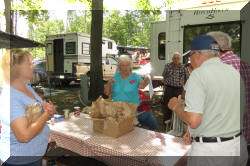 Prizes were awarded in bulk . . . when your name was called, go grab a mystery bag.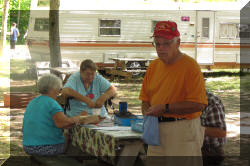 BINGO !
Our white elephant Bingo game
was called by Jim again this year.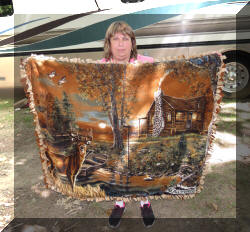 Kathy won the 'cover-all' prize -
a throw made by Lucy.
More rest and conversation before we ate AGAIN . . .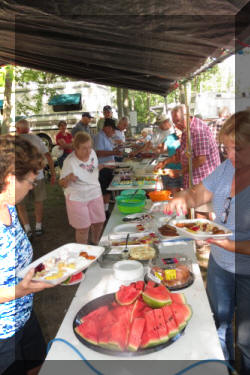 Lucy made some announcements prior to the potluck dinner.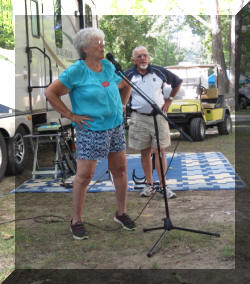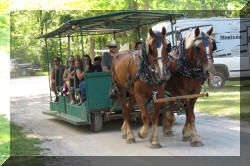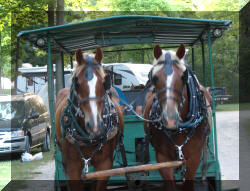 Horse drawn wagon rides were available from the campground.
This was our final musical entertainment - our campout was ending.
We enjoyed the 2016 Chapter 52 Annual Campout.
Our thanks to ALL the volunteers who helped make the campout a success. The board may have made the plans ... but ... the volunteers make it happen.
Planning has begun for next year. First full weekend of August, 2017 at Camp Cadillac in Cadillac, MI - members, make your reservations early!