New England - Fall 2003
Updated: 11/30/08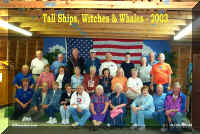 Our trip to the New England states was a combination of a two-week organized RV tour and traveling on our own. We took a week getting to Mystic, Ct to meet up with the tour group and a week and a half getting home from Bar Harbor, ME where the tour ended. This was our first organized RV tour. The group consisted of 14 RVs and 27 people. The small size was very nice. The wagonmasters were great as were the other members of the group.
We would have spent more time at some of the attractions if we were traveling alone - on touring days especially, the bus was on a time schedule. That was the only negative of being with a group. We knew that going in. However, we had a good time.
* * *
Our trip covered a total of over 3,500 miles in 30 days. The weather was very nice during most of the trip. The last week got a little too cold in the evenings.
We have organized this destination by state and then by attraction within the state. To make it easier, we will show everything in alphabetical order, not in the order we toured the areas.
We spent our free time exploring the areas around where we camped. We have many many photographs of sea shore, water and rocks. We will not show you all of them. But, some things we saw will be shared with you.
Note: All photographs on these pages are thumbnails - permitting you to view the larger image by clicking on the thumbnail using your left mouse button. It may take about five seconds for some of the photographs to appear. To return to the original page, click on the "back arrow" on your browser.
Connecticut - 2003 Hammonasset Beach State Park
Mystic Aquarium
Mystic Seaport
Sailing on the Argia
Submarine Tour
Maine - 2003 Acadia National Park
Bar Harbor
Bar Harbor area
Bath Iron Works
Boothbay
Boothbay area
Fort Knox
Maine Maritime Museum
Oceanarium - Bar Harbor
Massachusetts - 2003 Boston
Gloucester
House of Seven Gables
Marblehead
Salem Witch Museum
Whale Watching
New Hampshire - 2003 White Mountains
Pennsylvania - 2003 Crayola factory
National Canal Museum
Pocano Mountains
Rhode Island - 2003 Shoreline and Beaches
Vermont - 2003 Shelburne Museum
Vermont Teddy Bear Factory