Show and Tell
Updated: 08/10/17
Our Current Message: The most recent updates to our Web site by date: Search Form

Note: Photographs on this page are full size.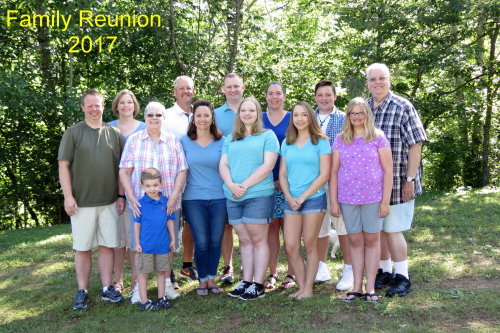 The most recent updates to our Web site by date:
Aug10> Our Good Sam Chapter 52 Campout photographs have been posted to our Web site.
Aug 10> We discovered while posting our 2017 Family Reunion that, while we remember it well, the photographs from our Family Reunion - 2016 & 50th Anniversary Celebration were never posted. We talk about the 50th celebration often and have the framed "We love you" photographs next to the TV, we were shocked to find that we had not worked the photographs. It was , however, very enjoyable to relive the Celebration again as we updated to our Web site. Enjoy! We did.
Jul 21> The photographs of Family Reunion - 2017 have been posted. Visit the Family Reunions - History page to see how our family has changed over the years.
Feb 2 > We posted our 2016 Christmas Photographs - another great family get-together.
Our Family page and all grandchildren's pages have been updated
Dec 11> Posted our 2016 Holiday Letter to our Web site.
Dec 11 > Entered family group photograph to Show & Tell page.
Dec 10> Posted school photographs on grandchildren's pages ... links on Our Family Page
Sep 12> We posted our photographs of our HitchHiker Forum Gatherings - 2016 M&M .
Aug 13> We finished posting our photographs from our Chapter 52 Campout - 2016.