Christmas Photographs - 2016 (New Year's Day 2017, also)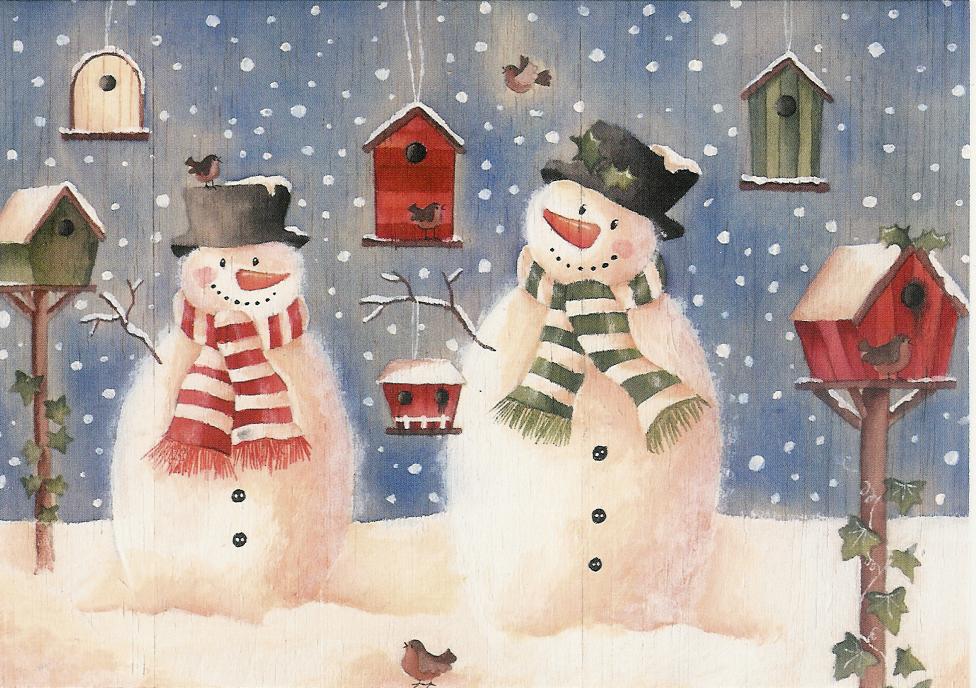 Updated: 02/04/17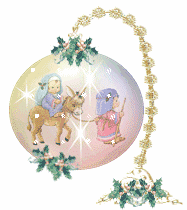 Getting ready for Christmas
Christmas Eve morning at our condo
Christmas Eve evening at Scott and Melanie's

New Year's Eve New Year's Day Dinner
Getting ready for Christmas is a BIG thing in our house - like in most houses. Mary Lou decorates for all holidays but Christmas is very special. This year Mary Lou was recovery from knee replacement surgery so she reduced some activities out of an abundance of caution. As a result, she enjoyed the entire Holiday Season.
We have a four foot tree that completed our Christmas celebration. The important part of Christmas ... our family ... made for a great season. So, some of the very old ornaments from Mary Lou's grandparents tree were not hung on our 'substitute' tree. The old fashioned 'lead' tinsel did not get placed this year.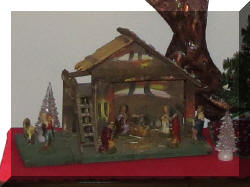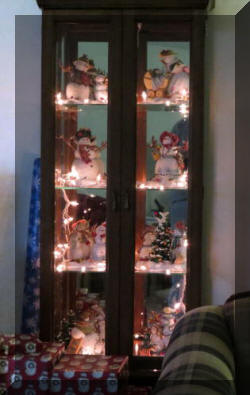 The Nativity from her mother and Mary Lou's Lenox snow people collection are always part of our Christmas decor.
Representing the real reason for the season ...
... and, Mary Lou's love of snow.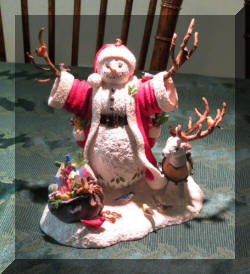 The centerpiece on the dining room table was another snow person.
We are fortunate that the Christmas Season brings the entire family together to celebrate. We are together as a group only twice a year - both times are treasured.
Christmas Eve morning we begin our Holiday festivities. The Michigan part of the family always has a great time starting at about ten o'clock in the morning.
This year the usual fancy dishes were not prepared. Instead, salad and a selection of pizzas were served.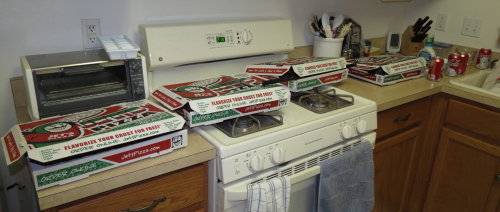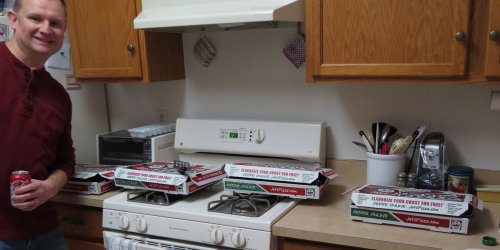 Scott didn't seem terrible disappointed.
No one else was either.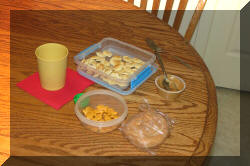 Wyatt's lunch looked different than
ours and was served earlier - he's
a growing boy.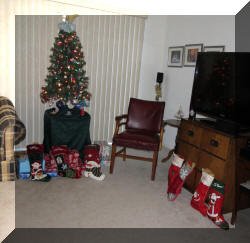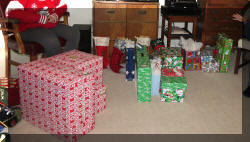 Small tree, small number of gifts ... no, this year Michelle and Melanie purchased gifts for their family to help Mary Lou. So they did not arrive early. Plus, gift cards were an easy option for Mary Lou this year - not an option she liked - but it worked.
Mary Lou did the most important shopping - stocking stuffers. All the 'children' expect a stocking each year. They are never disappointed.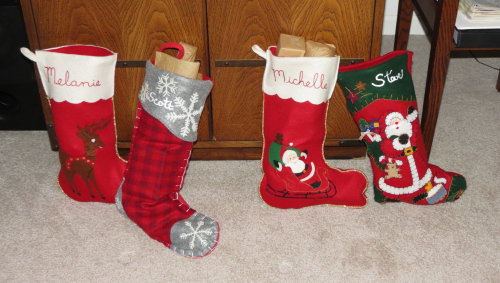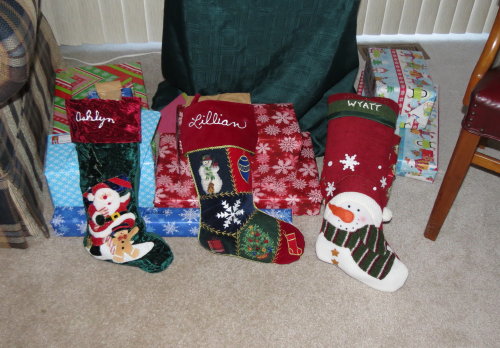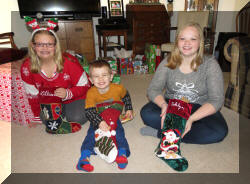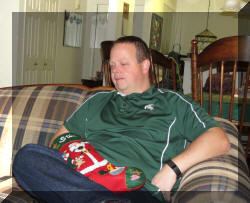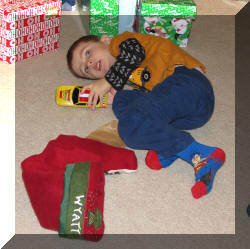 Melanie says Wyatt generally lays on the floor at eye level with his cars and trucks.
Michelle looks puzzled by whatever she has - Scott actually opened a puzzle.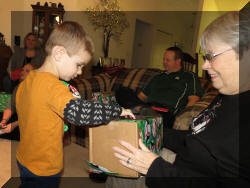 Grandma's helper ...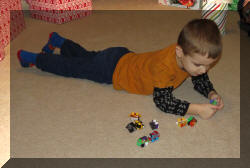 A magnetic train ...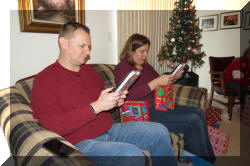 Every household needs "his & her" television remotes - right?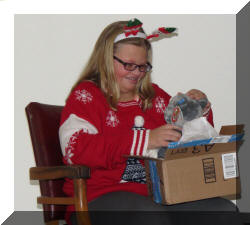 Lily did not need more stuff animals.
This stuffed animal was different,
it turns mean.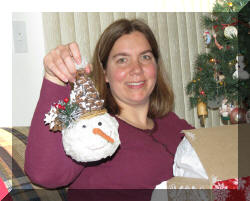 This snowman's head is capped with a giant pinecone hat.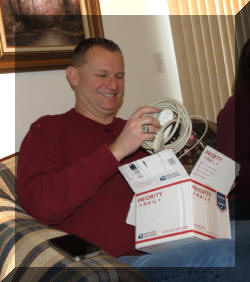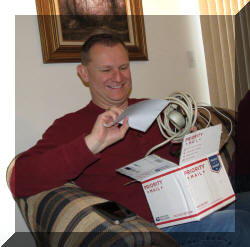 Scott had stuff on his Christmas list that only a computer geek would understand.
So, Fred boxed up some OLD computer cables and connectors and placed an envelope with a check in the bottom of the box.
Scott can purchase what he tried to tell us he wanted.
A monopod for Michelle, a i-pad cover for Steve.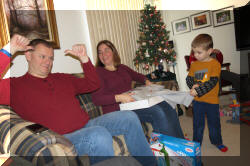 Scott's taking credit for the gift idea for Melanie.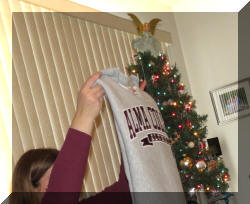 Melanie has not had an Alma College sweatshirt since the college gave her an early decision shirt her senor year in high school - it was showing wear.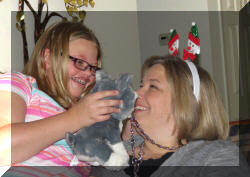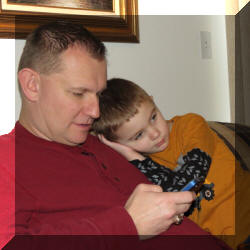 Lily teasing her mom with 'mean' cat ... Wyatt's getting tired ...
Christmas Eve evening we went to Scott and Melanie's for snacks and more gifts.
Another tradition we enjoy, Bruce and Kathy join us at Melanie's. Among the gifts they brought was a cement truck for Wyatt...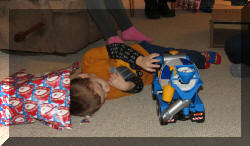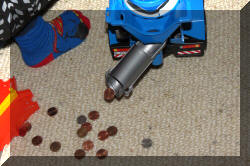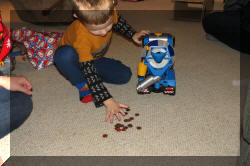 The cement mixer is spitting out coins.
(I don't think his parents are going to tell him he can add water to the cement mixer.)
Note: Bruce (and Kathy) received a big flat screen TV for Christmas.
Kathy got a new water bottle and Wyatt helped Lily open a new "jigsaw" puzzle.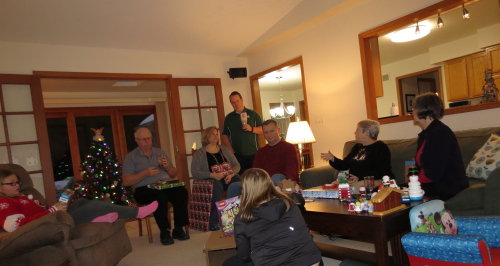 Bruce says politely with a smile, get your own glass. Bruce and Michelle shared a good laugh.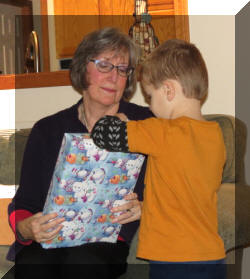 A willing helper . . .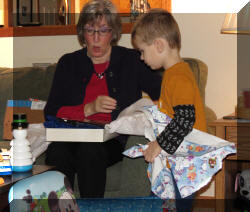 Kathy pleased . . .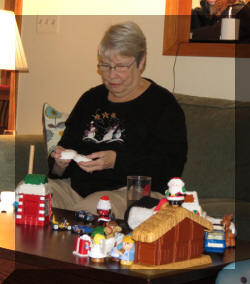 Mary Lou putting together a stackable toddler Santa toy.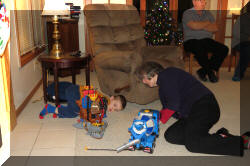 Wyatt showing Kathy some of his new toys.
Snack time ...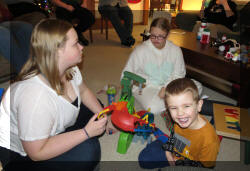 Three Grands . ..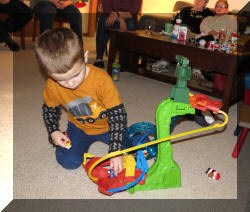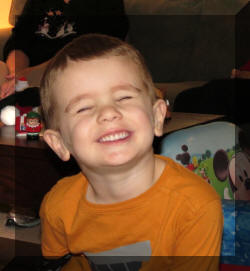 The silly three year old grin ... again.
Christmas Day morning our children and grandchildren are where they belong - at home as a family. This is especially important when the grandchildren are young.
For us, it is nice to relax after the busy days leading up to Christmas Day. We enjoy a quiet day at home with Mary Lou cooking only easy stuff - steaks and some other good stuff. We enjoyed a day of Christmas movies stored on our DVR.
Many would call it boring ... but ... we enjoy time together.
We talked to the Michelle and Fred in Indiana (and their families) to confirm that Santa found their houses. Melanie sent a video by text to confirm Santa's arrival at their house. They all reported the successful arrivals of a loaded sleigh. Using phone calls and texts, Caitlin, Ashlyn, Nick and Lily provided Christmas morning details.
We went to see Ashlyn and Lillian's gifts from Santa.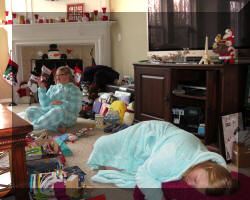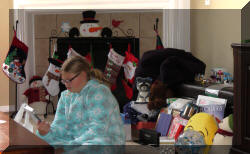 The day after Christmas, we were invited to Michelle and Steve's to see what they received on Christmas Day. It is always fun to hear and see Ashlyn and Lily's excitement. (Lily was more 'excitement' ... Ashlyn was more 'relaxed'.)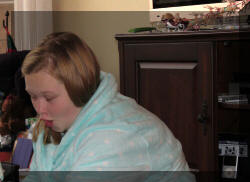 Ashlyn is getting into it . . .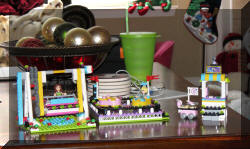 Legos . . .
More art supplies for Ashlyn. A "new" Polaroid camera for Lily.
Michelle found a site that would prepare a framed panel for their specific interests.
Marching Band Color Guard . . . Macomb Y's Marlin Swim Team . . .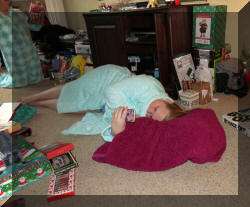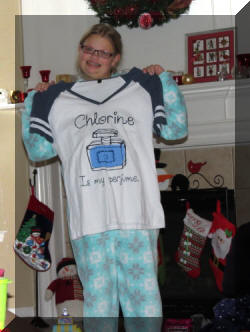 Oops, Ashlyn slipped down again . . . Yes, sometimes she smells like chlorine . . .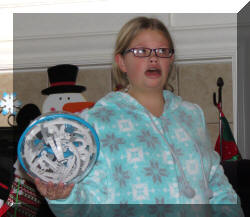 A complicated game - many paths for the ball bearing inside this ball.
Virtual reality rollercoaster ride . . .
Just so you know, Mary Lou got off the 'ride' safely.
Our next Christmas gathering was with Fred's family.
We are fortunate to have the 'Indiana family' make the trip to Michigan to join us for most of the festivities. Again this year, they stopped at Melanie and Scott's for an overnight stay and then visited with Bruce and Kathy before arriving at the condo.
The overnight at Melanie's works out well - giving them some 'alone' time with Melanie's family. The visit with Bruce and Kathy gives them some unique time together.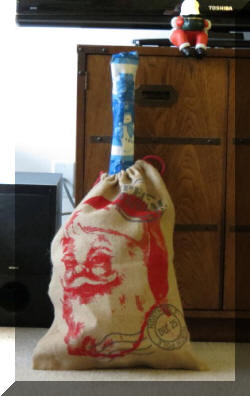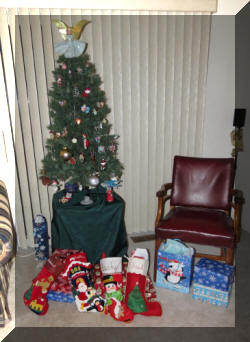 The grands are old enough that we did not open the stockings and gifts until the next day. Patience comes with age.
The burlap bag came from Indiana.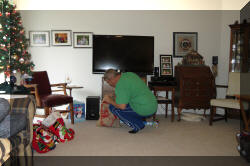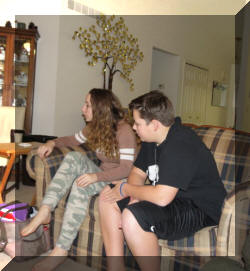 Is Fred checking out the gifts they brought ... or ... just sorting them!
He is being closely watched.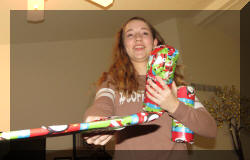 Ah, gifts for Grandpa.
Mary Lou is happy with her gift certificate for a steak dinner in 2017.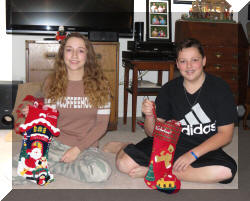 Now that Grandma and Grandpa
have opened their gifts,
Caitlin and Nick
can empty their stockings.
Yes, Becky and Fred can empty their stockings also.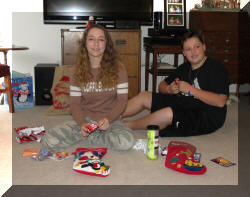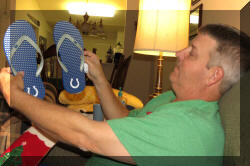 Official Colts thongs . . .
Poor Caitlin, she picks on Grandpa, he gets even. This gift was wrapped in Christmas gift paper ... and ... packing tape.
Her dad finally gave her his knife to get it started.
A lot of work for a gift card.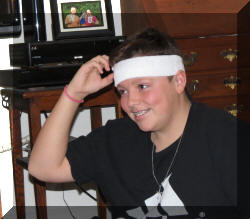 A sweat accumulator headband - a fancy name. Nick is ready for his next tennis match.
Becky likes "Santa's" taste in sox. The chocolate coins in the toe of their sox is a favorite of both Grands.
On to the larger stuff . . .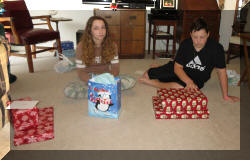 You can tell the children are getting older - fewer gifts, larger checks.
A LED, singing snowman for Becky. PJ's for Caitlin. A new golf shirt for Fred.
Becky with her top and Nick with his new sweatshirt. (Tags and gift receipts are always included.)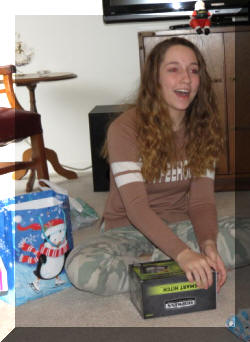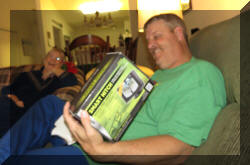 Fred had Fred (son) help him install a backup camera on our truck. When the installation was complete, Fred said "I should have one for my Jeep".
Santa heard that so provided one for him.
Thinking all the time, Santa thought Caitlin needed one for the car she is driving.
The back story is that, after we purchased the two backup cameras, Fred had a fancier Jeep backup camera system on his Christmas list. He decided to keep this one for his water truck ... problem solved ... no return required.
Grandma was a little behind but she had a specific order for her ChexMix. Caitlin and Nick volunteered to help her make a batch. It sounded like the 'training' went well. Maybe we will import ChexMix from Indiana next year.
We thoroughly enjoyed having the Indiana part of the family and the local part of the family with us during the Holidays. Everyone had a fantastic time.
New Year's Eve . . .
We had our usual 'wild' party with friends we hang around with during the year. It started with two couples about fifty years ago. Over the years, it has grown to four couples.
The party was at Ted and Carol's this year. Fred didn't take his camera ... so ... no current photograph of the group. He is going to have to pack the camera each year.
Good conversation . . . Good DVD movie . . . Good food . . .

A New Year's Day dinner of sauerkraut and ribs is another tradition in our family.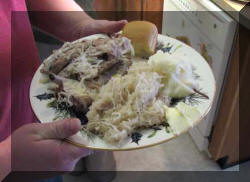 Fred's family tradition of baby back ribs and sauerkraut for New Year's Dinner goes back at least 70 years. Maybe over 100 years. It was his grandmother's responsibility when he was young, then his mother's, now ours.
For about 60 years, Fred's aunt and uncle from Toledo came to Michigan for the dinner. Health issues made it impossible for them to make the trip since 2011. (Mary Helen died in 2014. Irv is doing well but can't make the trip anymore.)
Because of changes in the college football bowl schedule, our New Year's day dinner may not be held on New Year's Day - it will move around a little to avoid Bowl games. The floating dinner schedule will be easier on the cooks (us) and our family football fans.
After dinner, Game time . . . Play time.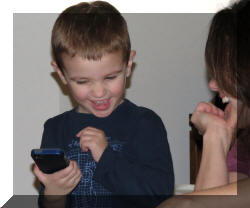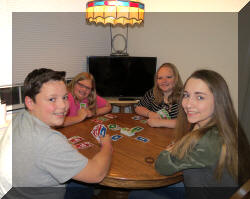 Wyatt has someone's phone... The other "grands" played Skip Bo ...
Wyatt showed grandma how to stack blocks using two sticks.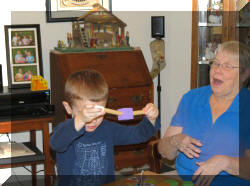 The stack fell, but Wyatt did not
drop the purple block.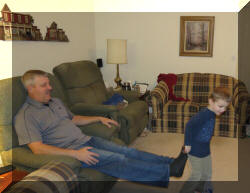 Uncle Fred enjoyed playing with Wyatt.
GROUP PHOTOGRAPHS . . . Fred was behind making group photographs. So, he made a full set today. (He thanks all for wearing or changing into plain tops without advertising for the photographs.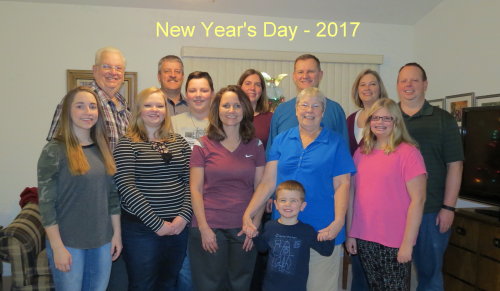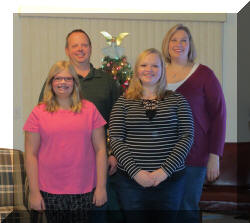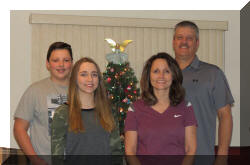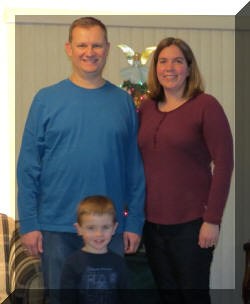 Lily-Steve-Ashlyn-Michelle Nick-Caitlin-Becky-Fred Scott-Wyatt-Melanie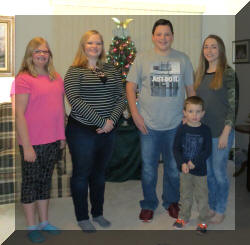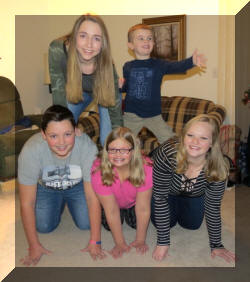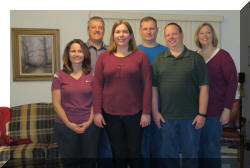 Lily-Ashlyn-Nick-Wyatt-Caitlin The Five Grands Becky-Fred-Melanie-Scott-Steve-Michelle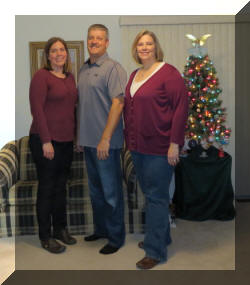 Our Three ... Melanie - Fred - Michelle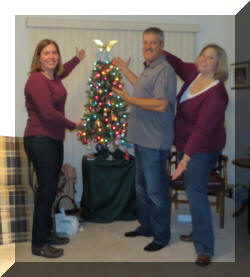 Being silly ...
(Maybe they were teasing their mother
about the unusually small Christmas tree.)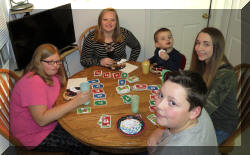 All five Grands playing Skip Bo and eating cookies.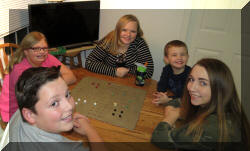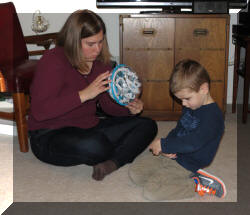 They switched to WaaHoo ... "Wyatt, check Google to help me play this game".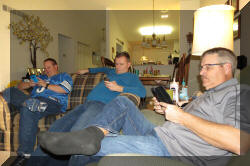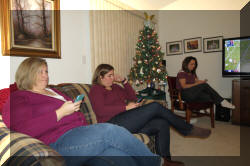 The guys on their phones ... The gals on their phones ...
Maybe it is time for a phone basket - or - more excitement at our gatherings.
Grandma, let's try again.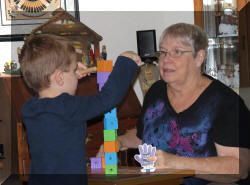 Fred gets hold of Wyatt again ... Scott gets some 'sugar'.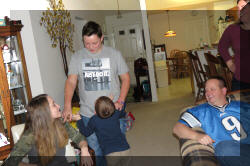 Nick, you're next. Let's play.
Back to Uncle Fred ... he is fun.
We hope you had a joyous Christmas Season and we send you our best wishes for a safe and healthy New Year.