INFORMATION AND HINTS
Updated: 12/11/14
Everyone, RVers and non-RVers, acquires information and knows hints about many subjects. We will share several of YOURS and OURS on this page. We are looking for those things "everybody knows" but seldom write down. Pass along your information and hints using our CONTACT US link. If we include yours, we will list only your first name(s) as the source.
Clicking on Page Links at the end of each group will return you to this location on the page.
Page links: INFORMATION AND HINTS
SPECIFICATIONS, CONVERSIONS AND OTHER
Our Truck and Trailer Modifications page describes some of the improvements we have made to our RVs.
Links to subject: A B C E D F G H I J
Air Conditioner Freezing Up Our RV repairman told us to leave the Quick Cool vent open a little so there is enough air flow to stop the ice from forming. (Joan and Harold)
Another opinion ... the service technician from Dometic told us this was not necessary. He said if the air conditioner freezes up, it indicates an air leak in the venting - pulling the cold air back into the unit instead of sending it down the ducts. (Dometic Technician, at the 2004 HitchHiker Rally)
In addition ... He concurred with Mary Lou that running the fan continuously on high in hot humid weather is a good idea.
Also see ..... Thermostat - resetting below
Alaska Is a trip to Alaska in your future? Do not start making plans without first reading Mike and Terri Church's book, Traveler's Guide To Alaskan Camping. Don't expect a lot of information about attractions - instead, it includes mostly detailed information on campgrounds, dump station locations, fuel prices, road conditions and scenic views. For more information visit www.rollinghomes.com . > > > We found their book very helpful in planning our Alaska - 2005 journey. < < <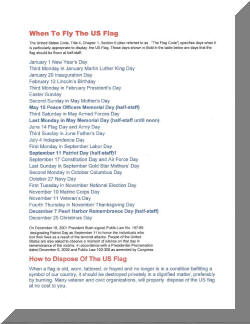 American Flag - When to fly it . . . if you do not fly our flag every day, the list below are days you should make an effort to fly your American flag.
Ant Poison Three methods >>> (1) 1/2 teaspoon powdered boric acid + one tablespoon ground dry pet food + 1/2 cup grape jelly. (2) Equal mix of sugar and powdered boric acid. (3) Equal mix of confectionery sugar and baking soda.
Antenna - Direction Which way to point your TV antenna? Look at all of your neighbor's antennas generally gives the best position for your antenna. The RV batwing antenna has a gain of about 15.5db off the front of the antenna - the front is the side opposite the tubular arms.
Antenna - Lubrication Reading my owners manual, I discovered that the TV antenna requires lubrication. The instructions said to lube the gear on top, around the disc and under the plastic plug. Next spring, I will add this to my 'getting ready' list of chores. Avoid getting any over-spray on your rubber roof.
Anti-Freeze . . . RV Anti-freeze . . . An open bottle is good for only one more season. A factory sealed bottle has a three to four year life. Source: Trailer Life TechTopics Feb 2011.
Awning - Let it slam While we were having some factory service performed on our awning, we received an interesting hint from the service technician. When you roll your awning up, let it slam against the side of your RV from about a foot out. This helps it roll tighter on the roller. (Dometic Technician, at the 2004 HitchHiker Rally)
Awning - Lubrication It is easy to forget but your awning should be lubricated according to the manufacturer's instructions. Ours was getting a little stiff until we did some lubrication. I mentioned this to the service technician - it made his day. (Dometic Technician, at the 2004 HitchHiker Rally)
Battery Charge and related Specific Gravity, which can be measured only with flooded cells using a hydrometer, will show:
(Trailer Life May, 2012)
100% charge 1.265
75% charge 1.225
50% charge 1.190
25% charge 1.155
Discharged 1.120
Battery Voltage Indicates the Percent of Charge (Trailer Life 5-2001)
12.6 + Volts 100%
12.4-12.6 75-100%
12.2-12.4 50-75%
12.0-12.2 25-50%
11.7-12.0 0-25&
Less than 11.7 0%
Batteries with gelled electrolyte should generally be avoided for use in RVs. Source: Trailer Life Magazine - April, 2006
When disconnecting BATTERIES, always disconnect the ground first ... and ... reattach the ground last.
Most batteries are wired in parallel in an RV to maintain the system at 12-volts while providing more lasting power.
What is inside batteries?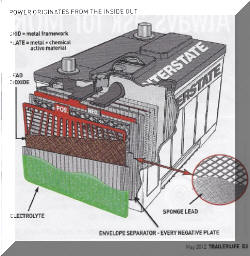 After BACKING INTO CAMPSITES for thirty years using hand signals, we now use a set of family radio service Talk-About walkie-talkies. They work very well. Fred does not have to 'find' Mary Lou in the mirror all the time. And, Mary Lou can stand where it is best for her to locate any ground level and overhead obstructions. (We also use the orange plastic soccer cones to help place the fifth wheel exactly in the correct spot - the first time. All the trees look the same in the mirrors - the cones are easy to see.)
>>> UPDATE: We are now using our cell phones to communicate with each other when backing into our storage spot and a campsite. We no longer have to recharge the Talk-About's batteries.
Bees can be eliminated (killed) using Sevin vegetable dust. Spray 6% or 10% vegetable dust into the bee hive hole at night when dark and cold.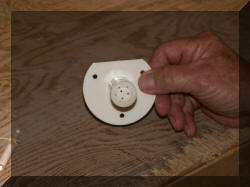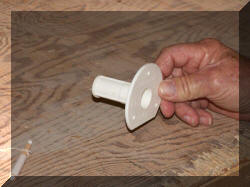 Black tank flush assembly . . . is not as complicated as one would think. It is a simple plastic fitting but performs a necessary function. Attach the dump station "unsafe water hose" to the connection on your RV. Sometimes the "unsafe water hose" at the dump station has a curved metal spout attached to the end of the hose. With the spout attached, the hose can't be attached to the built-in black tank flush connection on your RV. We have found that, in many cases, the curved spout can be removed easily by hand. Then, you can attach the hose to the flush connection. >>> Be sure to reattach the spout when you are finished. <<< Click on photographs to enlarge >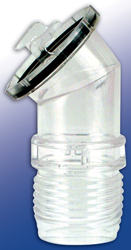 We run the water through the flush assembly into the black tank until the water seen in our clear sewer hose adapter runs clear. The black tank valve is then closed and water permitted to run into the black tank for three minutes - if we are not winterizing. This adds enough water to the tank to avoid problems with solids. We then add our 'perfume' tablets.
When a water hose is not available for use at the dump site,
we fill the toilet three times and flush before closing the black tank valve.
Black Water Tank Issues . . . See Tank Issues - Black Tank
Boondocking (Dry Camping) Camping in your RV with no hookups - no electricity, no water, no sewer. Boondocking is usually not in a campground. Most of the time it is on open public land or in parking lot of a business. Always check local ordinances before camping.
Buy Right Linens = January Kitchenware = April and November Winter Coats = March
Tires = July Swimsuits = July and August
Cable Use Guide The specific uses of the various cables available can be confusing. Maybe the attached guide will help.
Popular Mechanics February 2010
Camper Courtesy This publication is two pages from the DNR department of the State of Michigan.
images/CourtesyP1.gif images/CourtesyP2.gif
Campground or campsite reservations in a "first come - no reservation" campground. This may be of interest to you.

We had an interesting thing happen in Zion National Park one evening. A woman knocked on our door. She asked us to put a 'blank' camping permit on our post when we vacated our site in the morning and one on the post next door if our neighbor was vacating their site. She instructed us not to put it out until 9:00am - she said by then the camp host will have removed all expired camping permits.
By doing this she was trying to 'reserve' sites before she and her friends arrived the next day. By the way, ours was a 'first come' campground - no reservations
We tell you this so when you arrive at a 'first come' campground you verify that the camping permit is properly filled out. If not, the site is available for your use.
Cell Phone Battery Charging It is recommended that the primary source of battery charging for your cell phone be your 110volt charger. This home charger produces a slow trickle charge and shuts off when the battery is fully charged. The car 12volt charger produces a fast charge and should not be used for more than an hour or so at a time. (Source: Verizon technician regarding my Motorola StarTAC cell phone. [10-15-01]) If we do not have land power 110volts available, we use a small inverter to charge the cell phone.
Cell Phone Dunked? Unfortunately, we experienced our Samsung Convoy submerged in water. Having read about packing them in rice, that is what we did. First, open case, remove battery and shake out as much water as you can. Better yet, use the suction from a vacuum cleaner or blow air from a source to remove water. (Note: If it is saltwater or dirty water, pour clean fresh water through it and repeat above.) We packed our cell phone in rice and occasionally repositioned it for over 48 hours. >>> We were successful. <<< When we checked the phone periodically, the LCD screen was the last thing to dry out.
After this experience, we carry rice in our fifth wheel because we might not be close to a grocery store when we need it.
Cell Phone Internet Access We started using our cell phone for e-mail from our fifth wheel beginning June, 2001. While many cell phones can process e-mail, the screen is the size of a postage stamp. Our setup permits us to process our e-mail in the same manner and using the same ISP we use at home - without the need for electricity or phone line. In addition to a laptop, data capable cell phone and connectivity software, a digital cellular signal is needed for our setup.
We will let you know how this setup is working as we travel. (We know some campsites are in areas where no cellular signal is available. Our plan is to process our e-mail from a digital cellular area before heading for a remote campsite. UPDATE ... This setup is working fine as of July 2004.)
UPDATE 2006 > > > WiFi is now so prevalent, we use our laptop to search for a WiFi Hotspot first. Internet access using our cell phone is now a back-up system. WiFi also permits us to use the same ISP we use at home.
UPDATE 2007 > > > This year we upgraded to an AirCard Verizon USB760 3G for our Internet access. This permits us to use the same Internet access service at home, at the cottage and in the RV just about anywhere in the country. We also added a wireless router and external RV antenna to our system. We added a Wilson Trucker antenna for weak signal areas.
UPDATE 2011 >>> We upgraded our AirCard to a Verizon (Pantech) 3G/4G UML290. While 4G areas are not very common at this time, in 2013 they are supposed to be wide spread. Our new AirCard requires a 3G/4G exterior antenna in weak areas - we have added a Wilson 3G/4G panel antenna.
ADMISSION: Fred discovered something he was doing wrong with our new UML290 . . . to save wear and tear on the external jack on the UML290, he was leaving the AirCard-to-Antenna cable adapter connected all the times. This was apparently disconnecting the UML290's internal antenna. Fred tested the AirCard's signal strength with and without the adapter and with and without the antenna attached to determine the reason for the problem. The signal strength diminished when only the adapter was attached. The signal strength increased when the adapter was removed. As a result, the adapter is attached only when the external antenna is also attached.
Cellular External/Exterior Antenna information - Initially (2007), it was used on the HitchHiker. We have recently (2008) found that the exterior antenna improves the signal at home and at the cottage. At all three locations, we use the same 3/4" conduit as the antenna mast. Follow this link for information about the Cell Antenna - RV Temporary Mount we use on our RV.
It took us a while to figure this out because we do not see 'signal strength' when the AirCard is in the router. We inserted the AirCard in Fred's computer so we could observe 'signal strength' while determining where the antenna should be placed. To our surprise, higher was not always better. Another thing we learned - the signal strength on our cell phones has no relationship to the signal strength on our AirCard. It has been an interesting and beneficial exercise.
>>> UPDATED 2011 >>> Upgrading our AirCard to the new technology 3G/4G capable UML290 required a change in external antenna as well. It was a struggle getting the correct information so we will share it with your here.
Pantech UML290 – Correcting Published Antenna Port Information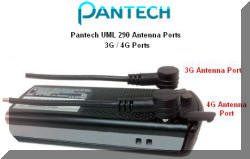 The images showing a separate 3G side and 4G side of the Pantech UML290 ARE NOT CORRECT.
The correct information is . . . The left side under the satellite image is a 3G/4G antenna port for 'consumer' use. The right side under the plain cover is a 3G/4G port for technician use only.
My Wilson Trucker antenna was NOT working properly on the 3G side of my UML290. That was going to be a problem when we traveled in our HH in weak signal areas. I needed to solve this situation.
Fred called Pantech. The first technician contact did not go well. He was a poor representative for Pantech. His second contact, Walter, was a Senior Technician (Level 2) who was very knowledgeable. They talked for 15 minutes.
As a result of that conversation, we are using the 'consumer' antenna port for both 3G and 4G. We purchased a Wilson 3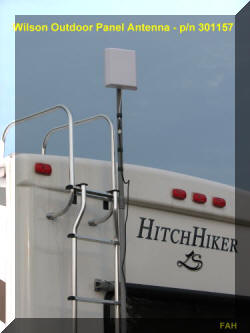 G/4G Outdoor Panel Antenna (Part Number, 301157). The 3G Store has a bundle including the antenna, 20' cable and adapter to the UML290.

We tested the new setup at home … it increase my 4G signal strength from 4-bars to 5-bars. We tested our new setup at a fairgrounds near West Branch (MI) … it increased the signal strength from ZERO to a 3G signal with 3-bars. These tests confirm the function of the 'consumer' antenna port. Because the panel antenna is directional, it is not as easy to set up as my Trucker antenna was. However, the results are worth the extra effort. (Per the discussion above in green, DO NOT leave the antenna adapter attached to the UML290 without the antenna being attached also.)

We adapted the same Cell Antenna - RV Temporary Mount to accommodate our new panel antenna.

We will continue to update this information as we have more experience with the new AirCard and antenna setup. >>> 7-7-2012 Using the above methods, we are now happy with the performance of our Internet wireless system. <<<

Computer (Laptop) Battery Charging - Our new laptops (2010) came with the following recommendations for getting the best life out of the L-ion battery.

Use your battery to keep it fresh. Don't keep your computer plugged in all the time. It's a good idea to discharge and then recharge your laptop battery about once a month. Also, you should let your battery run down before you recharge it.

Dell Windows Help and Support 2010

Computer - buying a new one? READ THIS > > > When Mary Lou was setting up her new computer in 2010, after she started, it told her she needed six DVDs or a USB flashdrive to create a system backup. We were not prepared - we did not have the required DVDs or flashdrive on hand. It created a lot of problems when she tried to create the system backup later. So, be prepared in advance. Your set-up will go a lot smoother.

NOTE: She could not accomplish the task using DVD-Rs or a flashdrive.
After consulting with users on the Internet, she was told to use DVD-RWs. That worked.

Computer (Laptop) Desk for your RV We have found an ideal substitute for a (laptop) computer desk for your RV or at home. It is a TABLE-MATE II (The multi-purpose portable table). We bought ours out of Dr. Leonard's Healthcare Catalog for $30. Since then, we have seen it in Sears Home catalog and many other mail order catalogs. It makes working at your laptop computer from the comfort of your swivel rocker possible. Fred has decided he would rather have the Table-Mate II than a built-in computer desk. It is not a beautiful piece of furniture but it is lightweight and folds flat for easy storage. Our is white plastic.

> > > NOTE: We are now seeing this desk in catalogs in a darker wood grain color. < < <

Computer Maintenance - Revisited The information below is generally still good today (2010). However, I heard an interesting piece on the Internet Advisor yesterday - Saturday, May 15th, 2010. They said that with today's large hard drives, they do not recommend deleting temporary files unless you are having trouble with your computer. Unlike the days when hard drives were small, retaining the temporary files actually speeds up your computer. They shared their practices - deleting temporary files only every six months to annually. A big change from the recommendation that you clear your temporary files regularly to speed up your computer when hard drives were small.

The Internet Advisor is on WJR (760 AM) radio from 5:00pm to 7:00pm on Saturday.
We listen to them on our computer when on the road.

Computer Monthly Maintenance for Users I found these hints to be useful. They were sent to me by AOLPhoneTech. What you will find on the Computer Maintenance page is:

A. EMPTY YOUR AOL CACHE
B. BACKING UP YOUR ADDRESS BOOK, FAVORITE PLACES AND PERSONAL FILING CABINETS
C. CLEAN UP THE HARD DRIVE
D. DEFRAGMENT YOUR HARD DRIVE
E. RESOURCES ON AOL
F. RESOURCES & UPDATES AT MICROSOFT.COM

Also, heard on The Internet Advisor during their show on March 2, 2002 .... Remove all open tasks except the 'explorer' and 'systray'.

Computer - Printer (Wireless) installation This may be common knowledge among other computer users ... but ... I spent a lot of time trying to install a second wireless printer before I realized the problem. The second install continued to 'see' the first wireless printer instead of the second wireless printer being installed. While I had turned off the first wireless printer, I had not turned off the related computer. As soon as I turned that computer off, the install went smoothly. So, the lesson learned, turn off all unrelated equipment on the network.

Computer - Protect it. The following action will help protect your computer. Watch for newer software that you can use to protect your computer. The hackers are trying their best to breach the best protection available - stay current.

Install antivirus software
We use the FREE version of AVG.
Set up a firewall
ZONEALARM is recommended.
We are using the Windows Firewall
Use meaningless passwords
Change it every 90 days.
Download the security patches
windowsupdate.microsoft.com
Use malware and spyware software regularly
We use MalwareBytes, Spybot and CCleaner
Disconnect from the Web when not using it.

Computer User Information Fred is not a computer tech but sometimes helps people with user processes he is familiar with and uses regularly. The following step-by-step instructions may help you.

HOW TO USE "BCC" and "CC" in your e-MAILS

All ISPs offer a function to send TO, CC and BCC addressed e-mails.

Using AOL:

You must send the e-mail TO your e-address or another e-address in addition to the CC and BCC e-addresses to others.

Open your address book. Click, do not double click, on the name you want to send an e-mail to. At the bottom of the address book page you chose "SEND TO", "CC" or "BCC". Repeat this for each name.

If you have groups in your address book, click, do not double click, on the group name. At the bottom of the group list, click on the 'group options' button. You can select to "SEND MAIL", "COPY TO" or "BLIND COPY" the entire group in your e-mail.

Other ISPs:

All ISPs function in a similar manner. Using HOTMAIL, for example, open a new e-mail to compose and the TO address line. The CC and BCC buttons are at the top-right of the new e-mail. Clicking on CC or BCC opens your address book for selecting addresses for the CC or BCC address line.

Help reduce SPAM:

Please feel free to use this image in you e-mail signature to encourage others to use blind copies (BCC) and help reduce SPAM for all of us.

<![if !vml]>
<![endif]>

Please let us know if you find that any of these comments did not work or can be improved in any way.

F.A.H. May, 2009

HOW TO CUT AND PASTE FROM/TO AN eMAIL

I'm sure you have received e-mails with what appear to include hundreds of e-addresses. That is because someone just clicked on FWD without selecting only the part of the e-mail they wanted to send to you.

The following method of sharing information takes more time but will reduce SPAM for everyone. You will not be sending others the hundreds of e-mail addresses sent to you on the original e-mail. And, if you use BCC addresses when sending the new e-mail to all of your friends, their e-mail address will not be seen by everybody else.

Instead of just clicking on FWD:

To forward some of the content of an e-mail you received to someone else, highlight the text and image you want to forward in the e-mail you received. You can do this by holding the left mouse button down and moving your mouse over the area to highlight it . . . or . . . you can move the curser bar to the start of the area you want to send and left click – hold the 'shift key' down – move the curser bar to the end of the area you want to send and left click to highlight the area - then, release the shift key.

When highlighted, right click in the highlighted area and select CUT.

Open a new e-mail. Right click in the text area of the new e-mail. Click PASTE, to add the highlighted area you stored on your clipboard into the new e-mail. Address your new e-mail as usual. You can also add any personal comments before sending the e-mail by pressing ENTER above the area you pasted to create space.

Help reduce SPAM:

Please feel free to use this image on you e-mail signature to encourage others to use blind copies (BCC) and help reduce SPAM for all of us.

<![if !vml]>
<![endif]>

Please let us know if you find that any of these comments did not work or can be improved in any way.

F.A.H. May, 2009

HOW TO: Copy (or Cut) and Paste into a new folder

>>> ALL "clicks" are left clicks unless a right click is specified. <<<

Click on MY DOCUMENTS, then FOLDERS

Click on the folder where you want to add the new folder. It could be MY DOCUMENTS or any folder below MY DOCUMENTS.

For photographs, this may be MY PICTURES.

(Your new folder will be inserted in the highlighted folder.)

Click on FILE > NEW > FOLDER Name the new folder

…………………………………………

Click on the folder where your camera placed your photographs. (Note: Fred has his photo software set to automatically put the photograph files in a folder named "Off Camera Today".)

It could be in MY PICTURES > 'Off camera today . . .' nn-nn-nnnn (05-14-2008)

> or another folder.

Click on the folder where your photographs are located.

Your camera may have named the file the date the files were created

Click on sub-folders until your photograph thumbnails or .jpg file names appear

Click on the first photograph > hold the SHIFT key down > move the curser to the last photograph using the navigation bar > then, click on the last photograph.

All of the photographs in the folder should now be highlighted.

Position the cursor on any highlighted photograph – DO NOT CLICK ON IT. Right click on the selected photograph > click on COPY. (By using 'copy', you are retaining the original files in case something goes wrong.) (If you used 'cut', you risk losing them.)

Go to and click on the named folder you created for these photographs > right click on the folder > click PASTE.

The photographs should now be in named folder you created.

Once you confirm that the photographs are where you want them, go back to the 'Off Camera Today . . .' folder, and delete the date folder containing the duplicate files.

…………………………………………

NOTE: Depending on how your camera software is set up, it may have removed the photograph files from your memory card automatically. If not, you will have to delete the photograph files from your memory card. You will find it under MY COMPUTER.

Fred has the software set so he has to manually delete the photograph files from the memory card - just in case there is a problem during the process of renaming and organizing the files.

NOTE: This same process can be used to move text files, music files and other file types.

Please let us know if you find that any of these comments did not work or can be improved in any way.

F.A.H. June, 2008

Computer VIRUS Extensions I read someplace that the extension ".vbs" is frequently used to spread a virus.

Computer Virus Infections Based on the number of infected e-mails Tom has been getting from newsletter subscribers, a significant number of you are not keeping your systems protected. <sigh>

You should:
1) Make sure your virus scanner is installed and up to date. I suggest AVG from www.grisoft.com.
2) Frequently visit Microsoft's website and download patches to keep your system up to date. Go to www.microsoft.com, choose DOWNLOADS, then WINDOWS UPDATE. From there you can get updates specifically for your installed software configuration.

Tom, Internet Advisor Newsletter 11-29-01

Computer WiFi connections can be free. We have had success locating wireless Internet connections at motels, campgrounds, laundromats and coffee shops. They provide it to their customers and many do not secure the WiFi due to the rapid turnover of clientele. If you park close enough to their building, you can pick up the signal.

Concrete protection that is less expensive than commercial products - a mixture of 50% boiled linseed oil and 50% mineral spirits.

Thanks, Don V.

Credit is very important. The Credit - Protect It page currently shows four activities you should practice to protect your credit cards. As we find other appropriate yet simple ideas, we will post them.

Diesel Additives We have never used diesel additives in our diesel engines. A writer (Philip W.) to Trailer Life magazine (Dec'06) suggested using 'Power Service Diesel Fuel Supplement' (available at Wal*Mart) to reduce gelling. The tech writer did not disagree.

However, Cummins recommends that no additives be used for the 6.7L engine. (2008)

Diesel engine in your Dodge Ram? Be sure and check out The Turbodiesel Register at www.turbodieselregister.com .

Diesel fuel is taxed differently in some states for automobiles and trucks - as much as eight cents a gallon additional tax for trucks. Whenever possible, fill at the automobile pumps. We have been told by Tari at the corporate offices at Flying-J that the diesel fuel is the same, just the tax rate is different.

Digital Cameras and Memory Cards in airports X-Rays are okay. Metal Detectors are not. Therefore, keep your camera and memory cards in your bags, not in your pockets. (Film cameras . . . Film is generally safe if x-rayed as carry-on luggage. Film in checked luggage will be damaged because check luggage x-ray machines are more powerful. )

Study by: American Society for Testing and Materials

NOTE CHANGE . . .
This information is changing rapidly as the screening for terrorist activities increases after 9-11.
Technology is changing the equipment used for detection also.
The recommendation now seems to be to carry-on and ask for manual inspection.

Digital TV - add analog pass-thru with your current digital converter box. If you have already purchased a DTV converter that doesn't have analog pass-through, you're not completely out of luck. You still may be able to get analog signals to your TV by using an antenna switch or 2-way splitter. Use a splitter if your TV has separate audio/video inputs. Just connect the antenna feed to the splitter, and run one cable from the splitter to the RF input on the TV and another from the splitter to the digital converter's RF input. Connect the converter's A/V output to the TV's A/V input. Your selection on your TV of which video input you use selects which signal source you will use. On 'antenna' you can watch the analog programs by changing channels using the TV's tuner. When you want to watch a digital channel, just switch to the video input to "video 2" or other appropriate input. We have our DVD/VHS player connected to the "DVD" input. So, we are using three input sources. You can find more details on the Internet.

For TVs that only have an antenna input connection (no separate video inputs), you'll need both a RF antenna splitter and an RF antenna A/B switch. The splitter should be connected to the antenna (input), the converter box antenna input and the "B" input on the A/B switch. A cable is connected between the DTV converter box's RF antenna output and the "A" input on the A/B switch. The A/B switch single output is then connected directly to the TV's RF (cable) antenna input. When the A/B switch is on the "digital" (A) side so it's receiving the converter box's signal, tune your TV to channel 3 or 4 to watch digital programs. When you move the switch to the "analog" (B) setting, you'll be able to view any available analog programs by changing channels on the TV. The downside is that you'll have to manually switch between the two inputs on the A/B switch every time you want to switch from an analog channel to a digital one.

Dishwasher Hints (Home) - During a recent warranty service call on our dishwasher, the technician gave us some hints for avoiding a service call. (See Microwave hints also.)

- If the touch pad stops responding, turn the circuit breaker off for three minutes. Then turn it back on. The circuit board may have needed resetting.

- Don't use too much soap. Don't use the soap blocks.

- If you find you have too many suds, run it empty with a cup of vegetable oil to control the suds.

G.E. Service Tech 1-6-04

- Another issue ... When we returned from a six-week trip, the dishwasher filled with water but would not run. All the serviceman did was spin the cooling fins on the motor a few times using a screw driver. He claims the motor on the GEs freeze up with nonuse. So, next time, we will remove the lower front panel and spin the motor before calling service.

DOT Do One Thing

Dumping holding tanks is nobody's favorite RV activity. We started using disposable latex gloves when dumping the holding tanks a couple years ago. Previously, we washed with a moist towelette after dumping. If you plan your moves well, the use of the gloves avoids any possible contamination of other surfaces. (We open the drain hose storage compartment door before putting the gloves on, put the gloves on, remove the hose from the compartment, dump, return the hose to the compartment and then remove the gloves. At this point the gloves are inside-out, thus safe to handle to dispose of. We then close and lock the drain hose storage compartment.)

Dump station black (unsafe) hoses sometimes have a curved metal spout attached to the end of the hose. With the spout attached, the hose can't be attached to the built-in black tank flush connection on your RV. We have found that, in many cases, the curved spout can be removed easily by hand. Then, you can attach the hose to the flush connection. >>> Be sure to reattach the spout when you are finished. <<<

A dump station drain can sometimes be inoperable - you don't know until it is too late. Here is a suggestion from Highways Magazine posted in the HH Forum Newsletter. This has happened to us once in 40 years.

"Before you empty your "black tank", check for any sewer hose leaks or bad connections, by letting the "Gray Water" run for several seconds before emptying the "black tank". By doing this, you confirm that the dumpsites drain is functional and there aren't any nasty surprises. If the drain is clogged, whether you're at a campground or public dumpsite, notify a responsible person, so that it can be repaired before the next RVer

faces a similar dumping disaster."

I am not sure I want to open and close my drain valve while the dumping is in progress. I know I do not want to open and close the black water valve for fear of pushing paper or something else into the slide valve seat when closing the valve. It might be okay to open and close the gray tank valve. I pass the information along for you to evaluate.

E-greeting cards (Electronic Greeting Cards) E-cards are cute and the recipient appreciates the thought behind them. Many e-cards are 'FREE'.

Often, unfortunately, the recipient also starts to receive daily junk/spam e-mails. While the e-card websites may not charge for the cards, they generate revenue by selling active e-addresses they collected from e-card customers to other advertisers.

Please be very selective which e-card vendors you use. Use only those known to NOT sell your friend's e-address. Avoid Web sites asking for the e-address for 12 of your friends.

Electric Trailer Brakes A photograph of the components. Electric Trailer Brakes.jpg

Trailer Life, February 2010

Electrical Panel This is a very good explanation of basic electrical information for a panel of the type you have in your house or RV. Electric Panel - 120/240 volt

Electrical Wire Size -

Wire size required for amps desired from a 12-volt source is as follows:
12Ga wire up to 41amps
13Ga wire up to 35amps
14Ga wire up to 32amps
15Ga wire up to 28amps
16Ga wire up to 22amps
17Ga wire up to 19amps
18Ga wire up to 16amps
19Ga wire up to 14amps
20Ga wire up to 11amps

Wire size required for amps desired from a 110-115-volt source is as follows: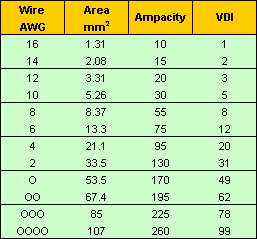 | | | | |
| --- | --- | --- | --- |
| United States, Canada | (brass) | (silver) | (green) |
E-mail Etiquette On-The-Road Those of us who use a telephone line in campground offices for e-mail on the road have a real interest in insuring a cooperative relationship between campers and the campground owners - as well as our fellow campers. Limiting OUR time on the phone line is the best approach. We can do that by preparing our e-mails off-line. It will also save you money by reducing your on line time. Here are some suggestions,

DO
>Compose your e-mail off-line in your RV.
>Locate a local number in advance of your arrival at the phone line or use your ISP's "800" number.
>Boot up your laptop and start your e-mail program before you arrive at the phone line.
> Connect your laptop to the telephone line
>Use the "ONE CLICK" automatic SIGN-ON, RETRIEVE, SEND and SIGN-OFF feature provided by most ISPs. This permits you to do it all in less than two minutes of on-line time.
>Disconnect your laptop.
>Read, enjoy and draft your reply to your e-mail in the privacy and comfort of your RV.
DO NOT
>Download large files. Set up your software to limit or not download automatically. Ask your family and friends not to send large attachments and files to you when you are on the road.
>Compose your reply and write new e-mail messages on-line.
E-mail phishing attacks increased 41% between 2005 and 2006. Protect yourself from e-mail fraud.
To help protect yourself from phishing attempts and other Internet fraud, follow these tips:
- Use firewalls and anti-virus software to detect messages with malicious files attached or hackers attempting to take control of your computer.
- Bookmark all of your financial services Web sites and only access them using your 'Favorites' menu.
- Never click on a questionable hyperlink provided in an e-mail.
- Delete unsolicited or unknown e-mails without opening them
- Report suspicious e-mails asking for personal information to your financial institution.
- Be Diligent. Do not respond to any e-mailed request for personal information. Your financial institution will not use e-mail to ask you for personal information. They already have that information.
- Monitor your financial accounts regularly.
- When in doubt, call your financial institution.
Electrical connectors (12volt) The wiring pattern for the common 7-pin and 4-pin connectors is attached. images/info and hints/7pin & 4pin.gif
We have discovered that connecting our electrical connectors (12volt) pigtail from the fifth wheel to the truck is best done when the lights on the truck are off. We were blowing our fifth wheels left turn fuse frequently. Making sure the lights on the truck are off before connecting eliminated the problem during a subsequent 7,000 mile trip.
Electrical polarized receptacle with three prongs are the modern version. Fred had reason to identify the prongs. We all know the round one is the ground. His research determined that the narrow prong is 'hot' and the wide prong is the 'neutral'.
Facebook is a safe social networking site if you are careful what you post. Never post your address, phone number or other personal information on your profile that will permit someone to physically 'find' you. Post a general location of where you live, other general information and a profile photograph of you on your account so people can locate you on Facebook. You will have a choice to accept them as your 'Facebook friend' or not. Advise your 'Facebook friends' not to post your personal information also. Read, understand and use the many safety comments and the restrictions you can build into your Facebook account. Be aware that there if a BIG difference between a 'friend' and 'everyone' on Facebook - make the correct selections.
Facebook training books - Facebook is a popular social networking site. Because Facebook is revised or changed frequently, do not buy a book telling you how to use Facebook. There are plenty of sources to help you - use the Facebook Search or Google your issue.
Faucet disinfecting We spray the campground faucet before connecting our hose. There was an article (RV Insight) in the Feb 2002 Highways about it. They use a mixture of three tablespoons bleach to one pint of water and also spray a little into the end of their hose before connecting it to the faucet. Let a little run out before connecting the hose to your RV or you will taste it in your water system.
Fiberglass polish/wax I have been using Meguiar's FLAGSHIP Premium Marine Wax (replaces Meguiar's Mirror Glaze #55 Boat/RV Premium Sealant) twice a year since our 1999 RV was new with good results. It offers UV protection which I understand is important to slow down the yellowing of Filon fiberglass. What do you use? What is your long term experience?
Fifth Wheel (and Travel Trailer) Selection . . . This is the contents of an e-mail Fred send to a friend who was beginning his search for a fifth wheel. It is not real detailed or technical but may be of some help.
The main thing this ... DO NOT purchase a truck until you have your fifth wheel selected.
The second thing is ... do your own research on the truck's capabilities to tow - don't trust the truck salesperson. More power than required to 'get by' is a must to have enjoyable towing. Don't assume you will never tow in hilly terrain.
Have a list of required fifth wheel features. We had several requirements. We saved a lot of time at the camper shows - if it didn't have two chairs facing the TV, we didn't waste time and moved on to the next one. Sometimes you didn't even have to step in. What are YOUR deal breakers! >>> (Also, be aware manufacturers change specifications during and between model years. Michelle ordered theirs looking at a 2003 and the 2004 had a smaller fresh water tank and a couple other minor changes. Challenge the salesperson to verify critical items.)
When you shop for your fifth wheel, know how you will use it. If you will generally have full hookups at the campgrounds you use, you do not need large tanks. We selected a fifth wheel with large tanks so we could be on our own for five days - seven if we are careful with water usage. (80 gal Fresh, 70 gal Gray, 50 gal Black)
There are always trade-offs. A small/lighter fifth wheel is easier to tow but when you park for the night, two comfortable chairs and a little space are great. The smaller rigs often have limited or no outside storage - have an idea what you will take with you.
We would be glad to discuss any question you have as you search for the fifth wheel and tow vehicle combination that suits your requirements. The search is fun - the use is even better.
Fred's responses to another e-mail from our friend. . .
I am planning on getting a Ram 2500 with a Cummins Diesel. That is a good decision but there may be a better one. I suggest you consider a Ram 3500 - Single Rear Wheel. Try both before you buy. [1]- The 3500 has more capacity. Our 2004 has an additional 900 pounds. [2] - The 3500 will ride better empty than the 2500. Look at the suspension >>> Steve's 2500 has a heavy rear spring. >>> Our 3500 has a softer rear spring but has standard auxiliary springs for the weight to rest on. Michelle notices the difference when she rides with us. COMPARE AND TEST DRIVE BOTH IF YOU CAN.
I am sorry I do not have an EXHAUST BRAKE - it has always been available on manual transmissions and is an option on the 2006 Ram with automatic transmissions. Whether you get a manual or an automatic transmission - I encourage you to get an exhaust brake.
AXLES, I always use 4.10 axles. I tried a 3.54 axle (for one year on a Chrysler lease vehicle). I did not like the shifting pattern. That was when we had our fifth wheel that only weighed 5,400 pounds.
SHORT BED/LONG BED/HITCH options are another big decision. We have a short bed with single rear wheels because it is easier to drive and park around town and fits on our condo driveway. We use a PullRite Super Glide hitch so we do not have to worry about hitting the cab with the fifth wheel. It is neat to watch the fifth wheel automatically move away from the cab when turning.
Floor Leveling A recent experience with self-leveling floor material was, to say the least, interesting. Fred learned three important steps in the process. (1) Don't start unless you have a drill driven mixer. (2) Make sure you mix much more product that you think you will need - all at one time. (3) Don't follow the amount of water to mix in if it is not a smooth, pourable mix - add more water.
Fog Lamps - Use in campgrounds If your vehicle has fog lamps like those on our Dodge Ram pickup, they work great when driving "slowly" through campgrounds at night. With only the parking lamps and fog lamps on, they light up the road without lighting up everyone's campsite.
Forget It? To help avoid forgetting something, Fred has a "TAKE WITH" list. [To anyone who knows him, this comes as no surprise.] His list is divided into categories - 'Personal (All the time)', 'Fifth Wheel', 'Weekend Cottage', 'Tools' and 'Boat' - to fit our travel situations. If you use a computer, it is easy to update your list and print it for each trip. He crosses-off each item as it is packed.
Fuel Economy - Improve it.
We all know this. But, seeing it in print will remind us.
Drive Easy - Gentle starts and stops [Saves 14% - 28%]
Watch Tire Pressure - Specific to the load [Saves 4% - 18%]
Slow Down - Wind drag increases exponentially [Saves 20% - 40%.]
Source: Trailer Life magazine (See, September, 2001 issue for details.)
Engines tend to produce the most work for a given amount of fuel when they are running at the RPM at which maximum torque occurs.
Source: Trailer Life magazine (See, July, 2004 issue for details.)
Fuel Mileage - Electronic Vehicle Information Center (EVIC) shows a lot of information. One item displayed is Miles Per Gallon. Some people say it is not an accurate indicator. I have found my trucks to be quite accurate when compared to hand calculations after long trips. A friend told me it is an RPM and odometer calculation. As an accountant, I was thinking it would be more accurate - calculated using an actual fuel flow measurement and odometer mileage. I asked a Chrysler engineer. The response from the Chrysler engineer was . . . Your accounting skills are correct. It uses what is known as fuel injector pause width and mileage. Hope this answers your question.
I'm sure that means more to an engineer but to me it means there is an actual measurement of fuel consumed.
Thanks, Rudy W.
Furnaces should be exercised during the summer. Some people think it is wise to run your furnace every month so the fan motor does not freeze up from non-use.
Glide Room malfunction >>> See Slide out/Glide Room malfunction.
Hitching a fifth wheel or travel trailer is made easier if you have a Hookup-Memory Level (Camping World #15718) towable. It is the best $8 you can spend. No more guessing and repositioning your pin height or coupler height to hitch up. Set the 'indicator bar' when you unhitch and it 'remembers' the correct height for hitching.
Holding tank (black and grey) cleaning is accomplished by a lot of people using Calgon, Dawn dish soap . . . add a couple of cups of Calgon and 1/4 cup dawn soap along with about 15 gallons of water and drive to the next destination or home and dump
Ice Melter Three products >>> Ammonium sulfate (best), calcium chloride (better), rock salt (cheapest)
Ink jet photographs should be allowed to dry at least 24 hours before putting them in a frame or photo album.
Interest rate to double your money 72/rate = number of years
Internet Radio and TV show I enjoy the WJR (760AM Detroit) radio program, The Internet Advisor . It is on from 7:00pm to 9:00pm Saturdays. Occasionally, it is on Saturday afternoon with a special longer program. [The Internet Advisor moves around the radio schedule due to UofM athletic games and other programming reasons. I suggest you subscribe to their newsletter so you know the broadcast schedule.] You can hear the current show on your radio in many states or prior shows on the 'www' using your 'RealPlayer'. Give them a try at 760AM, www.wjr.com or www.internetadvisor.net


Junk Mail can be reduced by telling any company you do business with to NOT sell or rent your information with other companies. For example, you order something from a catalog for the first time - when you give them your name, address, phone and e-mail address also tell them to flagged your account to NOT sell or rent the information. The next time you reorder from a company you have been doing business with, review your account information to insure your account is flagged to not sell or rent your information.
Keystroke Reduction If you are talking about keystrokes in a Windows environment. A little known fact is that virtually all of Windows and its applications can be operated using only a keyboard without any help from the mouse! Have you ever wondered why some letters are underlined in the words on the tool bar (the 'F' in FILE, 'E' in EDIT, 'V' in VIEW, etc)? It is to tell you that if you press the ALT key along with the underlined letter (e.g. ALT + F) you can activate the drop down menu (File in this case). From there you can use the arrow keys to navigate and highlight your choice. Then, pressing the ENTER key will launch the choice.

Tom uses keystrokes quite often and his favorites are:
CTRL + ESC – activates the START button for quick shutdowns
CTRL + W – shuts down the browser window that just popped up
TAB – Pressing this key will move you to the next field when filling out a form
Shift + Tab – This will move you to the previous field in a form
ALT + Tab – Switches between programs
Shift + Delete – this will PERMANENTLY delete the item (no recycle bin)
F1 – This opens the help box (I would never admit to needing this, or stopping for directions)
If you want more, go to:
Windows Keystrokes:
http://support.microsoft.com/support/kb/articles/Q126/4/49.asp?LN=EN-US&SD=g
n&FR=0&qry=shortcut%20keys&rnk=2&src=DHCS_MSPSS_gn_SRCH&SPR=W98

Office Keystrokes:
http://office.microsoft.com/Downloads/2000/O2kkeys.aspx
Tom, Internet Advisor Newsletter 11-14-01

Landing legs on your fifth wheel ... how often have you lubricated yours. The grease dries out. In your owners manual, it probably says to lubricate every year. We finally did ours after five years.
LP, LP Gas and Propane are interchangeable terms throughout the RV industry. Liquefied Petroleum Gas also includes Butane - but - do not mix Butane wit Propane. per Trailer Life Dec'06.
LP Gas (Liquefied Petroleum Gas) All 4 to 40 pound LP cylinders must have overfill protection to be refilled after April 1, 2002.
Your LP Gas supply can be managed better now that vendors are selling LP by the gallon to all RVers. When we have an empty LP bottle, we have it AND the partial tank filled. Because we camp without hookups frequently, our LP gas supply is critical. On a couple occasions it was colder than expected during several nights of boondocking and the second LP bottle was needed before we were on the road again.
LP Gas Regulator - always carry a spare. This was a suggestion from The RV Doctor. He has a good point - it is the heart of your entire LP system. If it fails while you are boondocking, you will not have heat, hot water, refrigeration or use of your cook stove.
Medical Care On-The-Road Before you arrange for non-emergency medical care while traveling, CALL YOUR MEDICAL INSURANCE COMPANY. Make sure you follow the required procedures for 'away-from-home' care. Write down the date and name of the person you talked to. This action may avoid, or at least reduce, reimbursement problems after you return home. (The phone number should be on the back of your medical insurance card.)
Medical - Nine Symptoms NOT to Treat Yourself
Get to a doctor or an emergency room immediately if you have any of the following symptoms:
1 - a feeling of pressure or squeezing in your chest
2 - severe pain, especially in your head, chest or radiating down one arm
3 - blurred vision
4 - trouble walking or swallowing
5 - weakness or paralysis on one side
6 - dizziness and confusion
7 - blood in your urine or stool
8 - unrelieved depression
9 - shortness of breath, fever and/or a cough with yellow-green discharge
AARP Bulletin January 2002
Medical - Is it a stroke?
This might be a lifesaver if we can remember the three questions!

Sometimes symptoms of a stroke are difficult to identify. Unfortunately, lack of awareness spells disaster. A stroke victim may suffer brain damage when people nearby fail to recognize the symptoms of a stroke.

Now doctors say that any bystander can recognize a stroke asking three simple questions:

* ask the individual to smile - look for numbness of the face, especially on one side.

* ask him or her to raise both arms - look for numbness, especially on one side.

* ask the person to speak a simple sentence - look for trouble speaking or understanding speech.
Additional symptoms: * Blurred vision
* Severe headache
* Difficulty walking / Dizziness

If he or she has trouble with any of these tasks, call 9-1-1 immediately and describe the symptoms to the dispatcher. After discovering that a group of non-medical volunteers could identify facial weakness, arm weakness and speech problems, researchers urged the general public to learn the three questions. They presented their conclusions at the American Stroke Association's annual meeting last February. Widespread use of this test could result in prompt diagnosis and treatment of the stroke and prevent brain damage."
We have attached another item on STROKES. It includes a graphic. More on Strokes
[Thanks to Harvey N. for passing this to us]
[Additions heard on WDIV-TV, Detroit]
[Slightly revised per Parade Magazine 9-24-06]
[Walt A sent an e-mail with a graphic on 2-8-08]
Medical - Prescriptions for your journey We discovered that our mail order prescription pharmacy will provide an advance supply of 'vacation' medication. Not all do. It depends on your plan coverage.
Call your pharmacy as part of your travel planning.
Medical - various topics: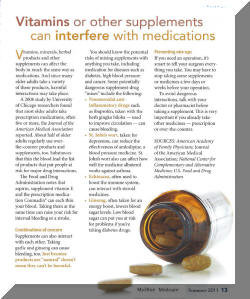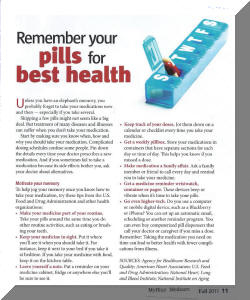 Vitamins and Supplements Rx Remember your pills Wash hand frequently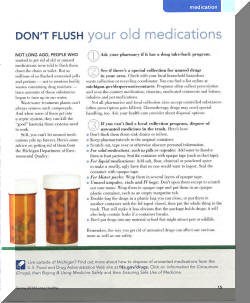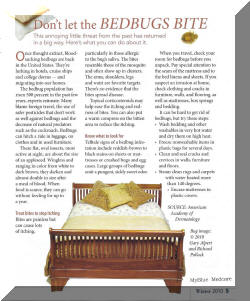 Don't flush your old meds Bedbugs Bite
Memory Loss - Is it a natural part of aging? Mary Lou received some very good information from MedicAlert. We have attached a copy for your use.
Microwave Hint - Always unplug your microwave when changing the light bulb. This is especially important in the over-the-stove microwave, fan, light combination units.
G.E. Service Tech 1-6-04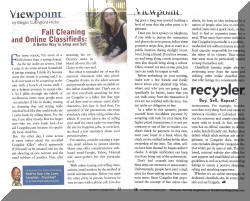 On-Line buying and selling safety . . . With some precautions, you can have a good experience using on-line services.
Owners manuals are always useful. Having one available all the time is especially handy for your digital or laptop computer. Go to the manufacturers Web site and download a copy of the owners manual. Keep it to your laptop's harddrive and you will always have a copy with you when you travel - assuming you take your laptop with you.
David K., Pop Photo July 2006
Painting with custom mixed paints - Be sure and purchase all the paint you need from the same store and same paint mix machine. We have experienced an instance where additional gallons were purchased from another store in the same chain - the additional paint using the same paint mix codes was a different color. They were told that two mix machines may not be calibrated the same. Thus, the blue looked more like purple.
Power failures while camping are very inconvenient. When the power is restored, it can cause a spike. Electrical spikes can damage your RV's electronics. Unplug your power cord from the supply post until electrical service is restored. Turn off the circuit breaker, plug in your power cord and then turn the circuit breaker on to avoid electrical spike damage.
Recreational Vehicle (RV) For those of you not familiar with RVs, this link will show you the different types of RVs.
(Sorry about the copy quality.) images/RVtypes.gif
Note: Towable RVs cannot exceed 400 square feet of interior space or they are classified as manufactured homes and must meet manufactured home standards.
Refrigerator Ambient Temperature/Low Ambient Switch When the temperature outside your RV is lower than 50 degrees for extended periods (more than just overnight) turn on the Low Ambient Switch on your Dometic refrigerator. This is necessary because your RV refrigerator will not maintain the internal temperature you have set under these lower conditions. When the outside temperature is above 50 degree, turn the switch off. (International switch symbols - "I" is on/"O" is off)
Refrigerator "CHECK" indicator light Recently, we had our refrigerator 'check' indicator light come on while we were using electricity to power our refrigerator. It had shut down. The book said the 'check' indicator light related to gas operation. We turned the refrigerator off, it recycled and worked correctly using electricity the rest of the trip. THEN, getting ready for the next trip, we could not get the refrigerator to ignite using gas. Thermal coupler of course! Fred used a small wire brush on the thermal coupler. The refrigerator ignited and worked correctly for the entire trip. Moral of the story, if your 'check' indicator light comes on when using electricity or gas, clean the thermal coupler first. (We purchased a spare one also.)
>>>>> The spare was needed in 2003. We installed it at 1:00am in the morning in a forest campground. We will ALWAYS carry a spare thermal coupler.
Refrigerator coils on the back of the unit should be wiped down occasionally. When dusty, they are less efficient and shorten the life of your refrigerator. Be sure the refrigerator is turned off when performing this maintenance item.
Rubber Roof Cleaner Water and powdered Spic and Span. Apply with a soft brush. Rinse well. Never use a silicone product on your rubber roof. Do not use acetone or any product containing petroleum distillates such as mineral spirits on the Royal Roof . E.P.D.M. does not require periodic application of any product to protect it from ultra-violet or ozone. (This information from Alpha Systems 1-800-462-5698.)
RVing, the 3 best things about: Friendship, Freedom and Fellowship
Safety Information for everyone and for children.
Sewer valve hose adapter . . . We found an EZ Coupler by Valterra (#F02-3111). It is clear so you see when the rinse water is clean. It screws into your hose for a secure fit. We bought ours at Camping World.
Shower shut-off valves are needed to save water when boondocking. Our shower fixture is very close to the wall - a shut-off with a knob would not turn. We found a push-button model at Home Depot that is very slim. It is a Danco Universal #89184 for $5. (We had to install the shut-off on the fixture because the hand-held shower head would not fit the bracket with it installed there.)
Slide out/Glide Room malfunction ... If your slide out all of a sudden fails to operate - but, the fuse for the slide out is good, the landing legs work so the battery connection is good, the wire connections are tight - what do you do?
Let me tell you what happened to our camping neighbor recently. After troubleshooting all of the above, a fellow camper came over and said that when this happened to him, the fuse in the backup hand operated hydraulic pump compartment was by-passed and the slide outs worked.
In this instance, the fuse looked good ... What now? All that was done was to remove the fuse, rub the ends a little, and reinstall it -and the slide outs worked. (We later found out this is not an uncommon problem, but it was new to us.)
Solar Panel Information We have three amorphous solar panels on the roof of our HHLS. Amorphous type panels have less energy generation than crystalline type panels, but do not require that the entire panel be in the sun to produce electricity. These panels provide enough charging for us during our overnights dry camping. We use our furnace and watch our 12-volt 13" color television as much as we want during our overnight stays. For an extended stay, a full day of sun is nice - we try to get a half day of sun to recharge our two batteries.
The following details the specifications for the solar panel we use - we have three panels (two - US64s and one US-32) for a total of 9.70 amps. The US-32 is half the size and gives half the output of the US64.
UNI-POWER by UNI-SOLAR
Type
Amorphous Type
Model
US-64
Watts
64
Volts
16.5
Amps
3.88
Size
29" x

54"
Use this formula to convert watts and amps to compare panel output and capacity requirements.
To convert WATTS to AMPS ... Watts/Voltage = Amps (i.e.., Watts/12vDC=DC Amps)
Don't forget that the sun is not always shining.
Converting 12-volts to 110-volts uses a lot of battery capacity. Because we have several 12-volt appliances, we do not use our inverter very often. If we used the inverter, the batteries probably would not recover as reliably as they do for us.
SPAM (unsolicited junk email) How do you get off the many lists? It sounds like you can't in some cases. This was an interesting response.
Kevin asks ... At the bottom of the advertisement you can find an address to request "removal" from there list. I have sent out many requests and all come back undeliverable.
How do I get off these lists? Or, who do I contact when the removal option does not work?

Answer: I am afraid there is very little you can do. If you ask to be removed from a reputable list, it will probably happen or there is an automatic removal procedure like the one on our list. Usually those are on the ones that you have to initially subscribe to yourself anyway.
The problem with SPAM (unsolicited junk e-mail) is that it comes from very unreputable sources. Or gets sent by small firms that provide the service and those firms are the ones that provide unsubscribe e-mail addresses that are not valid. Actually, many of these list service providers glean thousands of e-mail addresses from different places on the Internet. Many are not active any more. So, one way they know they have an active e-mail address is to capture the ones that respond and asked to be taken off the list. So, by asking to be taken off, you have actually verified that you have an active address and now you will get the SPAM from their next client.
I make it a habit to never respond to SPAM no matter how interesting it might be. It will only encourage them. Make liberal use of the delete key and remember, it is easier to get rid of than the junk mail that comes through the US Mail. At least you don't have to carry junk e-mail to the street on trash day. I realize this is not a great answer.
Gary at [Tech Support... http://www.internetadvisor.net]
SPAM - The Federal Trade Commission wants your SPAM.
Forward it to uce@ftc.gov
For more information, the link below will get you to their SPAM page.
www.ftc.gov/bcp/conline/pubs/alerts/inbxalrt.htm
SPAM from your Web site - We have learned about one method used by Spammers to pick e-addresses off of Web sites. They mechanically search for what we all recognize as an e-address. It is our understanding that you can reduce the Spam you receive by not including your complete e-address - especially the '@' and '.com' on your Web site. You could list your e-address in this form "samjonesATcybermailDOTcom" instead. Everyone will know what you mean but the Spammer's computer may miss it. If you want to help knock Spammers off the Internet, go to www.projecthoneypot.org for more information. [This information collected from Mike Wendland's column in the Detroit Free Press, 01-28-05, Page 2A ] > > > Our experience confirms that this method works. < < <
Sports signals can be a little confusing to viewers if they are unfamiliar with the Official Signals used by the game officials. Use the link to see several signals described.
Stamped concrete can be very slippery when wet. Especially if the stamped concrete is maintained regularly by applying a shiny sealer coating, rain or snow makes stamped concrete dangerous. We have a stamped concrete patio but would never have it in front of the house as a sidewalk.
Switch indicators (International symbols - "I" is on/"O" is off)
Is your tailgate heavy? My standard tailgate on my Dodge Ram 'was' heavy . . . it is now an easy one-hand operation. I installed a Tailgate EasyLift in Spring of 2008. I purchased it at a HitchHiker Rally in 2007 for about $25. It says it relieves 80% of the effort to raise and lower the tailgate - it does. It is a torsion bar that requires two 3/8"holes - one in the end of the tailgate latch area on the truck left quarter and one in the tailgate. With the tailgate closed, the torsion bar nor the holes are visible. It is manufactured by Hopkins Manufacturing Corporation. Google Tailgate EasyLift for a list of many sources.
Take-With List - needed for Fred to get ready to travel. It insures 'everything' is packed. He prints it and carries it in his pocket while loading for a trip. The secret is . . . do not cross the items off until AFTER it is loaded. Only once, Fred crossed an item off and was distracted - it did not get loaded. Unfortunately, it was his '30+day medication supply' and he had to drive a 300 mile round trip home to get them. Customize a list that fits your needs. Click below to see his "Take With List".
MS Excel file: images/info and hints/TAKEWITH for RVt.xls
Tank cleaning (black and grey) - add a couple of cups of Calgon and 1/4 cup dawn soap along with about 15 gallons of water and drive to the next destination or home and dump.
Tank drain adapters are many and varied. We have found the Valterra EZ Coupler Valve Hose adapter #F02-3111 the best. It is clear so you can observe when the black tank is empty and 'clean' water is the only thing coming out - especially, when you used a built-in flush system. It angles downward from the valve to take stress off the hose. Its long neck threads onto the hose a very secure connection - no clamps needed.
Tank Issues - Black Tank Maybe we should admit to a couple issues we have worked through to help you if you experience the same issues.
- We have had, what is affectionately called, a 'poop' pile. It is that undesirable pile of solids that can accumulate in your black tank. Ours occurred when we were stationary for six weeks without any way to drain the black tank . . . and . . . did not use enough water with each flush. We conserved too much space in our black tank. >>> Our solution . . . After trying to move the pile by filling the tank and taking the fifth wheel for a ride, we attacked it with a garden hose. Our toilet outlet takes a turn towards the center of the trailer. We ran the hose through the bathroom window, into the toilet and into the black tank until it reached the pile. With the water running with a lot of pressure , we pushed and pulled the hose through the pile many many times. We tried to move the hose to as many locations in the pile as we could. After breaking up the pile, we continued the hose action and filled the tank again. We took the fifth wheel for a ride and drained it - we filled and drained three times. This process worked for us. We hope you never have to do it. The real answer is - avoidance. Keep moving and use plenty of water with each flush.
- We have also had a black tank valve that would not close all the way. This happened during 'preventative maintenance'. We thought it would be a good idea to lubricate our valve. The instructions said to open and close the drain while dumping. Oops, we were surprised the next time we removed the drain cap - the opening and closing action caught tissue in the slide valve. We flushed the tank with a lot of water to no avail. After a lot of flushing we put some fresh water in the tank. There was a constant drip of water. We drained the water and winterized the system. >>> Our solution . . . In the Spring, we added Thetford Tissue Digester (TTD) and two gallons of hot water to our black tank with the valve closed while the fifth wheel was still in storage. We let the fifth wheel sit in the storage lot for a week with the solution at the valve. We added more TTD and two more gallons of hot water. A day or so later, we added more TTD, four gallons of hot water, made sure the cap was tight, opened the valve and took the fifth wheel for a ride. Over several days while de-winterizing and loading for a trip, we moved the fifth wheel to slosh the water around. Just before our first trip of the season, we drained the black tank. So far, we do not have a reoccurrence of the leak. We hope you never have have this problem either. To try to avoid a reoccurrence, we intend to use TTD for a while longer along with our regular black tank additive. The real answer is - to rinse thoroughly using your tank rinse-out system before closing the valve.
> > > Update . . . Our leak returned. Since we experienced our problem, we have become aware that several people have installed an additional valve in the exterior part of their drain line to catch any leakage of gray or black water. There is also a cap with a valve available - we did not select that 'easy' solution. Fred installed an additional valve in the drain pipe of our HHII in 2007.
- This was not our experience but that of someone near and dear to us. The Fresh Water lever on the toilet did not return to the closed position. As I result, the water continued to run into the toilet, into the black water holding tank . . . and . . . over the edge of the toilet to the floor and into the basement. Because most of the liquid was fresh water, she asked to use my hand operated boat bilge pump. It worked. The water in the toilet and a small amount of the 'fresh water' at top of the black tank was pumped into the tub and flowed into the gray holding tank. The fifth wheel was then towed to the dump station. The next day was warm with low humidity and a breeze. The basement was emptied and all basement doors left open all day. By evening, it was almost dry.
Telephone Portable Listener We use this little gadget with our cellular phone. Placing the microphone over the ear piece, we can both hear what the person we are talking with says. Holding the phone close to our mouths and our cheeks almost touching, the other person can hear both of us also. It is like using the extension phones at home. It works at pay phones also. ( Ours is #43-231 from Radio Shack.) Many newer cell phones have a speaker phone feature which has made this devise unnecessary. We no longer use it.
Thermocouples should not be over-tightened. Only the tip of the thermocouple should be in the pilot flame and tightened only 1/8 turn past finger tight.
RV Doctor in the RV View August, 2001

Thermostat - resetting Our air conditioner stopped working reliably on the "auto" fan setting. We discussed this with the Duo-Therm (Dometic) representative at the 2002 HitchHiker International Rally. He told us to reset the thermostat. Here's how ...
Four-Button Thermostat Reset
1. Turn all zones to OFF.
2. Press and hold temp. UP and DOWN buttons together
3. Press and release MODE button once.
4. Release temp. UP and DOWN buttons.
5. Press and release MODE button once again.
6. Thermostat light goes out, indicating reset is complete.
Five-Button Thermostat Reset
1. Turn slide switch to OFF position.
2. Press and hold MODE (top) and ZONE (bottom) buttons.
3. Turn slide switch to ON position.
4. Release MODE and ZONE buttons.
5. FF appears, indicating reset is complete.
Note: If you must frequently reset your thermostat, a new one should be purchased. Since our new one was installed, the furnace, heat pump and air conditioner work like when they were new.
TIP Do you know what is means? TIP = To Insure Promptness
Tire - Air or Nitrogen ? ? ? One of the most-quoted benefits of nitrogen is reduced pressure loss, which is useful if it extends the inflation interval to replace "air' that seeped through the rubber, but a lot of pressure loss is at beads and valves - which nitrogen doesn't help. Reduced oxidation of rubber should extend the life of a tire, but it's only the inside and most trailer tires succumb to external cracking from the sun and ozone. Moisture from air can cause corrosion of the wheel, or change the way heat varies pressure, but these are usually very minor. Michelin has determined that cost outweighs the benefits, and I tend to agree. However, the only disadvantages of nitrogen are cost and availability, so if you want to go first class, feel free to use it.
RV Clinic, Trailer Life, December 2008
Tire Air Pressure Check tire air pressure at least monthly with a good quality air gauge. AND, every time you enter or exit your tow vehicle usually check the profile of every tire on your RV and tow vehicle.

We installed 'Tire Minders' by MAX Stealth on our valve stems in 2006. We will report how we like them later. (Our current Tire Minders are working fine. We will leave our history posted just to alert you to potential problems.)

The report is not good. They began to fail in October, 2006 - one, by one. Mine were pre-set at 80 psi and were on the
two rear tires of the truck and the four trailer tires. The first to fail was on the truck. Fred took the Tire Minder
off the tire so it did not get lost at the tire dealer. They could not find a leak from the tire sunk in the water tank.
Fred had them put the Tire Minder on the valve stem and the leak was immediately seen around the Tire Minder.
About two weeks later a trailer tire was low on air - this time a same amount of yellow on the Tire Minder could
be seen. Fred filled the tire with air, it lost air again. He replaced the Tire Minder with a valve cap and the tire
retained air. When the third tire lost air, Fred refilled it and replaced the Tire Minder with a regular valve cap - the
tire held air. And . . . he removed the three remaining Tire Minders.
By mid-November, all six Tire Minders were back in the box and all tires are holding air. We will let you know if we get any communications
from the manufacturer.
The report may improve. After a couple wrong turns, I talked to Gavin at Minder Research Corporation, the manufacturers of the tire minders, in March, 2007. He told me they had improved the tire minders. The testing of the new one on beverage delivery trucks has proven successful. He told me he would send me a new 6-pack. They arrived the end of March - I will put them on soon and report again on my experience with them.
The report is good. We used them successfully on our journey to the Pacific Northwest in 2008. When they do 'pop' it appears to be a ten pound loss of air. But, they held and did not leak. They are a good visual alert to low tire air pressure.
Tire Changing ? Do not jack up your trailer by the axles; use the frame. Localizing all the weight of your trailer at a single spot on your trailer's axle could overload your axle and cause damage - a bent axle. (This was stressed in an Tech Topics article of the January, 2001 issue of Highways.)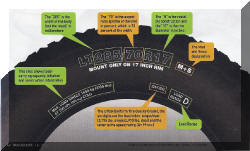 Tire codes are something you need to know to better understand how to purchase the correct tire for you needs. The tire date code below is critical as well.
Wikipedia http://en.wikipedia.org/wiki/Tire_code and tire manufacturer Web sites include tire codes.
Tire date code change Don't purchase old tires. Remember to expect some time delay in the transportation and delivery chain - but, no more than a year.
Experts say, tires are safe for a maximum of seven years after they are produced whether you use them or not. Especially when mounted on a trailer, tires may dry out before they wear out. The tire production date is at the end of the DOT number located on the sidewall of each tire. The first two digits represent the week produced, the last one or two represent the year produced. (Prior to 1-1-2000, the tire production date code was three digits ... 439 = 43rd week of 1999. Since 1-1-2000, the tire production date code is four digits ... 3500 = 35th week of 2000.)
Other Codes ... P = Passenger car
LT = Light Truck
R = Radial Construction
B = Bias Construction
#### = Load Index in pounds
Call the "800" number and/or talk to your tire dealer if you feel your tires have not serviced you as they should have. The customer service people will send you to a dealer for evaluation. We have had good luck with Goodyear service and the Goodyear replacement tire policy.
Tire Stress Two opinions . . .
Tight turns with your travel trailer or fifth wheel causes the tires to slide sideways or distorts the sidewall of the tire. A recent article I read, states these actions damage the tires. I have done it and you probably have also. I see the distortion when I back into our driveway - both the street and driveway are concrete so the tires grab the surface. I will back in from the other direction and pay attention to this situation in the future.
A more recent article states that this distortion, at slow speed, does not harm the tire. For example, backing into a campsite will cause not harm - but - pull forward and back to straighten out the tire and remove the sidewall stress before unhitching.
>>> Just to be safe, I will continue to back into my driveway from the direction minimizing distortion.
Toilet clogged? For the first time, we experienced a toilet clog at home that would not plunge free. It was so deep and so solid, no residue was present - even with violent plunging. Mary Lou found this solution on the Internet and it worked ... perfectly. >>> Let the water drain out of the bowl or remove it yourself. After the water is at a low level in the bowl, put a few squirts of dishwashing soap into the toilet bowl. Holding the bucket waist high, pour half a bucket of very hot water (tea temperature) into the toilet bowl leaving room for the water to slosh while plunging afterwards. Wait a few minutes. Plunge the toilet again. If the clog is not gone, repeat. When finished, flush the toilet several times to insure the clog has moved out of your drain.
Truck selection . . . See Fifth Wheel (and Travel Trailer) Selection . It includes a short discussion on trucks.
Vent plugs (roof) keep out heat when using your air conditioner and reduce condensation when using the furnace or heat pump. We just started using them in 2002.
Video Plugs . . . know which video connector you need before you buy.
Click to enlarge >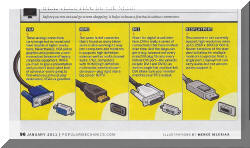 Electronic Vehicle Information Center (EVIC) shows a lot of information. One item displayed is Miles Per Gallon. Some people say it is not an accurate indicator. I have found my trucks to be quite accurate when compared to hand calculations after long trips. A friend told me it is an RPM and odometer calculation. As an accountant, I was thinking it would be more accurate - calculated using an actual fuel flow measurement and odometer mileage. I asked a Chrysler engineer. The response from the Chrysler engineer was . . . Your accounting skills are correct. It uses what is known as fuel injector pause width and mileage. Hope this answers your question.
I'm sure that means more to an engineer but to me it means there is an actual measurement of fuel consumed.
Thanks, Rudy W.
Warranty coverage can not be denied solely because you install aftermarket on your vehicle. According to THE MAGNUSON-MOSS WARRANTY ACT (Federal Law), you can sue for breach of express and implied warranty should a dealer or vehicle manufacturer deny warranty based solely on the fact that your vehicle has aftermarket parts on it. More specifically, the Act states that warranty coverage may not be "conditioned upon the use of only the vehicle manufacturer's parts unless the parts are provided free of charge". Source: Trailer Life Magazine - March, 2006
Washing Solution Formula A mixture of three parts water, one part Clorox bleach and a 1/4 cup of Dawn dish soap. Wipe it on, rinse it off, all done Source: RV Clinic, Trailer Life - May 2009
Water heater by-pass Here is a photo of the by-pass with text. Water heater by-pass
Thanks 5er4life, HH Forum
Water heater - double switch Our water heater has a rocker switch for the 110-volt power source on the water heater AND a toggle switch with a red indicator light on the wall in the kitchen area. The rocker switch on the water heater should be left "ON" all the time. Then, the water heater is powered by electricity when you turn "ON" the switch with the red indicator light.
And, there is a
third switch
. . . The rocker switch on the black information/control panel by the stove hood is used only when you want to use LP (Propane) gas to heat the water. The switch starts the electronic ignition for the gas. We use this only when electricity is not available.
You can leave the switch with the red indicator light "ON" for faster recover at the same time you have the gas switch "ON". We have never had a need to do that. We use one or the other, not both.
Water Heater SOOT The most common cause is a spider web or insect nest in the burner area. Usually, a thorough cleaning of the burner tube will provide the proper gas and air flow again.
Water Safety posters from the US Army Corps of Engineers.
Click on thumbnail to enlarge image.
Water Saving Ideas
The water you run to get the hot water to the faucet can be captured in a container and reused when cold water is needed.
If you and your traveling companion's showers are timed close together, you do not have wait for hot water to reach the shower a second time or even reset the water mix temperature.
When you are boondocking or parked for long periods of time water supply is very important. For washing her face, Mary Lou gets her wash cloth wet with cold water and warms it in the microwave instead of running the water until the hot water gets to the faucet. Of course, for this, you need electric service, a generator or an inverter.
Caution: When parked for a period of time, flushing your toilet is NOT the place to save water. We all know the problem created by not enough flush water.
Waxing vs Polishing There is a difference . . . The function of waxing a car and of polishing it differ a great deal from one another. Waxing is used to create a protective barrier between the exterior of the car and the environment. Waxing a car also helps to maximize the glossy "wet" look that consumers love to see. Polishing, on the other hand, is generally used to remove oxidization (rust) from the vehicle, to fix small scratches and swirls, and to clean the surface of the exterior of any contaminants.
WiFi connections can be free. We have had success locating wireless Internet connections at motels, campgrounds, laundromats and coffee shops. They provide it to their customers and many do not secure the WiFi due to the rapid turnover of clientele. If you park close enough to their building, you can pick up the signal. Residential neighborhoods should be avoided because the homeowners can become concerned about why you are parked in their neighborhood.
Winterizing Time and Material Saver I have installed a RV Pump Converter Winterizing Kit which permits the pumping on RV Antifreeze directly from the bottle. Some RVs have one as standard equipment. If your RV does not have one, add one - it saves time and requires less than half the antifreeze required to draw the antifreeze out of your fresh water tank. I did not install mine at the pump per the instructions. My pump is difficult to get to. I installed it in the water feed line under the kitchen counter near the exterior door for convenience.
Wireless mouse not working well? It is usually due to one of two reasons - - - the battery is weak . . . and/or . . . the surface you are using does not have enough variation. My mouse does not work well on a solid color mouse pad. I use a photograph as my mouse pad. I insert the photo in a clear document protector.
SPECIFICATIONS, CONVERSIONS AND OTHER Page Links:
Electrical Conversion To convert WATTS to AMPS ... Watts/Voltage = Amps
(i.e.., Watts/12vDC=DC Amps)
Ladder capacity Type 1 = 300#, Type 2 = 250#, Type 3 = 225#
LP Gas (Liquefied Petroleum Gas) 4.25pounds = one gallon
[BTUs per Pound=21,591, Octane No.=110, Boiling Point -44ºF, Bottle Pressure(@75ºF)(@ Sea Level)=133.2 Lbs.]
Pipe color coding RED = electric YELLOW = gas & oil
ORANGE = phone & cable TV BROWN = sewer systems
BLUE = water GREEN - storm sewer
Solar Information Amorphous type panels have less energy generation than crystalline type panels, but do not require that the entire panel be in the sun to produce electricity. See "electrical conversion" above to help compare panel output and capacity requirements. (PV = Photovoltaics technology)

Water Filter Systems should meet "Standard 53: Drinking Water Treatment Units" according to an article in the August, 2001 issues of RV View.

WEIGHTS per Gallon Gasoline = 6.15lbs Diesel Fuel = 7.10lbs
Water = 8.3lbs L.P. Gas = 4.25lbs
Wiring Colors (12 volt) Some coaches use traditional black and red where black is 'negative'. In instances where black and white wiring is used, black is 'positive'. Reversing polarity can damage circuit boards, so check your owners manual or contact your dealer to avoid damage.
Source: Trailer Life magazine - July, 2006