Alaska 2005 - June 12 thru September 22 (103 Days - 12, 591 Miles)
Updated: 11/30/08
Photographs - We have posted a number of photographs.
Alaska Photo Album This photo album is organized to reflect our Alaskan Adventure on the Alaska Highway and other roads.
Alaska 2005 - Our Journey Home . . . Page 1 Alaska 2005 - Our Journey Home . . . Page 2
On these pages, our route turned away from the Alaska Highway for the journey home. We turned south towards the Canadian Rocky Mountains and the Little Bighorn Battlefield National Monument. This route was chosen because we have not been in the Canadian Rockies and it is on our way to our next destination, Gillette, Wyoming. The HitchHiker's of America International club met there for their 2005 International Rally. After the rally we visited many destinations on our journey home including Wall Drugs, Badlands National Park and the Mitchell Corn Palace.
We hope you enjoy your photo journey as much as we enjoyed making and selecting the photographs.
Other pages . . .
Journal Our journal provides a brief outline of our experiences during each day of our journey.
Campsites We camped in 57 different locations during our 103 day Alaskan Adventure. This page displays photographs of our campsites and summarizes the campsite types.
Fuel Cost and Mileage We have summarized fuel information here. Because part of our journey was during the Katrina and Rita hurricane disasters, questions frequently deal with the cost of the fuel.
Comments and Suggestions If you are planning a journey to Alaska, we hope this page will help make your journey as enjoyable as ours.
The Beard Believe it or not ... several people who missed seeing it have asked to see a photograph of "The Beard".
Map of our Alaskan Adventure travels.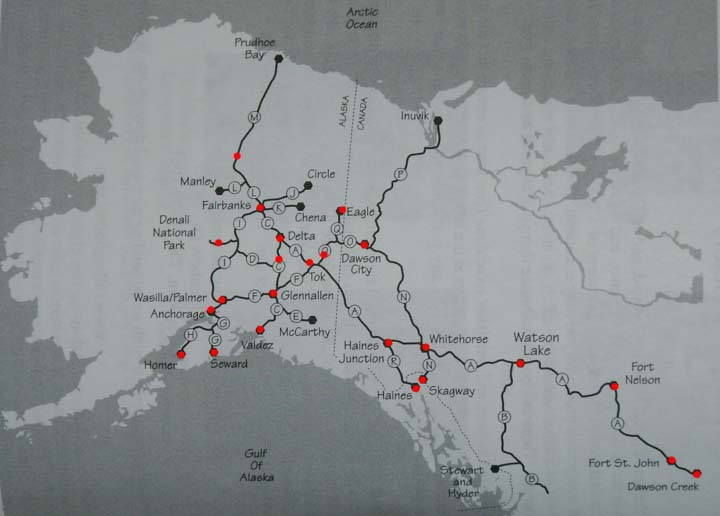 The RED DOTS summarize our travels.

Fuel Cost and Mileage
Alaskan Adventure and Our Journey Home
Total Miles = 12,591
Diesel fuel = 1,085 gallons (or equivalent)
Fuel cost = $3,019.75 (Can. $ @ .85 US)
Average cost = $2.78 per gallon
Average miles per gallon = 11.601