Iowa - 2004
Updated: 11/09/08
Specific destinations on this page ...
Effigy Mounds National Monument Field of Dreams Movie Site
Herbert Hoover National Historical Site and Library
National Farm Toy Museum National Motorcycle Museum and Hall of Fame
Click here to see our IA 2004 - Along the way page from our time in Iowa .
Effigy Mounds National Monument - Marquette IA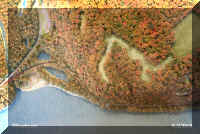 Within the National Monument are 206 known prehistoric mounds. The trails to the effigy mounds are all 2.5 miles or more in length. As we had seen effigy mounds at Wylusing State Park WI, we did not want to spend that amount of time at this location. However, the information at the national monument is much more complete. These photographs are of a model of the park in the visitors center. If you enlarge the thumbnails, the location and shapes of the mounds are visible. The entry fee is $4 per person without a Golden Eagle Passport. Including the video and museum, expect to be in the visitor's center an hour.
You are looking for these shapes.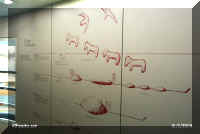 Instead of digging into the mounds, research methods have been developed that cause less disruption to the mounds. Inside the mounds look something like the second photograph.
In addition to the information on the American Indian society and effigy mounds, the visitor center's museum has a nice display of stuffed animals and birds on display, including this bald eagle.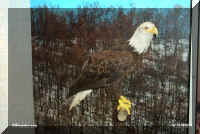 Field of Dreams Movie Site - Dyersville IA
The movie Field of Dreams, released in 1989, was filmed here at the Lansing family farmhouse and field. The 91 year old farm was selected from among many Iowa farms. You can bring their baseball equipment and play on the field. Entry is free. We spent about a half-hour on the grounds.
An interesting competition is seen at this location.
During filming the set actually included land on two farms.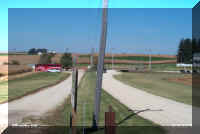 Center and Left field is now owned by an out-of-state investor who operates a gift shop in competition with the Lansing family gift shop. The utility line separates the 'Field of Dreams Movie Site' from the 'Left and Center Field of Dreams' attraction. We chose to support the Lansing family and spent our time on the right side of the power lines. As the photograph shows, there are two separate entrance roads, we took the road on the right.
Herbert Hoover National Historical Site and Library - West Branch IA
Access to the grounds was $4 per person.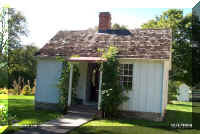 Herbert Hoover, mining engineer, humanitarian, statesman and 31st President of the United States was born August 10, 1874 in this two-room cottage.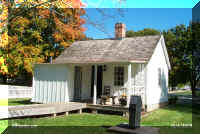 Rear of cottage.
His cradle and child chair are displayed inside the cottage.
Hoover wanted to be buried within view of his birthplace. He wanted people to know that in the United States anyone can attain greatness.
View from cottage View from burial site
The Hoover Presidential Library includes a full history of his life.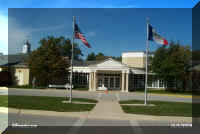 Hoover became known for his European Relief activities and later his support of the Boys Club organization.
National Farm Toy Museum - Dyersville IA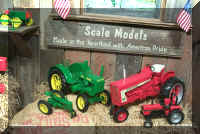 The displays show large and small toys. It includes 30,000 toys and exhibits. An admission fee of $4 is collected. Allow about two hours.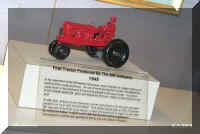 This is the first Ertl toy produced.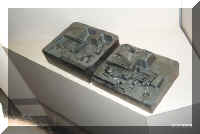 These tooling molds represent many thousands of dollars of investment for each toy.
Toys are made in different size scales to the real thing. This exhibit showed four scales and the number of toy tractors to the real one.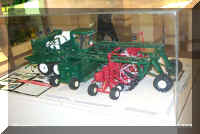 Not all models are mass produced. This model is made of all metal parts and all parts are welded not glued.
Not all models were tractors.
They demonstrate the history of farming using toys. These exhibits are of farms of four decades.
Another exhibit showed the progression of farming methods from early times until today.
National Motorcycle Museum and Hall of Fame - Anamosa IA
They have over two hundred vintage motorcycles on exhibit. Allow about two hours for the walk-thru. Admission is $5 per person.
This 1910 Harley-Davidson is the first one you see.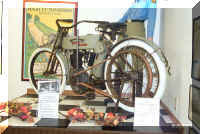 While all are not restored, most are.
Every shape and size could be seen.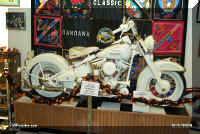 This Harley was restored by a Hall of Fame member to commemorate the Sturgis 50th anniversary.
Fred is partial to three wheel motorcycles.
Did you know that Harley-Davidson produced snowmobiles for a short time? Or, that motorcycles can tow boats?
They had a very unique collection of riding toys on display.
Pikes Peak State Park - McGregor IA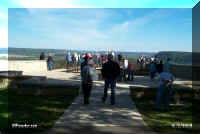 A outlook in this state park provides a spectacular view.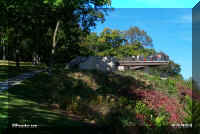 The end of the ridge in the right photograph is the is the location of the overlook in Wylusing State Park WI. When we were there we did not know to look for the Pikes Peak overlook.
A sign directed us to Bridal Veil Falls. We like water falls. And, it was only four-tenths of a mile walk.
This is a view from part way along the 'walk'.
This part of where we came from ... and ... part of what was ahead of us.
This is what we saw.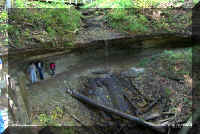 Bridal Veil Falls
Then, we had to 'walk' back to the truck.
No entry fee was collected. The outlook is a short easy walk from the parking lot. If you 'walk' to the falls, add a little over a half-hour.