KANSAS/MISSOURI/INDIANA - September/October, 1999 11 Days 2,470 Miles
We made a large circle on this vacation. Our main reason for the trip was to take our fifth wheel to the factory for warranty work. It was a higher mileage trip in a shorter period of time than we prefer. The long days of driving were required to keep our warranty repair appointment and stay within remaining vacation days for the year. And, we wanted to salvage part of this vacation as a purely fun time.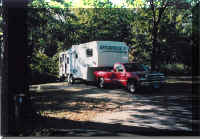 Thursday, our first overnight stop, was in Weldon Springs State Park ($11) south of Clinton IL. It looked like a nice place to spend a couple days. However, we were up and away at 6:30am.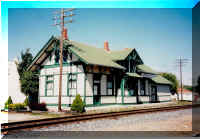 Friday night we used Interstate RV Park ($15) outside Higginsville, MO. It offered full hook-ups on a gravel hilltop with concrete parking slabs. This train station was in the Higginsville downtown area.
One destination on our way to the factory was the current home of our former pastor. He and his family moved to Topeka KA about a year earlier. His wife had scouted out a campgrounds for us and recommended Lake Shawnee Camp ($12) in Topeka. It was a large county park on a lake created by a large earthen dam.
Our arrival Saturday afternoon was just right. It gave us time to set-up and arrange meeting them at their home. We had a nice time reminiscing with them and their two boys before dinner at a downtown restaurant. Sunday, we parked our fifth wheel in a parking lot next door to his church while we attended the morning worship service. After the service, we headed south to Chanute.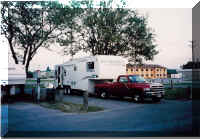 Santa Fe Park ($3) in the city of Chanute, KA is an asphalt type campground provided primarily for visitors to the several RV factories located in the area. It is operated by the city and provides electricity and water. A dump station is also provided. We were able to get the last available spot for Sunday night. Our warranty work was scheduled for Monday morning at the factory.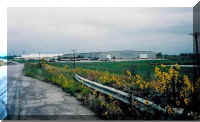 After delivering the fifth wheel to the factory, we explored the area and took advantage of a factory tour. The warranty work was finished Monday afternoon. Fred wanted the bearings checked because he thought they were running too warm. The factory got us a Tuesday afternoon appointment at their axle shop. They said, "no problem" they always run warm – if the hubs are too hot to hold, have them serviced.
Chanute had an interesting and exposed storm water drain system. It was interesting to us because we are accustomed to fences or other barricades around hazards - large and small.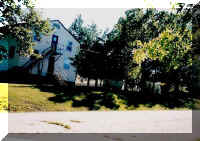 Wednesday morning we pointed the rig toward Ft. Leonard Wood, Missouri. Fred was stationed there in the mid-sixties. Our campground for the night was Glen Oaks RV Camp ($15) in Waynesville, MO. It was a nice overnight stop with full hook-ups. The owners were retiring and had the business for sale. They were shopping for a RV and asked for a tour of our fifth wheel. Ft. Leonard Wood has really changed. Fred found his company barracks area but everything else on the post had changed so much, only the big brick hospital could be identified for sure. We drove by the place where we lived off-post for a year and a half and visited the local spots of thirty years ago. They too, were very different.
Thursday we arrived at Fred and Becky's (Our Family) house in Indiana. This was our first visit since they moved. They had a lot to show us in the surrounding area during our three day visit. We did not use electricity for these two nights as a test of the new solar panels. Even without full sunlight, the solar panels replaced the power the furnace used during the night.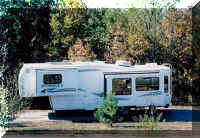 Fred and Becky accepted restaurant meals as camp fees. Their circle drive made a nice camp site. We had a great time and look forward to our next visit.
Wanting to be out of the way when their workweek started, Sunday afternoon we headed for Oak Creek Campgrounds ($19) in Walton, KY. Our site had electricity, water and Quincy fruit dropping on the roof all night.
We learned several things from our experiences during this trip - a fast high mileage trip is possible if it is required, larger and heavier fifth wheels tow extremely well and full hookups are a feature we will enjoy on occasion.
9-1-04