Louisiana - 2015
Updated: 07/29/16
Our plan to visit Louisiana in 2006 was delayed due to the devastating hurricanes. In 2006, the campground were filled with workers helping to restore services and rebuild homes and businesses. Many areas have recovered and are thriving, other areas are making progress, some areas will probably never fully recover. The reality of this was apparent as we travel this beautiful, diverse state. We traveled the north coast of the Gulf of Mexico - viewing offshore oil rigs, seeing ships with their dolphin escorts, enjoying exotic (to us Michigan residents) birds, climbing bridges over the intracoastal waterway and observing what happens when the Gulf gets "riled up" and sends its waves crashing to shore.
After Mary Lou read a story in Trailer Life about the Creole Nature Trail, it sounded like an interesting place to visit. The article, coupled with our desire to visit the state our Louisiana friends call home and talk of so lovingly, caused us to visit this year. Unfortunately, although we drove through our friend's home town, they were "out and about" in their motorhome and we missed our visit with them.
We traveled Louisiana from Vidalia (across the river from Natchez, MS) diagonally across the state to the Creole Nature Trail and continued on to New Orleans.
Follow these links: Creole Nature Trail - 2015 and New Orleans - 2015.
Cotton was a popular crop in part of Louisiana. Trucks like this were hauling cotton from the field to the processing plant.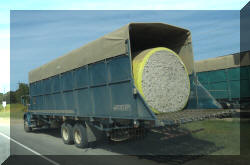 Fred decided to open a business while we were visiting the area. (LOL)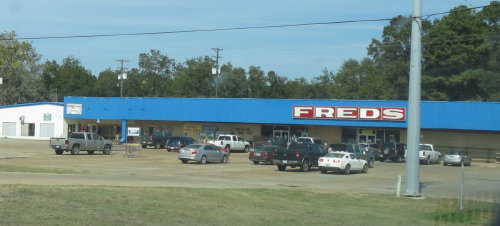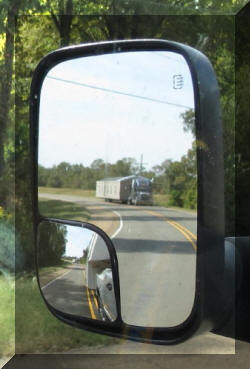 Looking in the mirror, a mobile home was following us.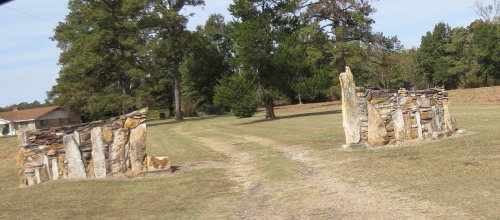 This house had very attractive driveway decorative entrance.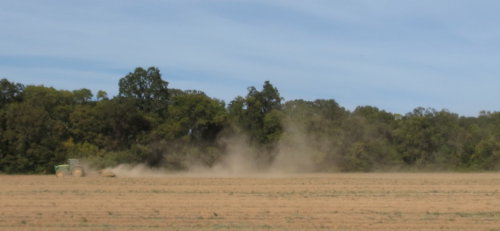 Dusty conditions . . .
We spent the weekend at the Chicot State Park, six miles north of Ville Platte, LA. It was a large, lovely park. They offer vacation cabins and 198 campsites. In addition, there are nature programs in the Louisiana State Arboretum, swimming, canoeing, fishing in Lake Chicot as well as hiking and picnicking.
This state park provided decks at each site.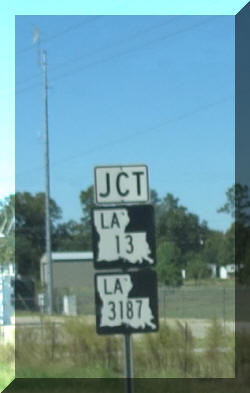 Unusual to us, four digit route numbers.

Mary Lou has never seem a cemetery she did not like. Along the coast line, where the water table is high, the above ground burials interested her.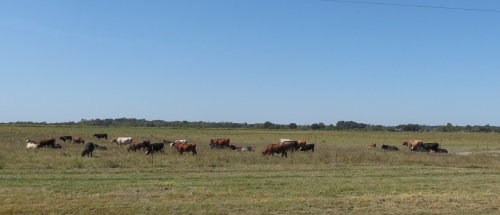 Agriculture and oil . . .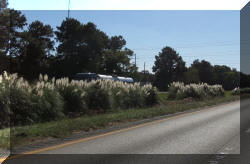 Interesting plants in the median . . .
Cameron Jetty Pier Facility . . .
This facility offers a fishing pier into the Gulf of Mexico, pavilion, RV park, public restrooms and fish cleaning station, a walkway to the beach, bird observation tower and playground. During our visit it was very windy and cool. We did take an evening's walk on the fishing pier, enjoyed the company of some fishermen and watched the boat traffic.
This area was rebuilt due to damage from Hurricanes Rita and Ike. All the building are on sturdy pillars to protect them from future storms. There is an elevator in the restroom/laundry building for the convenience of handicap guests.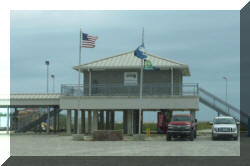 Restroom and laundry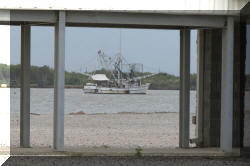 View thru the walkway . . .
The camp area . . . not very busy.
(Our side or the other side)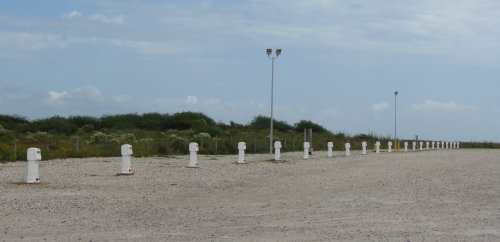 Heading for Cameron from the jetty . . .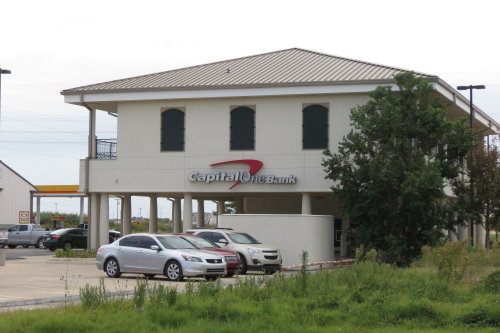 A bank in Cameron on pillars to keep the money dry . . .
To be on the jetty to fish or use the observation tower, you had to pay a fee and wear a wrist band.

This was our first sighting of an oil platform.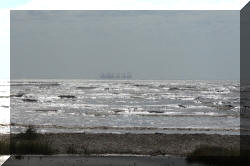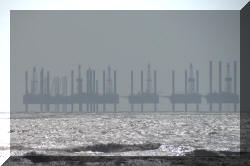 Naked eye . . . Camera zoom . . .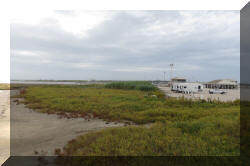 A look back at the campground . . .
The Gulf of Mexico . . .
We think these ships were headed through Lake Calcasieu toward the Intracoastal waterway.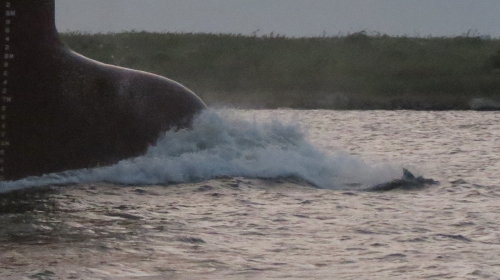 Dolphins lead the ship in the waterway . . .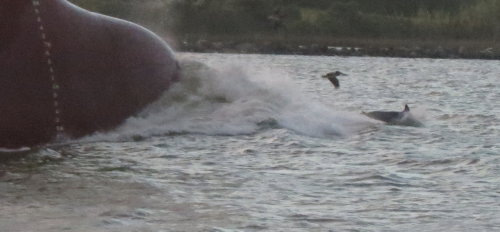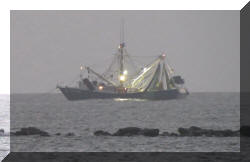 Fishing boat in the Gulf . . .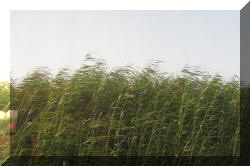 The wind blew hard the entire time we were on the jetty.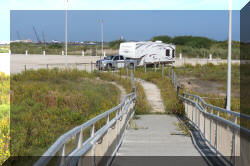 On the way off the jetty, we visited the observation tower again.
Cameron bound . . . then, starting our travels east along the Gulf coast.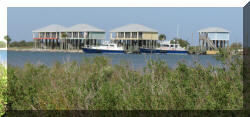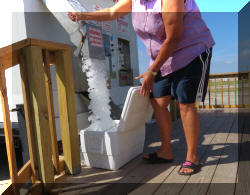 Because fishermen/fisherwomen use a lot of ice, the ice machine in Cameron has a chute that lets them dispense ice directly into coolers and other containers.
We were surprised to see the lack of restoration of the damage from Hurricanes Rita (2005) and Ike (2008).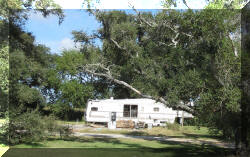 Along our route, many foundations and pillars were missing the house that at one time they supported - the house that was a home for a family. Their home now is, in many cases, a fifth wheel or travel trailer parked on the same land when their home used to be.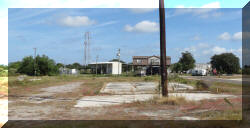 Newer buildings and homes are on tall and substantial pillars.
We crossed many rivers/waterways originating in the Gulf of Mexico.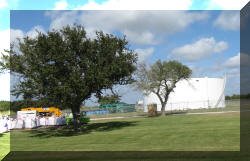 Oil wells and storage tanks were plentiful.
As were cemeteries . . .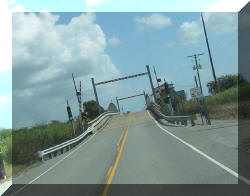 Bridges of various sizes and lift
methods permitted boats to
navigate the waterways.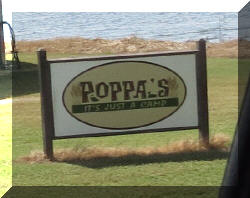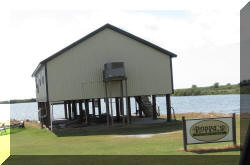 Many cabins were built along the shore in this area.
This one obviously belonged to a popular grandpa.
Some sites not as elaborate . . . some renovation was started and then stopped.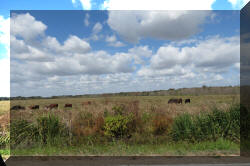 Cows . . .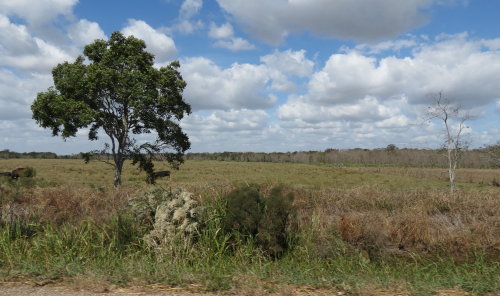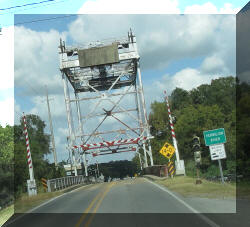 This was the largest bridge and lift
mechanism on the two lane we saw.
After many miles on the two lanes of Route 82 through mostly depressed and damaged properties, we finally reached a population center of Erath, LA where Route 14 became a divided highway.
We found our travels on Route 82 very eye opening. The visions of the devastation from Hurricanes Rita and Ike linger in our minds. Seeing it in person is so much more impactful than viewing news photographs on TV.
Sugarcane was the crop of choice just outside of Erath. Sugarcane . . . as far as you could see.


A glass building . . . greenhouse?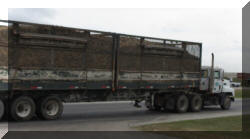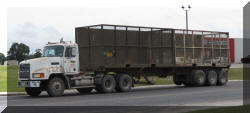 We stopped at a restaurant for lunch and watched a constant parade of sugarcane trucks . . . one way empty, the other way full.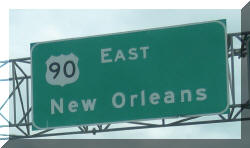 Now, we are seeing major vehicle and rail traffic.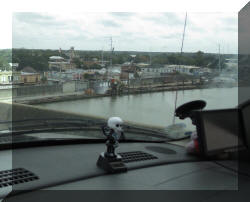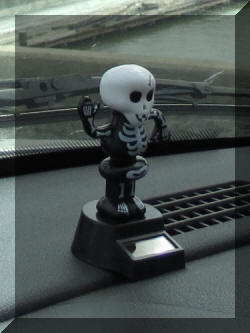 We picked this solar skeleton up in Cameron.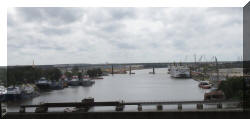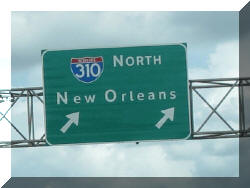 Getting closer . . .
Bridge over the Mississippi River . . .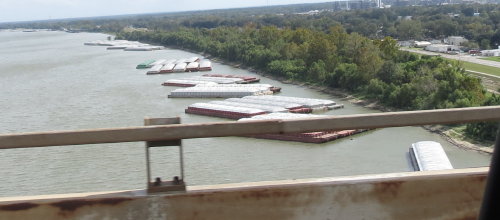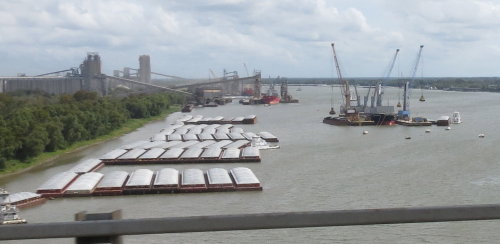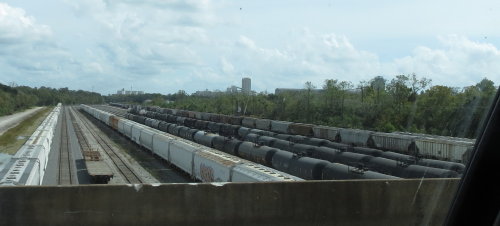 Next stop: New Orleans - 2015 < < < You can follow this link to our New Orleans page.