Lael Camp - Memorial Day Weekend - 2001
Updated: 11/24/08
We had very wet weather but the fire crew kept a fire going most of the weekend. Whenever possible, the group would congregate at the fire. The shelter was a good place to gather for games, conversation and using laptop computers.
Saturday was the best day. The weather was good enough for the brave to enjoy water activities. A few even went swimming - the young ones.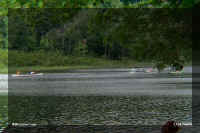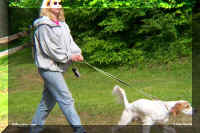 Walking the dog was a popular past-time.
The dogs got along with each other quite well.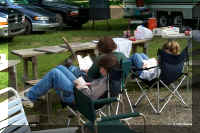 Others found reading to be more desirable.
At times, it was a challenge to keep the pages dry.
The youth were responsible for a worship service on Sunday morning. The weather cooperated.
This photograph, while representative of some of the weekend weather, was taken Memorial Day evening after the group left - Mary Lou and I stayed to enjoy the best weather day, Tuesday.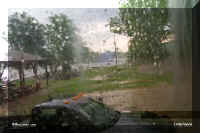 See you next year.
9-1-04