Our RVing History
Updated: 10/26/10
This is an overview of our past, well at least our RVing past. RVing has been an important part of our life for almost 40 years. We enjoy the outdoors and the opportunities the RV lifestyle provides. Fred, son, learned to walk on picnic table tops out west at one year of age. Michelle obviously inherited the RV bug - they also have a fifth wheel. Melanie grew up on water skis during camping vacations. And, throughout the years, Dad always had more toys than Mom.
RVs RECENT TOW VEHICLES FIFTH WHEEL HITCH BIG TOYS COTTAGE_UP_NORTH
Our first RV was a new 1969 pickup truck and 8½ foot truck camper. We vacationed and weekended in it a couple years "before children" and then raised three children as campers in it. The children didn't see the inside of a motel very often.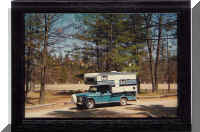 This is a photograph taken on our first weekend with our new RV in 1969. It was an exciting time. A young couple with a BIG toy. This rig did not spend many nights in the same location the first few years. We were "on the road" all the time.

We found our camping experiences, before children, spanned all seasons. The truck was not a 4X4, but the truck with snow tires and the weight of the camper on it would plow through heavy snow.

When the camping included taking the children and the related playpen, stroller, high chair and all the other stuff, the addition of a utility trailer was necessary. It also hauled a couple bikes for Mom and Dad.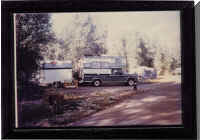 RV #1 became a member of the family. When we sold it, we all stood on the driveway - watching it going down the street without us. We used this truck camper for 12 years.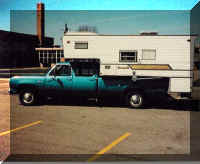 Our second RV was a used 13 year old 11½ foot truck camper we put on our 1976 crew cab truck. As the kids grew older and bigger, we were like sardines. Mom cooked in it and we all slept in it ... but ... we ate and lived outside. If you were not in bed, there was no room for five people. This truck camper fell apart around us after nine years of use. It was over 20 years old by then and getting real tired.

We had to decide what to do next. By this time, our son was no longer traveling with us. Our decision - we did not want to be without a RV. So we started looking around. Because of our desire to always take a boat with us, a fifth wheel seemed to be the proper choice for us.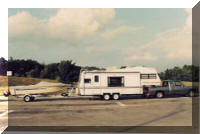 Our next RV was a new 1990 25 foot fifth wheel. We had what we thought was pure luxury: air conditioning, TV and a refrigerator that worked. After the girls stopped going with us regularly, we teased them that it was just the right size for two people. We used this RV for nine years.

The 25 foot fifth wheel was nice. Then on a fall vacation, when we spent many cold evening hours inside tripping over each other in a narrow aisleway, we decided it was not going to be convenient for extended travel during retirement.
Our 1999 RV was purchased new as our retirement vehicle. It is a 32 foot fifth wheel with two slide-outs. It meets all of our requirements: two comfortable chairs facing the TV, a queen bed with access on three sides, a reasonable size toilet room, a shower Fred's 6'2" frame fits into and a basement for storage. We can still pull a boat behind this fifth wheel - albeit a small "rowboat type" and still stay within the legal length limit. You can see more photographs of our 1999 RV at 1999 HitchHiker II.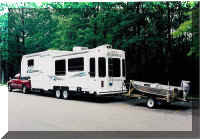 In August, 2010 we purchased a new NuWa HitchHiker fifth wheel. It has all of the features that we required in our 1999 HHII - and, more. It is a little over two feet longer than our previous RV. Therefore,, we can still legally tow our golf cart that we take with us on occasion. We have posted photographs of the interior at 2010 HitchHiker LS.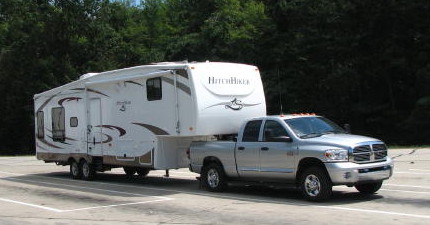 We personalized our prior HitchHiker with improvements that made it more enjoyable. We added them and to our new HitchHiker LS. You can see the list and details at HHLS Improvements .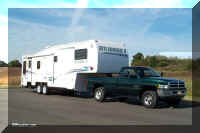 Our 2001 Dodge Ram tow vehicle was our first diesel engine powered truck. We were pleased with its performance and 'better than gasoline' fuel economy. We now know why people who tow regularly, use diesel powered vehicles. It tows great.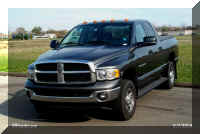 After leasing our tow vehicles for many years, we purchased our leased 2004 Dodge Ram 3500 Quad Cab. It had the 5.9L HO Cummins and the performance is significantly better than the standard diesel. We used a 4-speed automatic transmission and 4.10 axle. It handles our 13,000 pound fifth wheel very well. We enjoyed the rear passenger seat on our 2003 Quad Cabs and ordered the same body style on the 2004. We and our camping neighbors appreciate the quieter diesel. This was the first Cummins we really drove enough to break-in. When we sold it we were getting 15.4mpg in the city and 11.8mpg towing on trips.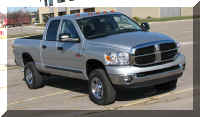 Our 2008 Dodge Ram 3500 Quad Cab has the 6.7L Cummins, 6-speed automatic transmission and integrated exhaust brake. We have also included Fred's favorite axle ratio - a 4.10 ratio. It should be a great tow vehicle. It was on a two-year lease. We purchased it at the end of the lease in March, 2010.
We lost about one mile per gallon on the 2007.5 Cummins 6.7L from our 2004 5.9L Cummins - however, the 2007.5 only had 14,400 on it when we turned it in. At that low mileage, the Cummins was still a baby. Meanwhile, the 2004 had 34, 800 miles on it - it should have performed more efficiently.
Performance and engineering articles report that the improved economy provided of the new 6-speed automatic transmission should more than offset anything lost to the new emission equipment. Hopefully, we will benefit from ownership by breaking in the Cummins and experiencing better mileage. As of May, 2010, we have driven it for 30,000. The truck was built to work. It is our only vehicle so we will frequently drive it in a slow, city environment that it really doesn't like. Because of that, I suspect we will have lost the one mile per gallon forever.
Because we have a short driveway at the condo and we wanted a quad cab, a short bed truck was necessary. We had a PullRite 16K Super Glide hitch installed in our 2003 Dodge Ram. We can report that it works great. There is no need to manually throw levers on tight turns - the hitch does all the work. It is interesting to watch the nose of our fifth wheel move away from the truck cab as you make tight turns. It is a great hitch.
The following is a photographic collection of BIG toys we took with us at various times. Over the years we tried various things - some worked well and some didn't. Regardless, it was fun planning and trying them.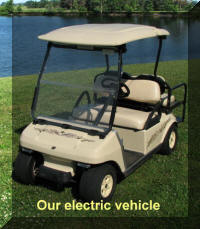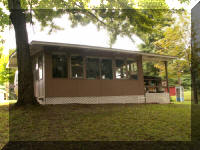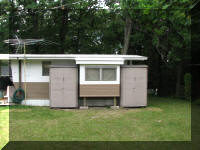 When we want to get away for a time but not travel in the HitchHiker, we have what we affectionately call our 'cottage'. It is a RV parked permanently on a lake north of our condo in a community of 30 families. Being in Michigan, it is a seasonal retreat which we try to use frequently during the summer. It is somewhat secluded and provides a place for Fred to fish and a place for Mary Lou to catch up on her reading. Plus, it gives us an opportunity to spend some time with another group of 'camping' friends.