Family Reunion - 2007
Updated: 11/24/08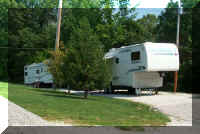 Again this year, our reunion was held in May.
Fred and Becky's circle driveway continues to provide a great parking location for our RVs. We attach our power cords to the electrical box under the porch and enjoy all the comforts of our RV homes.
We arrived on Monday, a few days before the rest of the clan. This gives us some time alone with Fred's family. Thursday, Melanie's plane arrived. This gives Melanie a day with them. This staggered arrival schedule works out real well.
While Fred is known for always having his camera ready, we try to not use the camera a lot the first few days we are here. Caitlin and Nicholas spend a lot of time playing together - can't you tell!
The last photograph is a little blurry. Nicholas is jumping rope.
Friday, when we had s'mores, the camera came out. Nicholas and Caitlin helped their dad with the fire. Nicholas sat on the wood pile while he took a break
Caitlin showed Grandpa how she could twirl a stick like a baton.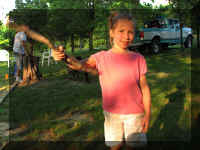 Fred really enjoyed building the fire. He really got into his work. But, his effort was worth it. Then he enjoyed watching his family cook s'mores.
Doesn't Caitlin look domestic?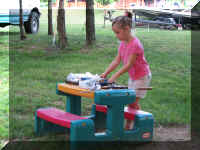 The cooking was fun . . .
The eating was better . . .
While Melanie was being careful due to a knee injury, she seemed to enjoy observing. It was a real change from the usual Aunt Melanie who the grandchildren played hard and rough with.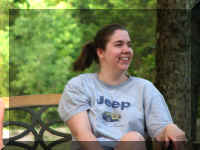 Saturday seemed like it would never come according to Caitlin and Nicholas. But, Saturday did come.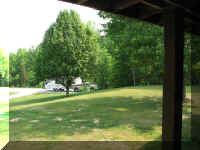 Michelle, Steve and the girls arrived. Fred heard them climbing the hill but could not get the camera on in time. Becky had to hug everyone. Caitlin was really happy to see her Michigan cousins again. And, she could not wait to tell Ashlyn a secret.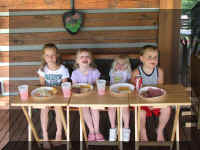 Almost the first thing on the agenda was lunch. Aren't they just the best looking lunch group you have ever seen!
After lunch, the BIG girls disappeared and played with a remote controlled dog.
Caitlin 'drove' the dog and laughed hard as Ashlyn chased it.
It didn't take long for the pool to become the place to be. The BIG girls had a great time in the pool. However, if they had too good a time and splashed, Nicholas complained.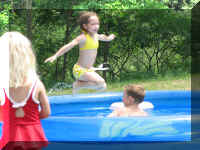 Airborne . . .
Lillian didn't care to be in the pool.
She was happy just walking the beach (aka deck) in her cute bathing suit.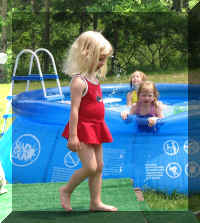 After time in the pool, it was time to sit and dry off.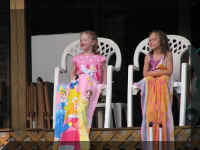 While they dried off, they were entertained by the REALLY BIG kids playing.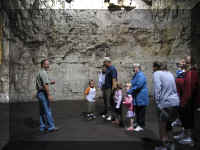 Late afternoon we toured an underground warehouse in Marengo, Indiana. It was a very interesting place. We have more photographs on the Crawford County page in Prior Destinations.
Before you knew it, the first official day of our family reunion ended. It was time for baths and bed. Having our own places to go is a big advantage of holding our family reunions at Fred and Becky's. Walk down the hill and you are home.
Sunday after going to church and hearing Fred sing a solo, having lunch at a local restaurant, it was a hang around the house and birthday party day.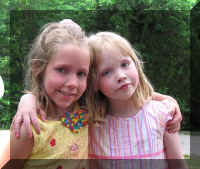 Even though the girls see each other twice a year, they seem to be fast friends. Maybe absence does make heart grow fonder. Either way, it is good to see them interact.

They do everything together.
Including doing their nails.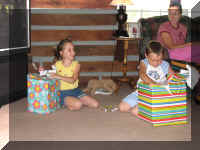 The annual joint birthday party for the grandchildren when they exchange gifts among themselves is part of every reunion. Then, we all eat cake and ice cream.
After the party, they enjoy playing with and wearing their new things.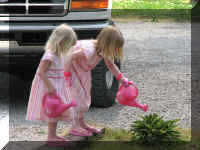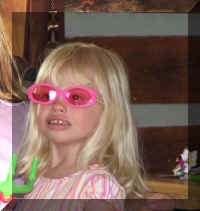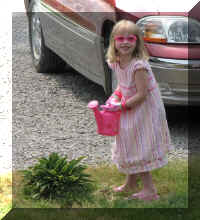 Becky bought these pink gardening sets for Ashlyn and Lillian. They were a real success.
The ring shooter Melanie gave Nicholas was also a hit.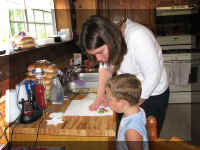 Crafts are always fun. Caitlin shared one of her birthday gifts from Melanie with the others. Using a form and plastic pieces, melting them together with an iron - you had a necklace.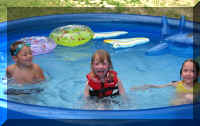 It would not be our family reunion without the grandchildren having some pool time.
Nicholas is practicing putting his head 'underwater'. The girls were going under the water so he had to try it too.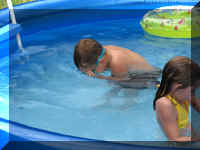 Michelle and Steve hauled their bouncer all the way to Indiana. Fred and Steve spent a half hour setting it up. Lillian would not go inside, the other three bounced in it for five minute. That ended that!
Monday was race day. No not NASCAR.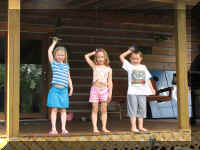 We held airplane races. Get ready, start your engines (arms).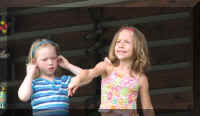 Caitlin's plane engine was
too loud for Ashlyn.
Even Grandpa flew a plane.

Then we took another 'field trip'.

We went to the Louisville Science Center.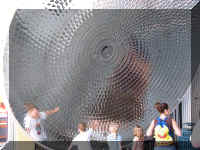 The grandchildren moved from one interesting display to another.
Even the older 'kids' found interesting things to look at and try out.
Lillian started slower than the older grandchildren. But as you can see here, she got 'into it'.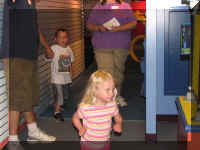 Nicholas drove the ambulance and then took the family for a bus ride.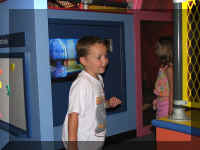 Hey Caitlin, you're on TV.
Caitlin and Ashlyn enjoyed being factory workers at the conveyor line. Caitlin found she was a little too heavy to move herself down the conveyor.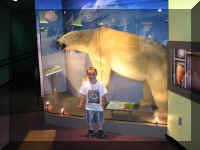 Nicholas found Grandpa and took him to see the BIG bear.
One section was dedicated to the human body.
Anyone for going into space?

Our spaceman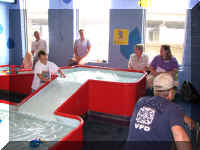 The water play area was a popular spot.
Melanie returned home Monday night, we headed out Tuesday afternoon. Michelle and Steve planned a couple stops on the way home so left Wednesday morning. Before we left, we watched the fun on the slip and slide.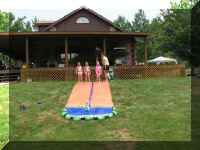 Becky set the slip and slide on the hill next to the side porch. The three older children had a fun time.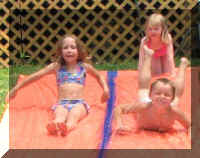 Talk about good form . . .
Caitlin seemed to get the best splashes.
Ashlyn and Nicholas . . .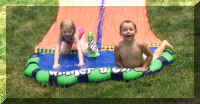 Another family reunion ended. The fun has been recorded in our memories and in digital photographs. We will not all be together again until the New Years Holiday period.
See how our family has changed at Reunion History.