Sturgis Motorcycle Rally - 2008 . . .
on our route to the Pacific Northwest in 2008
Updated: 11/30/08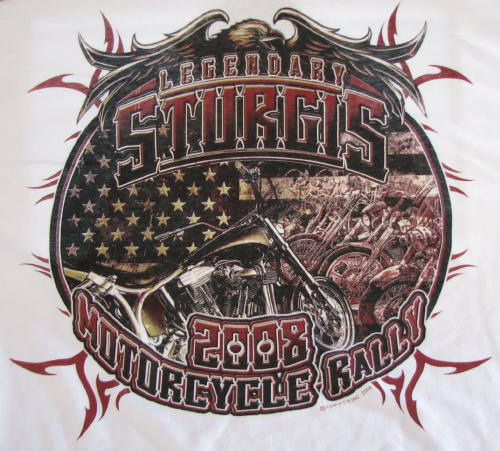 Our travel toward the Pacific Northwest began after our time with the family at Higgins Lake. The timing of our travels from there put us in the Sturgis, South Dakota area the first weekend of the Sturgis 2008 Motorcycle Rally. Therefore, Mary Lou made reservations in January at a campground in Custer, SD to insure we had a site.
The rally originated by the efforts of J. Clarence "Pappy" Hoel who bought part of the Indian Motorcycle Company. Pappy is now considered the founder and father of the Sturgis Motorcycle Rally. The first rally, known as the Black Hills Motor Classic, took place in 1938 with only nine racers and a small group of spectators from biker clubs in Mitchell, Sioux Falls, Minnesota, and Colorado. This first year most visitors camped in Pappy's backyard and at Sturgis City Park.
Over the years, history has watched Sturgis welcome more and more spectators, riders and vendors into its community during a few days in August. It wasn't until 1963 that the rally turned into a multi-day event. In 1965 the rally became a five day event and in 1975 it became seven days long. Sturgis also began blocking off Main Street so that bikers had a place to park their bikes and not have to worry about traffic. The first vendors, only nine of them, were welcomed to sell goods in 1979. By 1988, there were 117 vendors lining the streets of Sturgis. In 1989, founder Pappy Hoel died at age 85. But the rally lived on, with over 600,000 visitors and participants in 2000. In 2002, the city realized the need for a department that would be in charge of organizing and marketing the annual event. (Our thanks to ALLBlackHills.com for this history information.)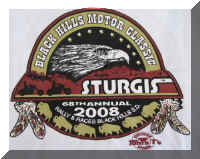 Motorcycle races, hill climbs and other activities are also part of the event. In 2003, the Black Hills Motor Classic officially became the Sturgis Motorcycle Rally.
In 2005, they marked the 65th anniversary for this famous bike week.
Being in the area, we had to go to Sturgis. How could we be in the vicinity and not go. When we arrived in Sturgis it reminded us of the Woodward Dream Cruise in Royal Oak, Michigan and surrounding communities. Instead of 50,000 hotrods and custom cars, Sturgis has thousands of motorcycles.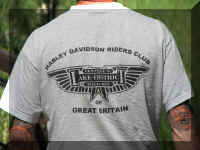 Both events draw participants and spectators for across the our country and some foreign countries. We talked to this guy from Great Britain. When asked if he was renting a motorcycle for the rally, he said "no". He told us the cost to rent a motorcycle would have been more than his airfare from Great Britain to the the rally.
Our day in Sturgis Motorcycles Other vehicles
The ride from Custer to Sturgis and back was beautiful. Did we mention that there were motorcycles everywhere?
We spotted these quads running off-road.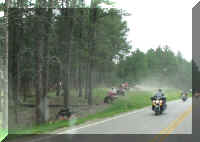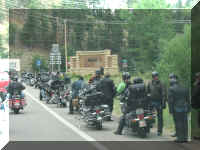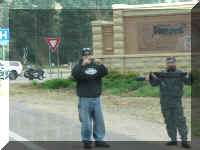 At one intersection, this biker was making a photograph of his biker friends.
Perhaps this was their first Sturgis Rally.
The weather turned on us part way to Sturgis.
We turned on the windshield wipers.
The bikers stopped and put on their raingear.
The weather cleared by the time we arrived in Sturgis. It was a beautiful day - not too hot.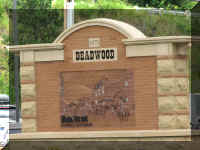 Driving through Deadwood, we found our first massive gathering of motorcycles.
Mary Lou liked the designs on their police vehicles. There was a significant police presence in all of the communities surrounding Sturgis.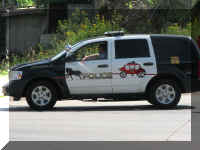 We also discovered people in Deadwood offering to wash motorcycles. Cleanliness is important.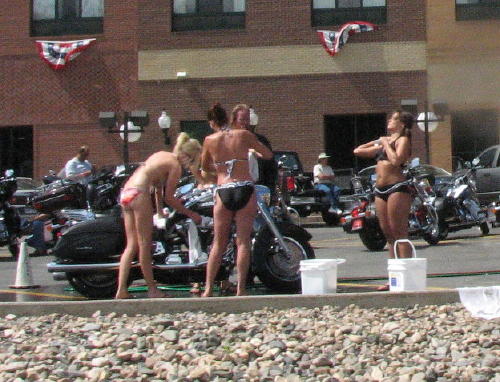 The first thing we did in Sturgis was buy diesel fuel for the truck - it was ten cents per gallon less expensive than in Custer.
Can you find us in the crowd of other vehicles?
Continuing into town, we proceeded to get in the traffic jam. When we left about 3:00pm in the afternoon - traffic was still heavy coming into town.
The street was lined with vendors selling 'everything' motorcycle related. You could buy anything from an entire motorcycle, parts and accessories, to insurance on your motorcycle.
The Lions Club sold pancakes, churches sold parking spaces and some religious groups were selling Spiritual assistance. Everybody was involved in some way or another.
We decided to get off the main route through town, find a parking spot and walk back. We never did walk back to the main route.
We found that Main Street was were most of the motorcycles were parked.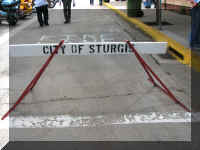 Main street and some of the central side streets were blocked off and restricted to motorcycle traffic only.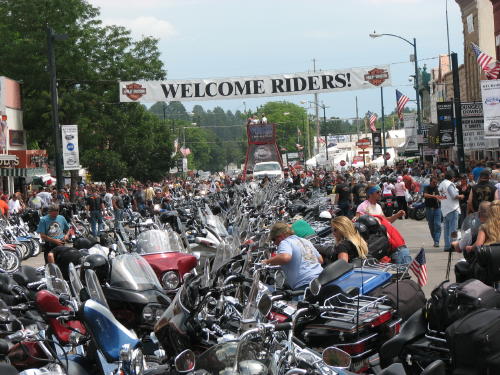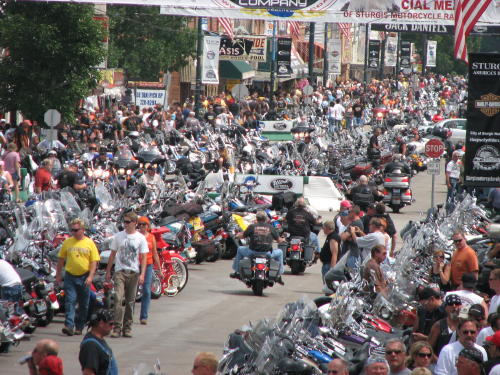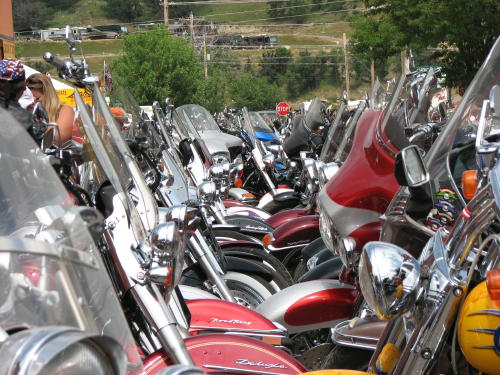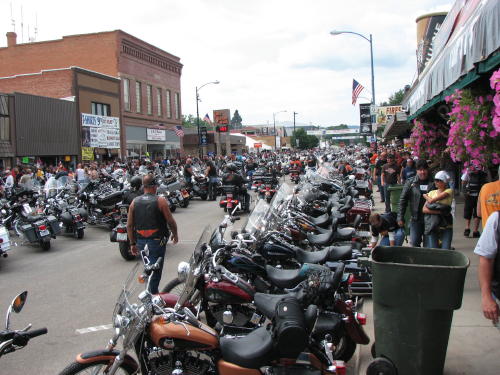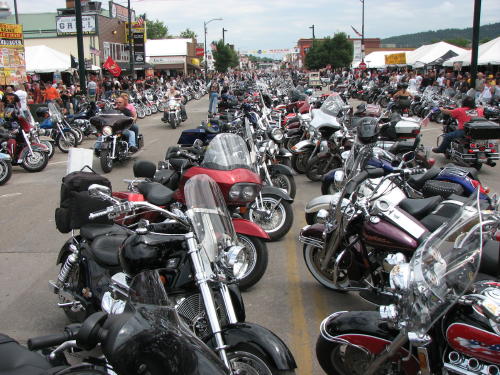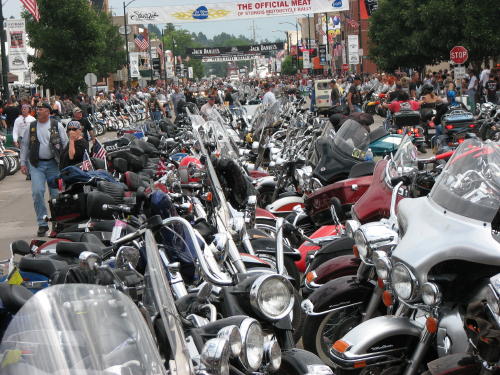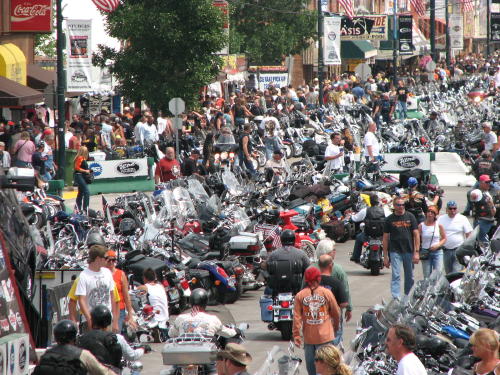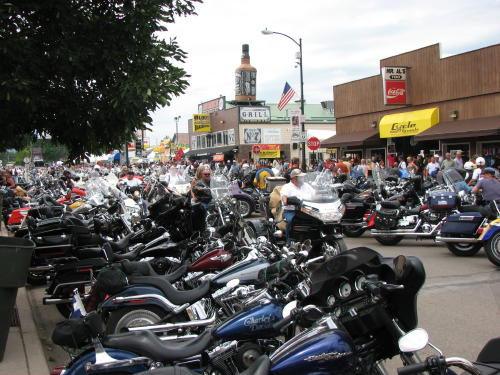 The sidewalk was filled with people and many were wandering between the motorcycles.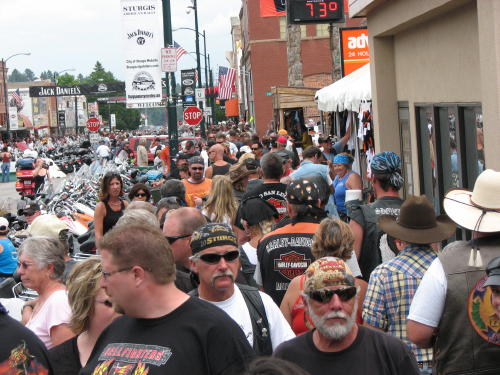 Most of the side streets were also filled with motorcycles. Parking spots, even for a motorcycle, were at a premium.
What better place to rest than on the front lawn of the Sheriff's office.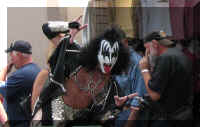 We attended the rally on Monday the day KISS was performing. We did not go to the KISS performance.
Two of the band members were taking in the sights in Main Street as we were. When he saw Fred ready to make a photograph, he posed for him
Selling was not limited to the route through town. Some selling occurred on most downtown streets as well.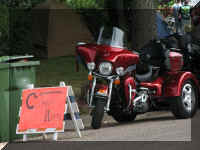 Residence rented their lawns for camping and parking - backyards and frontyards.
Pinstripping could be applied. Fred make the last photograph shooting through a tear in the canvas tent workshop.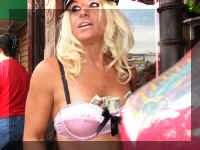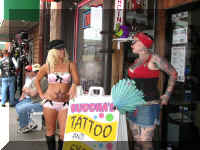 You could buy a tattoo. (It appears the cash register was broken.)
Maybe you needed some biker apparel . . .
This motorcycle was for sale . . .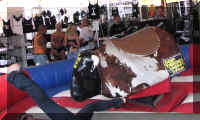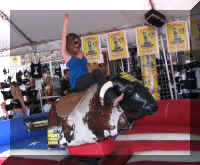 Of course, restaurants and bars were very busy.
You could ride a bucking bull if you wanted to.
A short time after the ride began, this gal found herself on the ground.
This is not where we noticed a safety feature built in to Harley-Davidson attire, but it seems to fit here. It is an item that was probably sold in Sturgis.
While driving back to the HHII after visiting Mt. Rushmore on a rainy night, we noticed a large reflective 'spot' on the back of several riders. We were close enough to one rider to identify it as a Harley-Davidson emblem. While in Cody, WY Fred visited a H-D store to investigate.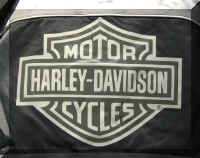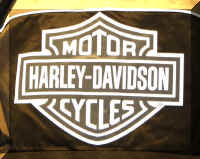 Rain jacket without flash . . . Rain jacket with flash . . .
Fred made a lot of photographs because of the uniqueness of many of the motorcycles. That is very similar to the approach we used on our posting of Woodward Dream Cruise photographs. Each year we have added a few more photographs of unique hot rods and custom cars.
Bikers were photographing the motorcycles also.
The following are select few . . . we could have posted many many more.
GO BACK TO > > > Pacific Northwest - 2008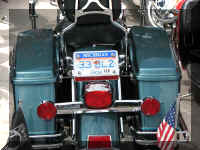 There were motorcycles from all over the country in Sturgis, including Michigan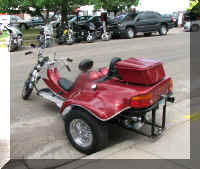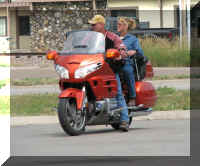 She looks comfy.
(We were talking to a couple from Illinois at Mt. Rushmore.
They rode their motorcycle 600 miles their first day out. )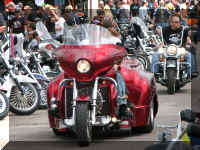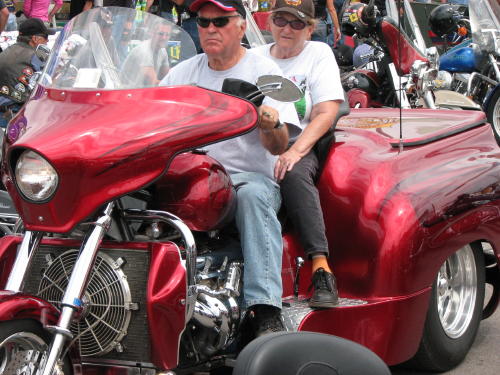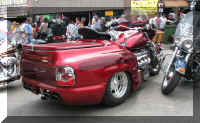 People of all ages were in Sturgis for the rally.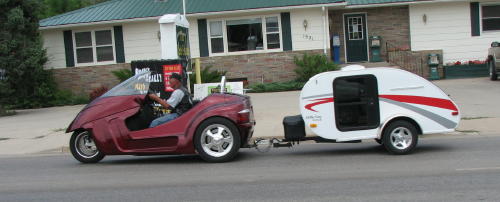 All ready to go camping.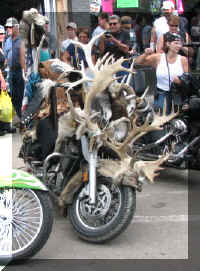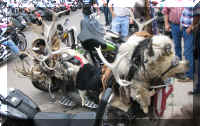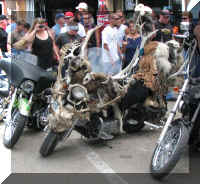 This one was hard to describe.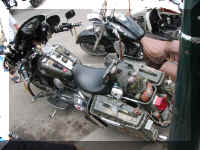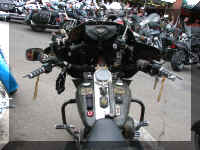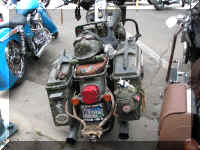 This one gave a political message.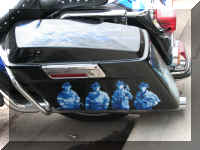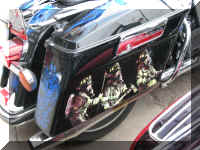 Some support to our first responders.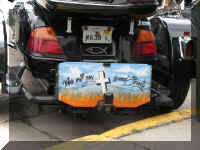 Others displayed their faith.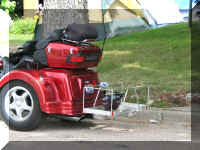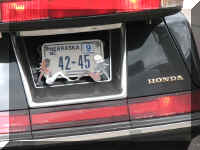 These had a platform on the rear just like our HHII
and chrome ladies like on our truck's mudflaps.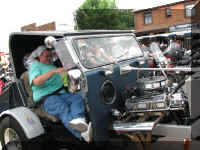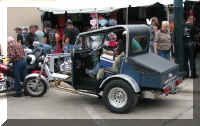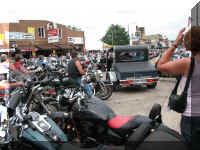 When the 'Harley on Steroids' pull out, six bikers were happy to get their parking spot.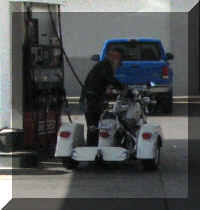 This one looks like it
has training wheels.
GO BACK TO > > > Pacific Northwest - 2008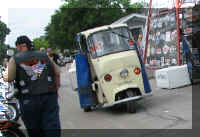 GO BACK TO > > > Pacific Northwest - 2008