Hells Canyon and Hells Canyon Dam - 2008 . . .
on our route to the Pacific Northwest
Updated: 11/30/08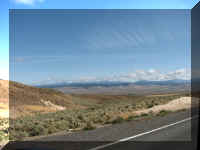 Like our other rides in this part of the country, the ride to Hells Canyon was beautiful.
The Hole-in-the-Wall Landslide was on our route. This turnout overlooks a 1984 landslide that covered the road and temporarily dammed the Powder River.
The other side . . .
Flowing water, animals grazing and mountains, how tranquil !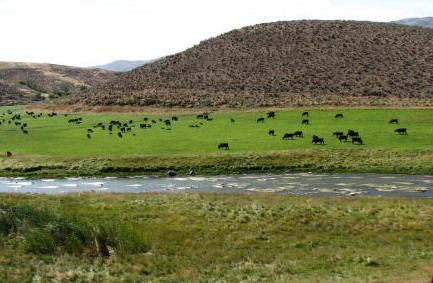 We believe this over-head trough carried water for irrigation.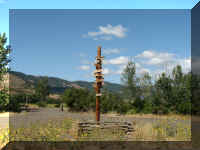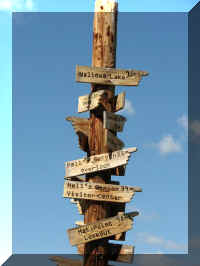 The location of this information pole and board also offered us a look at a deer. This rest area was placed here to marked the route of the Tim Goodall Wagon Train route of 1862.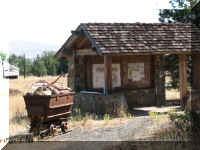 As we drove away, Mary Lou saw the deer go into this metal silo.
It was hard not to know you were in Hells Canyon.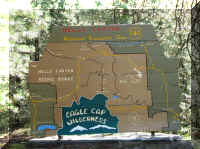 The North Pine Rest Area was a welcome sight.
Hells Canyon is the deepest river-carved gorge in North America -- almost 8,000 feet at its deepest.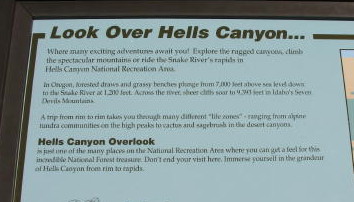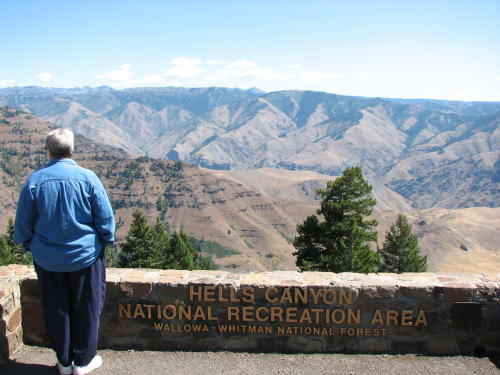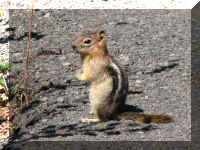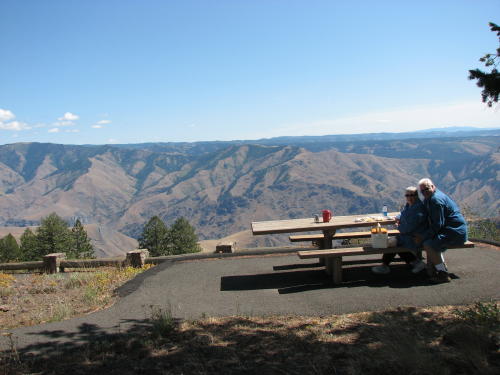 We decided to have lunch at the Hells Canyon Overlook. Going to the truck to get our lunch supplies, this chipmunk stood on the sidewalk almost motionless for the longest time. Only when we were within six feet of him did he run.
A spectacular place . . .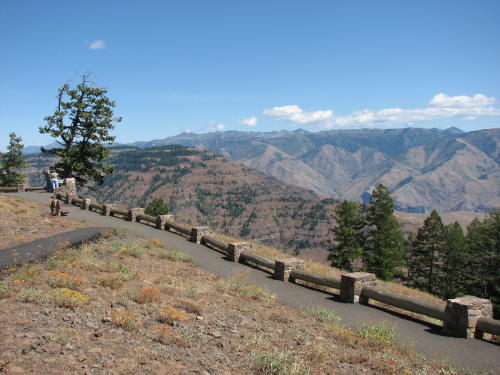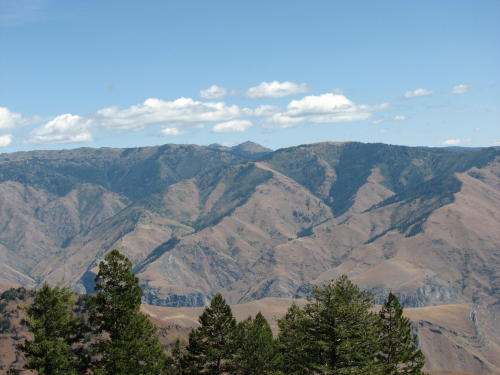 The road was windy and in need of some bush trimming.
Fiber optic cable was being laid along Route 86 just west of Copperfield. The same kind of operation we saw in Alaska.
Near Copperfield was another power station and the Oxbow Dam, one of three on the Snake River in the Hells Canyon area.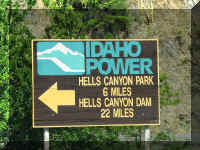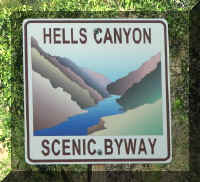 The 22 mile ride along the Snake River to the Hells Canyon Dam got better as we drove - more rugged, more picturesque. Many places along the river were used for recreational purposes - camping, boating and fishing.

The Snake River is the border between Oregon and Idaho.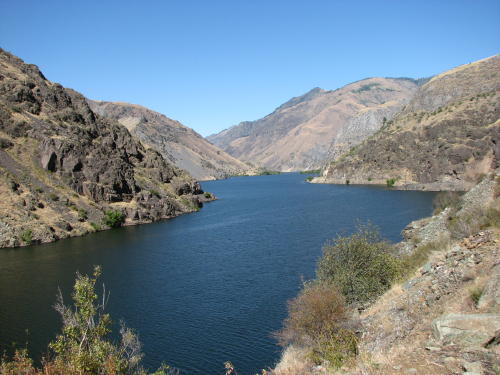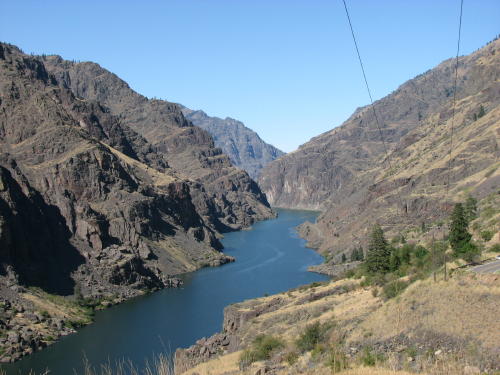 Our first glimpse of the dam . . .
On the dam . . .
Below the dam . . .
This is a REAL flight of stairs - all the way up to the dam's roadway. This guy used them to walk down to the river. It will be a little harder going up.
The ride home . . .
Maybe so the locals knew where they were, all along the road signs like these identified streams and creeks on the other side of the river. The ones on our side of the river were signed as well, but that was expected.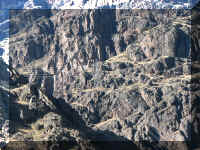 This is what is left of Big Bar.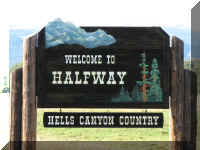 We drove through Halfway. It earned it's name as the midway point between the town of Pine and the gold mines of Cornucopia. The town changed its name to "half.com" in 2001 -- part of a Internet company's publicity stunt. We thought the sign was pretty.
We spent a long day in the truck but the sights were worth it.
GO BACK TO > > > Pacific Northwest - 2008