On the Road in Michigan, Wisconsin, Minnesota - 2008 . . .
on our route to the Pacific Northwest
Updated: 11/30/08
These are a few photographs while on the road across the Michigan UP, a little of Wisconsin and diagonally across Minnesota.
No matter how many times we cross the Straits of Mackinac, the Mighty Mac is impressive.
The shore of the Upper Peninsula along Route 2 offers many recreational locations.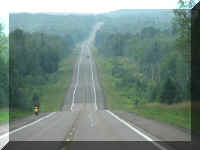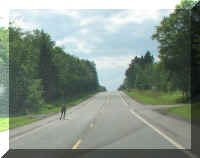 People are finding ways to conserve fuel - riding a scooter . . . and . . . would you believe, roller blading!
An old fashioned McDonalds . . .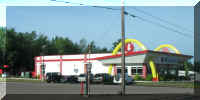 The road ahead lead us to a view of a bay of Lake Superior.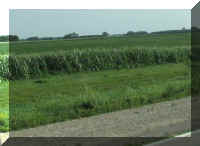 The day before we arrived, the Willmar area of Minnesota suffered winds of 115 miles per hour. The corn was laying at a 45 degree angle, trees were down and we saw a metal building at a grain elevator that was destroyed by the wind.
In Minnesota, near Pipestone, we estimated over a hundred wind turbines were visible. We later learned that they were along an area called Buffalo Ridge. Because of its higher elevation of 1950 feet, the area experiences continual wind speeds of 18mph. This and the plentiful open farm and pasture land make it an idea place for wind turbines.
The wind turbines pictured here are 229 feet tall with 136 foot blades. The bases are 11 - 16 feet in diameter and the foundations, which run 30 feet into the ground, are 15.6 feet across. Each wind turbine weights roughly 1450 tons.
GO BACK TO > > > Pacific Northwest - 2008