Elk City Museum Complex - 2006
Updated: 11/30/08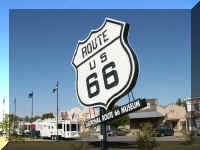 We arrived close to closing. As we would have only an hour to see the complex, we asked if we could stay in the parking lot overnight and start our visit when they opened the next morning. Because it was a weekday during the off-season, permission was granted.
National Route 66 Transportation Museum
This building is the entrance to the National Route 66 Transportation Museum and the National Route 66 Museum. The exhibits in these two museums flowed together.
The first thing Rex noticed as we drove in was a building with his name on it. Of course, that was a photo opportunity.
The short video about Route 66 was worth viewing. The entire complex is very well done.
Allow three hours to see the exhibits in all of the museums. The cost, which includes all of the museums, was $5 for adults, $4 for students and seniors.
If you are old enough, you will remember the drive-in restaurant and the drive-in movie theatre. There are a few still in business, but many have disappeared from the scene.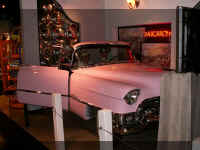 This Cadillac was set-up as a driving experience.
This is reminiscent of an old style dinner and movie date.
Treasures from the original Route 66.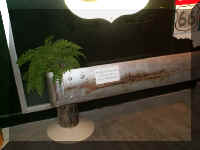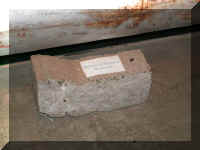 Guard rail . . . Concrete . . .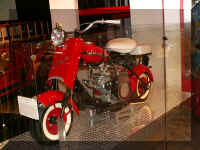 When Fred was 14 years old, he wanted one of these. Several guys in his neighborhood had them. His parents disagreed and he did not get one.
The museum included several interesting exhibits.
We visited the Old Town Museum next. It presented many exhibits of early pioneer life, Native Americans, patriotism, cowboys and rodeo.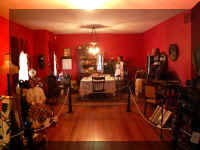 Inside the two story Victorian house is a wide range of items.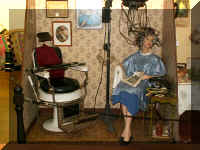 Fred remembers sitting on the board across the arms barber's chair. Neither of us are old enough to remember our mothers hair being 'wired'.
Cowboys and rodeos . . .
You frequently see displays of military items.
They also had a display for military nurses.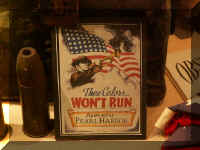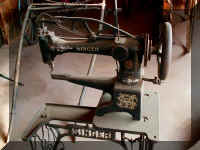 One of several buildings in the Old Town Museum was a livery stable. This heavy duty singer was on display.
Other buildings included a railroad depot, opera house, mercantile, drug store and others. You could enter the train depot and livery stable but the other buildings were building fronts with displays inside.
The church was also open.
The Farm and Ranch Museum was a large red barn. Outside, was a collection of windmills and old farm machinery.
The size of the 14-foot power windmills caught our eye as we entered.
Do you know that there are 'power' and 'water pumping' windmills?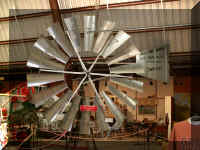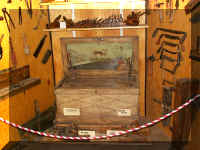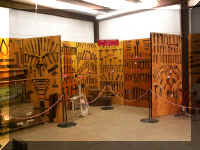 Tool box . . . Hand tools . . .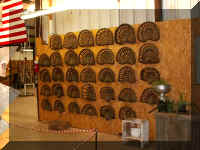 Pig oilers . . . Tractor seats . . .