Marengo Cave National Landmark - 2004
Updated: 11/09/08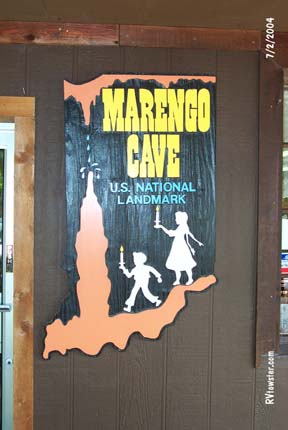 It had been quite some time since we had been on a cave tour. For several years it was considered as an activity during our family reunion. This year we could fit it into our schedule. The cost was $12 for adult under 62 years of age. There is no charge for children under 4 years of age. The cave is 52 degrees so a light jacket is needed. Shoes with some tread to avoid slipping on the wet trail are advisable.
The cave was discovered by two children. The plaque commemorates the find and the slide show presentation on a rock at the far end of the cave included this difficult to see photograph of the two children. The fact that the girl's name is larger goes with the story that the girl was the instigator of their exploring the cave with only two candles.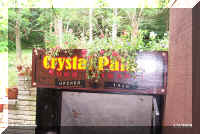 We took the stairway into the cave for the 40 minute tour. You could feel the dampness on railing and the stone steps were somewhat slippery.
The trail though the cave was very well developed.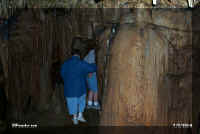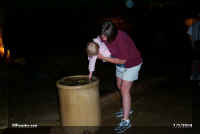 Along the way you could feel how cold the water was dripping into the cave.
The following show some of the formations along the trail.
The Marengo Cave offers a longer tour. Another tour for the brave which explores places where crawling is required. They suggest you wear old clothes, bring a change of clothes and shower supplies for this one.