Kansas - Fall 2003
Updated: 11/09/08
Chanute, KS (Santa Fe Park and NuWa Factory Tours)
HitchHiker International of America International Rally - 2003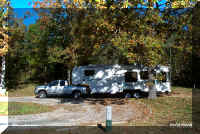 Lunch spot along the road.
Chanute, KS (Santa Fe Park and NuWa Factory Tours)
Santa Fe Park is a city park in Chanute, Kansas. While the item that catches your attention is the train engine, it includes a lake, picnic areas, a children's play area, ball fields, a golf course, a historic bridge and a campground.
The lake has many, many locations for fishing from shore. A boat launch for small watercraft is also provided.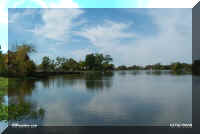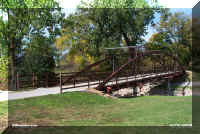 The Austin Bridge was built over the Neosho River in 1872. It has been moved a couple times since then. In 1999, it was moved to Chanute.
In 2006, we visited the 'new to us', Chanute-Wright Memorial. We have added photographs from that visit.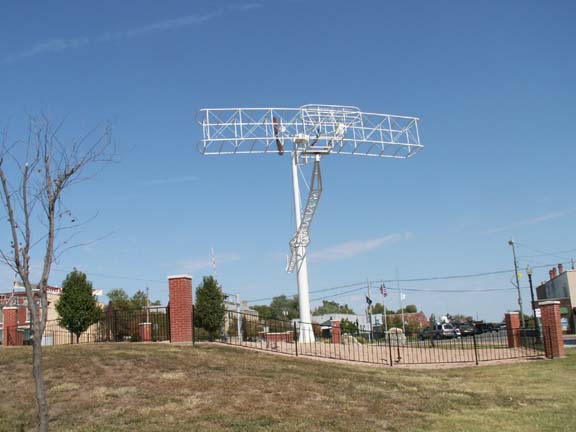 Every element of the memorial rotated with the wind.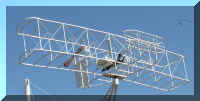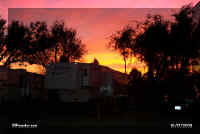 While we were in the campground, we had a couple beautiful sunsets.
We toured both the HitchHiker II and HitchHiker factories. While the processes are very similar, we saw some different points of interest at each factory. We were pleased to see quality workmanship at both factories. (Our visit in 2006 confirmed the same quality but improved processes.)
HitchHiker II ...
HitchHiker ...
HitchHiker International of America International Rally - 2003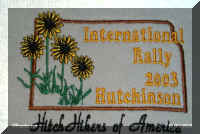 This was the second HitchHiker International of America International Rally that we attended. There were 119 rigs on the Kansas State Fairgrounds. We enjoyed again seeing people we met at the rally near Nashville, TN last year. And, it is always nice to meet new people. We had a great time and look forward to next year.
These photographs made on from a fire escape show the rigs. Well, not all of them - ours and many others are hidden by the tree.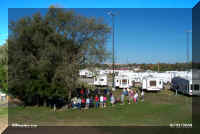 Dolores and Don were introduced as our new Events Managers.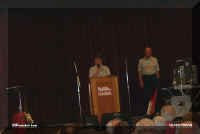 An optional bus tour of the Hutchinson area was scheduled for the first day. A store was open for the purchase of wearable stuff on several days.
Games were available for participants and spectators. We had many to select from - bean bag baseball, pinochle, dominoes, turtle races, bridge, golf tournament, bingo and bocce ball.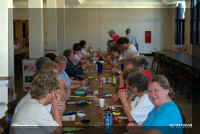 A couple craft projects were also available.
One of the events we all enjoyed was eating ...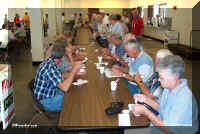 The ice cream social was appreciated - the weather
was 20 degrees above normal for a few days.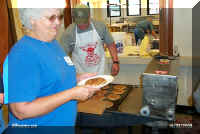 The pancake breakfast was entertaining
as well as very good tasting. Some people were able to catch the flying pancakes, others were not and the pancake hit the floor.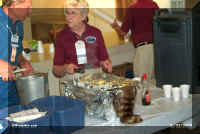 They would not tell us
what the sausage
was made from.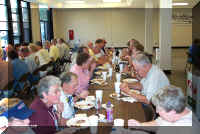 The farewell dinner was also very good.
Because the rally was held close to Halloween, we had to have a costume contest. The chicken and the butcher won 'most original'.
There was a tie for the 'Most Unique' costume,
the old man won...turns out 'he' was a women.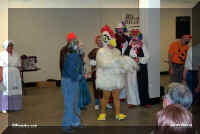 Don't get the idea we only ate, played and had fun all the time. The rally included seminars and product presentations by vendors and manufacturers representatives. They were very informative and interesting. We gathered a lot of useful hints regarding maintenance of RV equipment.
But ...
Like the end of each day, the rally ended and we had to head north, south , east and west to our next destination.