GREAT NORTH AMERICAN RV RALLY - 2003
Updated: 11/09/08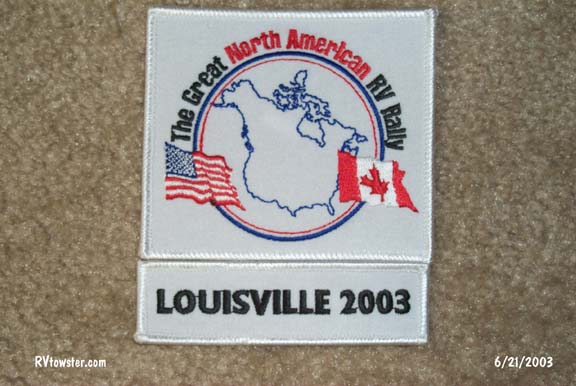 As the 2003 GNARVR was reasonably close to home, we attended the event. We thought this was an excellent opportunity to experience a BIG rally. And, it was BIG. We traveled with friends to the area but knew we would be in different camping sections due to different amenities requested.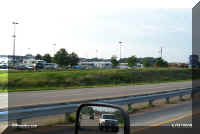 Every campground near Louisville was full the nights before the early bird days and the start of the rally. We drove past the Wal-Mart parking lot in Corydon, IN where several RVs were parked for the night.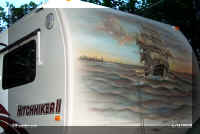 This customized painting was on the front of a fifth wheel in the campground we used the night before the GNARVR. All Fred could think about was cleaning off the bugs that the guy's wind deflector did not send above the painting.
We arrived at the Kentucky Fairgrounds and Exposition Center about 8:00am Saturday morning. It took us about an hour and a half to be parked in our 'electric' area.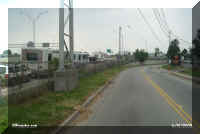 During the rally, everyone talked about two issues - 'how long they were in line to get parked' and 'where are you parked'.
They were the topics of every discussion because some people were in line over seven hours before being parked by the parking committee. The line stretched for miles on city streets and onto the expressway.
RVs were parked everywhere a vacant, reasonable flat spot could be found. Many rigs were parked at off-site locations. Some were parked next to a roller coaster at Six Flags.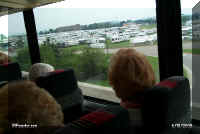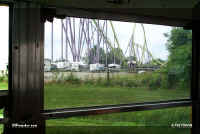 We took the previous photographs from the bus as we passed by on one of our optional tours. But the best view was from above. The GNARVR 'official' photographer, W. Scott Mitchell, took aerial photos and digitized this composite photograph. He gave us his permission the share it with you on our Web site.
We were parked in 'Lot U' at Papa John's Stadium - it is located just under the word 'Louisville' on the big map. (We are the fifth wheel with the solar panels on the roof in Row 145.) Lot U is a couple miles from the Kentucky Fairgrounds and Exposition Center. Some parking locations were eight mile away.
This is a BIG thumbnail - Click on it to enlarge the photograph.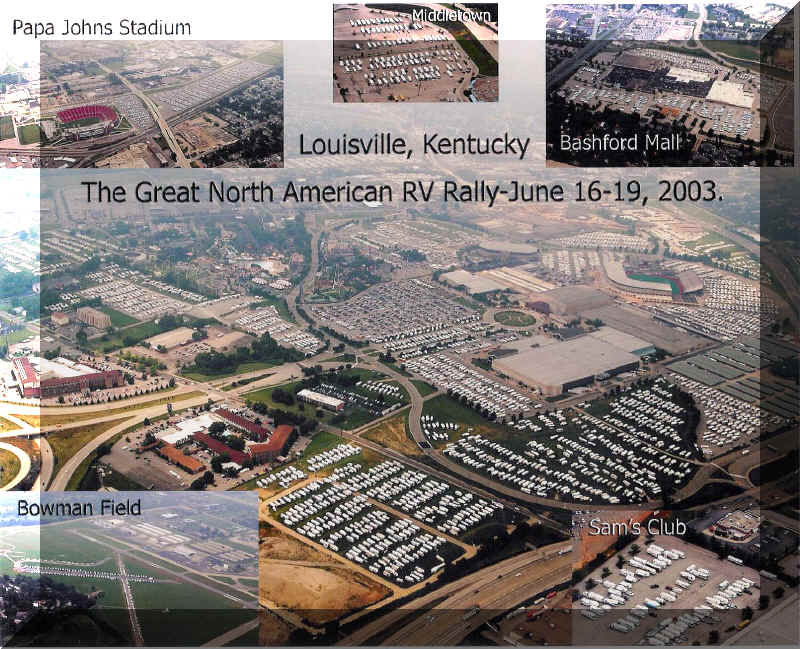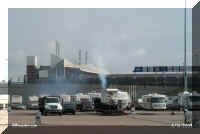 Big generators provided 30 amps of power.
Because of the off site parking locations, school buses were used to transport attendees to and from the events. Unfortunately, there were not enough buses for the number of people - for some events it was not a pleasant experience. A bus picked people up at various 'bus stops' in Lot U, but there was only one 'bus stop' inside KFEC. Trams pulled by John Deere tractors were provided for people parked on KFEC grounds.
We never heard the 'official' total number of RVs at the rally. It will probably be listed in a future issue of Trailer Life, Highways and other publications. We heard numbers from 5,400 to over 6,000 units. (After we published, Walt told us he heard the official attendance was 5,128 RVs and just over 12,000 people. The October, 2003 issue of Trailer Life says 5, 205 and nearly 15,000 people. Whatever the numbers, it was BIG.)
The KFEC was a great venue. It has one million square feet under roof - all air conditioned for comfort. This provided more than 500 booths for exhibits by suppliers. Even the new RV models were displayed inside.
Seminars on various topics were scheduled throughout each day. We attended several including a good one on RVing Alaska with Terri & Mike Church and Personal Security Tips with Joe & Vicki Kieva.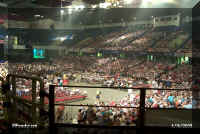 Freedom Hall at KFEC is a 19,000 seat arena. A pre-show slide presentation from the day's activities was enjoyed by all. Entertainment included Lee Greenwood, the Oakridge Boys, New Dawn Singers, Mike & Diane Killen, Ron & Kay Rivoli, Cornell Gunter's Coasters, Marvelettes and The Great Pretenders.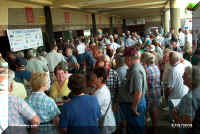 The evening entertainment was very good and drew most of the attendees to Freedom Hall early to get a good seat - or the seating area you wanted.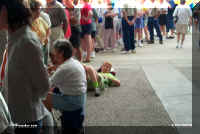 This gal took a nap in line.

Many opportunities to stand in a line were provided. Here we see Walt and Linda standing in line for some free goodies on 'Publication Day'. This woman used the gathering of people to advertise the sale of her travel trailer.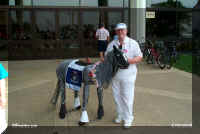 Games and friendly competition 'races' were scheduled. Several members of the Michigan Good Sam Staff created this delightful horse for the State Directors Horse Race. Unfortunately, our director's horse did not win.
There was always something happening. But, you could always take some time for yourself. We even took the bus back to our fifth wheel for a nap two days.
We took two of the several optional tour offered. The tour to the Star of Louisville and to Churchill Downs. Many attractions in the Louisville area will be on our future travel plans. But, we wanted to attend the GNARVR events that interested us on this trip. (Use link at bottom of page for our Churchill Downs page.)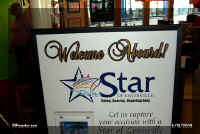 Lunch was great. Louisville skyline
The jury is still out if we will attend another BIG rally. It is more people and organized activities than we usually enjoy. A lot would depend on parking - is it all on-site. We found the coordination and reliability of the school bus transportation very inconvenient.