HIGGINS LAKE, MACKINAW CITY AREA (East) 18 Days 933 Miles
Updated: 11/22/08
Our time at South Higgins Lake State Park was as enjoyable this year as all prior years. If you are stressed from work and every day activities, it is a great place to relax and recover. This was our first visit as 'retirees' - it is still a great place to relax.
What draws us to Higgins Lake every year ... the water.
This is our anchor in six feet of water. The water is cool/cold and clear. When the children were small, the large public beach area was used frequently. Or, you can swim anyplace along the mile long state park shore.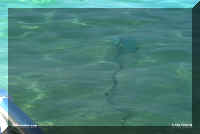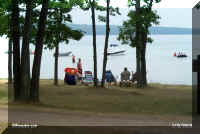 You can sit on the shore and watch others play.
Or, play at waters edge with you grandchildren.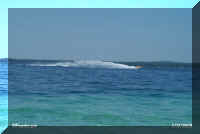 Or, play on the water with your power boat.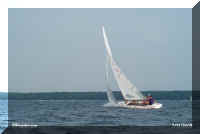 Or, maybe you like quiet sailing.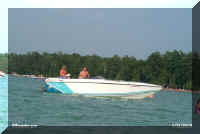 Or, just anchor and relax.
Or, a new activity this year, parasailing is available at South Higgins Lake State Park. The schedule is dependent on weather conditions. The fee is approximately $50 per person (two people on a bench seat). You stay dry because you launch from and return to the inside of the boat.
South Higgins Lake State Park has eliminated 100 campsites, enabling some of their sites to be very large. They upgraded the electrical service - each site has 20/30 amp service and some have 50 amp. Camping fees for this year are $20 per night and includes your electricity and use of the restroom/shower facilities. This year we had one of the large site. Melanie spent weekends with us and there was plenty of room for her tent and Jeep.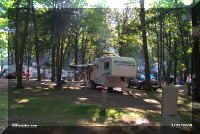 Michelle, Steve and Ashlyn spent a week of their vacation camped at South Higgins Lake State Park too. They were on a campsite adjacent to ours. It was convenient for all of us. Grandma and Ashlyn spent a lot of time together, so Steve and Michelle could 'play' in the boat.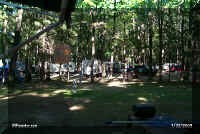 Below are some photographs from our time at Higgins Lake.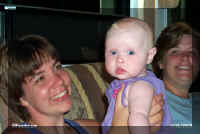 May people travel with their pets, this is the first time we have seen a family with a pet duck on vacation. They played with it at the beach and it followed them back to their campsite.
There is more to see in the Higgins Lake (MI) Area .
This was Mary Lou's first opportunity to leave Higgins Lake and not have to return home to go to work. So, we headed North to Mackinaw City.
No matter how may times we see the Mackinaw Bridge, we enjoy watching the traffic crossing it and the water flowing under it. Day or night, it is impressive.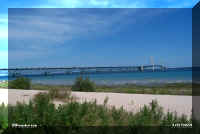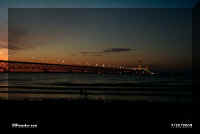 We camped at 'Mackinaw Mill Creek Camping', a short distance southeast of Mackinaw City. The campground is located on the shores of Lake Huron with a nice view of the bridge from the commons area. Most of the over 600 sites are small. As there is so much in the area to see and do, we did not spend much time there. We did not take advantage of the pool and activities offered. Our site with 30 amp electricity only was $21 per night.
Mackinaw City offers many shopping opportunities from cheap souvenirs to works of art and everything in between. Be sure and visit the shops along the streets and in Mackinaw Crossings.
We found the performance of the Straits Area Concert Band, held in Conkling Heritage Park to be very pleasant. It drew an audience of over two hundred people. They ask for donations during the intermission of the one hour concert. Check the schedule when you arrive in Mackinaw City for the many events held in the park.
L'Harmonie, The Miracle of Music, held in the Mackinaw Crossings Center Stage Theatre was a high energy two hour musical event for the whole family. It featured soul, jazz, blues, pop, rock and country music. Tickets cost around $25 - watch for discount coupons in area stores. Each season the theatre offers a different family entertainment event. We enjoyed the performance very much and would check what is being offered the next time we are in the area.
A day trip took us from Mackinaw City through Cheboygan to Rogers City on Route 23. We had previously visited Old Mill Creek State Park so we did not stop there.
We drove through Cheboygan State Park and P. H. Hoeft State Park. While we prefer to camp in state parks, we would not use these. There were few sites in these parks for a trailer over 30 feet.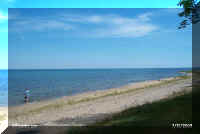 Along the route Mary Lou got her feet wet in Lake Huron. There are many scenic pull-offs and places to stop and swim.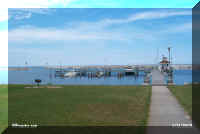 Hammond Bay is one of many Safe Harbors provided by the State of Michigan along the coast.
Forty Mile Point Lighthouse was an interesting area, however the lighthouse is only open weekends. Sharing the grounds is the restored wheelhouse and lifeboat from the freighter 'S. S. Calcite'.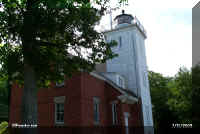 In the parking lot of Forty Mile Lighthouse, we saw an interesting RV - a Vixen 21. They were touring from California.
9-1-04