TIPPECANOE BATTLEFIELD - LAFAYETTE, INDIANA - JUNE, 2001
We were in the Lafayette area to attend the wedding of one of Melanie's former college roommates and sorority sister.
Kathy and Pat's wedding was on Saturday, June 16.
On the way back to our fifth wheel after the reception, we saw a sign pointing in the direction of the Tippecanoe Battlefield. It was early in the evening and the museum and gift shop were closed. We returned Sunday.
The monument has plaques listing all solders killed at the battle. The image on the front of the monument is that of General William Henry Harrison.
This arch was over the gate to the grounds.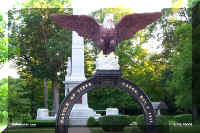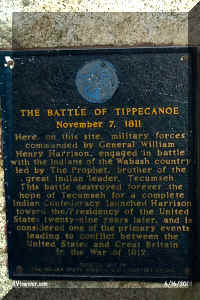 This sign explains the historical significance of the battlefield.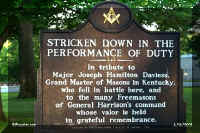 Markers were place on the grounds where the officers died (not where they are buried). The Masons erected this marker.
This national landmark is located seven mile north of Lafayette. The area adjacent to the monument is being developed with a nature center, a swimming pool, an amphitheatre and hiking trails. Allow two hours to visit the monument, museum and gift shop. Museum and gift shop hours are 10:00am to 5:00pm. The entrance fee for the museum is adults ($3), children ($2) and seniors ($2).
9-1-04