WESTERN SHORE OF MICHIGAN - June, 1998 10 Days 1,280 Miles
Our summer vacation this year was touring the west shore of Michigan. Starting in the Leelanau Peninsula and traveling south, we used state parks as our base camp and then roamed in all directions. We had made reservations at a couple state parks because they were located in very popular areas and schools were closed in many communities.
Leelanau State Park ($8) north of Traverse City at the tip of the Leelanau peninsula was our destination for Friday night. The nice weather, calm winds and sunshine added to our enjoyment of the tranquil setting. Leelanau State Park has no electricity. It has a community water pump. No dump station. One of the things we have always said was that our retirement fifth wheel would be nice but it was not going to be so large that we could not use rustic campsites. As we were sitting in camp one day, our future plans were confirmed. A 30+ foot, taller fifth wheel arrived. (In 1999, we purchased our 32 foot fifth wheel. We have added solar panels for rustic camping.) .

The people camped next to us shared a campfire with us the second night. They really had no choice - we showed up with a few logs for their fire. During the conversation, we found out they lived three houses from a friend of ours. They were using their 19-foot boat on the big water because it was so calm. It was very unusual for Lake Michigan and Grand Traverse Bay to be almost as smooth as glass.

The Grand Traverse Lighthouse on the park property was nicely restored. The restoration committee worked with the granddaughter of the last keeper on all decorating details.
We spent three nights in Leelanau State Park, a day longer than expected. We enjoyed our visit so much, we were sorry to leave. This state park is on our list for an extended stay after retirement. (Michigan state parks have a 15 consecutive day limit.)
Monday morning we headed for Orchard Beach State Park ($12) at Manistee. The State of Michigan is currently upgrading their state park electric service, Orchard Beach already had 30amp service installed. It was a little difficult getting the rig in the proper position for the view we wanted. Oh, what a view – on a high bluff overlooking Lake Michigan. Our view of the setting sun was fantastic. One evening we watched a rainstorm walk across the Lake Michigan until we had to head for the fifth wheel to stay dry.
Tuesday we explored the area to the south including Mears State Park. It provides concrete parking slabs on small sandy sites in a setting reminding us of a city in the desert. Later in the trip we visited Grand Haven State Park – also a lot of sand. They are ideal destinations for sunbathers and those liking a lot of sand. The children were having a lot of fun. We were glad, after seeing them, we were unable to get reservations at these two state parks. I guess we are tree, grass and dirt people.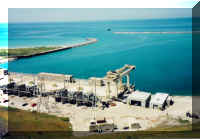 The Ludington Power Storage Facility was very interesting. It is a huge operation. We spent a couple hours there including a walk to their upper water storage reservoir.
Ludington State Park is a destination. The ride into the park along the sandy shore of lake Michigan is beautiful and the park offers enough for a family vacation. The Great Lakes Visitor Center had extensive information on sand dunes.
While exploring we found the Manistee National Forest Recreation Area ($8). It had 99 sites with asphalt parking slabs. No electricity. It has access to a beach on Lake Michigan. Located nine miles off Route 31, seven miles south of Manistee, we made special note of it so we can return in the future.
The Manistee area offered so much we wanted to see, we registered for two more days. Wednesday's sights included a river walk, Babcock House tour and new condo/marina development area. Thursday we continued exploring the area. Fred fished a little at Healey Lake in a state forest campground south of town.
Friday we moved to Hoffmaster State Park ($14) located south of Muskegon. The park had suffered a lot of damage from a recent storm. Many of their sites were not usable because of fallen trees and debris. Walking through the park, you could see how devastating the damage was. Several rigs were damaged and a couple destroyed. Unfortunately, one camper was killed and several injured.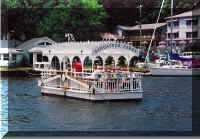 Saturday we visited Saugatuck, a quaint tourist/vacation location with many many art, craft and gift shops. We took the boat tour of Lake Kalamazoo and into Lake Michigan. Another item of interest was this manpowered, chain driven ferry which crosses the Kalamazoo river.
Sunday we explored more of the area. We watched the boaters on Spring Lake near Grand Haven. It was a very busy lake with a long line of boaters using two launch ramps on the eastern end. At the opposite end on the lake was Grand Haven State Park we mentioned earlier.
Monday we had to head home. Another vacation had ended. We brought with us a lot of good memories and photographs to enjoy.
9-1-04