MICHIGAN'S UPPER PENINSULA - September, 1997 17 Days 2580 Miles
It had been a few years since we had been in the Upper Peninsula. We decided to do it right - slowly. Our itinerary covered the entire perimeter – from St Ignace, west to the Porcupine Mountains, north to the Kewanau Peninsula and then east to the Soo Locks. We left work early Thursday. Living in a state with a good system of state parks, we tend to use them as our primary campground. Generally, they offer only electricity at each site. In addition to the camping fees, a vehicle entry permit (daily or annual) is required. The mileage above includes route mileage and side trip mileage.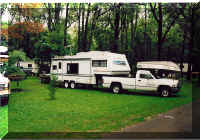 Our first night out was in Bay City State Park ($12) in Bay City. Because we were traveling in the off-season, we were able to use the site behind us as a pull-thru to our site. That meant we didn't have to unhitch the fifth wheel or the boat for the night. We were reasonably level and because it was raining very hard, we didn't stabilize the fifth wheel. Everything worked out great except for one thing. Mary Lou was planning dinner out. Not wanting to unhitch, we ate dinner in. So much for meal planning.
It was not a pleasant first night of vacation. It was cool (approaching cold) and rained most of the night. The ground was almost level so our 4x2 pulled us out in the morning with no difficulty. You may notice as you read this that during our vacations there are no "early starts". We are not on a forced march ... we are on vacation. Because a long day of traveling for us is four hours, there is no need to launch ourselves early to hit the road. We return to work relaxed instead of stressed out. Some people may call it boring, we call it a great way to travel.
After stopping at many of the rest areas along the next 115 miles on northbound I-75, we arrived in St. Ignace. We had made reservations for a two night stay at Straits State Park ($14) in St. Ignace because Mary Lou had read that a truck/car/toy show would be in town that weekend. The campground was full each night.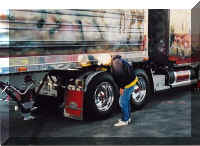 We spent Friday evening at the show. Many people were cleaning and polishing the paint, chrome and rubber on their trucks. As this was the first year for the show in September, the attendance was not very high.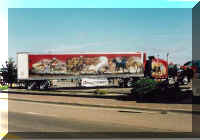 Having never traveled east of I-75 in the UP, we spent Saturday exploring the area ending up in Detour Village for lunch in a small restaurant near the Drummond Island ferry ramp. The area provided us with beautiful shoreline views. We enjoyed our day but probably would not return without a definite destination in mind. The scenery was not significantly different than on the other shores of the UP.
We had heard the trucks (from pickups to 18 wheelers) from the truck/car/toy show were going to make a round-trip cruise over the Mackinac Bridge ("The Mighty Mac") at 7:00pm. We were back in town in time to see it. The sound of their air horns as they crossed the Straits of Mackinac drew many people to the lake shore near the Mighty Mac. It was an interesting spectacle of light and sound.
Sunday morning we headed west on Route 2 to Indian Lake State Park ($14) west of Manistique. As there were only three other rigs in the campground, we had a large selection of sites.
We dropped the fifth wheel and headed for Palms Book State Park. This day use park provides picnicking, hiking and Big Spring "KITCH-ITI-KI-PI", Michigan's largest spring. The 40 foot deep spring can be viewed from a self-operated observation raft. The bubbling spring, fish and moss-covered logs are worth the ten-mile drive. Admission is free as long as you have a state park vehicle entry pass.
Our Monday stop was Bewabic State Park ($11) west of Crystal Falls. Monday afternoon we toured the area including the JE-BAY-MIC-GON Ojibwa Indian burial grounds. It is located adjacent to a beautiful waterfront park near the state park. Not a pleasant road to travel but the cemetery was very interesting. It was the first time we had seen above ground graves like these.
FYI … gasoline was $0.20 cheaper in Iron River than in Crystal Falls.
Tuesday morning we continued west because we had to be at a friend's home for dinner. Our arrival at their house in Ironwood was the only other time we had a scheduled arrival. We parked in their driveway overnight and had a wonderful visit with them. Their young son was a delight and dinner was fantastic. We had our second rainstorm that night.
Wednesday's drive to the Porcupine Mountains State Park ($14) west of Silver City was very pleasant. We selected a site on a bluff with a spectacular view of Lake Superior. We toured the area including the Lake of the Clouds, the Union Mine Trail walk, the Presque Isle River Scenic Area and several small state forest campgrounds. Be sure and cross the bridge on the Presque Falls trail leading to the island - the lagoon and the Lake Superior shoreline are very impressive. The terrain was – almost level - easy walking.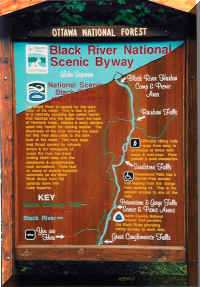 Thursday we headed for the Black River National Scenic Byway area on County Road 513 and north of Bessemer. There are a series of four falls as the Black River heads for Lake Superior. We were pleasantly surprised to see that the State of Michigan has made several of the falls in the UP handicap accessible to a viewing platform. The footpaths beyond that could be challenging for some. We had not planned to spend as much time in the Black River area and by the time we had our 4:45pm LUNCH in Bessemer we were tired and hungry. Don't take this ride without some provisions – there is nothing on the road except beautiful scenery and you must return the same way.
A storm Thursday night reminded us of the tremendous power of Lake Superior. The roar of the pounding surf could be heard in the fifth wheel with the windows closed.
Friday, on our way to Copper Harbor, we stopped at the UP version of the Fireman's Memorial in Calumet. It was not as elaborate as the memorial near Roscommon in the lower peninsula. Matter of fact, it was very small - a sign and a flag. The memorial near Roscommon has a big statue.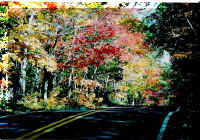 The ride on US-41 into Copper Harbor was a color tour to be remembered. The trees arched over the two-lane road and formed a tunnel of color. The black asphalt, painted white and yellow lines and natures greenery were very contrasting and beautiful images.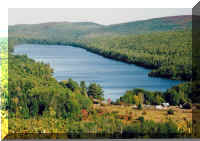 Our campsite on the shore of Fanny Hooe Lake in Fort Wilkins State Park ($14) northeast of Copper Harbor was a good place to beach the boat and fish a little. It was too cold for man and fish - no luck.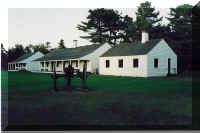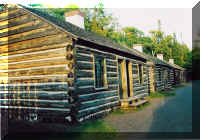 After dinner we visited the restored buildings of Fort Wilkins. The white buildings inside the fence where the officers lived are a contrast to the log housing outside the gate provided for the enlisted men.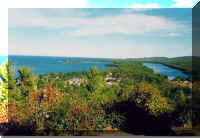 The images of fall color and beauty were multiplied on our ride on Brockway Drive just west of Copper Harbor. This is a look back at Copper Harbor as you start route. This ride is an almost constant climb on an asphalt road. You travel slow because of the scenery and bumps. However, once at the summit, the almost 360 degree view is spectacular.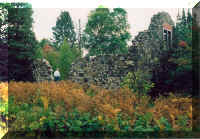 Saturday we drove through the charming little towns of the Keweenaw Peninsula. Along this beautiful circle route you pass through Eagle Harbor (Eagle Harbor Museum), Eagle River (historic bridge), Phoenix, Central, Delaware (three old mining towns) and see many other interesting sights along the way. We enjoyed every minute of our day, especially, wandering around the abandoned mine buildings at Central.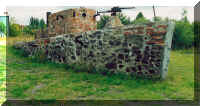 Along our Sunday route, we stopped to take a photograph of a stone ship in Kearsarge. Fred had seen it on the way to the Keweenaw Peninsula.
FYI … gasoline was $0.09 cheaper in Baraga.
Sunday afternoon we stopped at Van Riper State Park ($12) east of Michigamme. While there were few campers this late in the season, it has to be a very popular park during the warm months. It had a large and beautiful beach and supporting buildings, a large parking area and a huge lake for swimming and fishing. It could be a relaxing family vacation destination.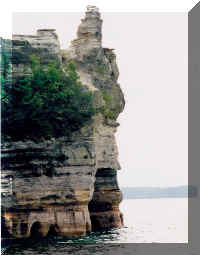 Monday morning we were off toward Pictured Rock National Lakeshore in Munising. We arrived 20 minutes before the boat tour ($21 per person) was schedule to depart. Because the weather the next day was forecasted to be worse than today, the attendant at the ticket counter suggested we not wait until tomorrow. It proved to be good advise. Our boat turned back about two-thirds into the trip due to high swells. To the cruise company's credit, they refunded some of each ticket due to the shortened trip. The tour boats did not leave the dock for the next two days.
We dropped the fifth wheel at the Munising Tourist Park ($16) west of Munising. It offered a gravel parking area, a very rundown building and charged the highest price of all our campsites during the vacation. It had coin operated showers ($1) and an additional charge ($3) to dump. The only good point, it was at a convenient location. It serviced us well as a place to spend the night.
We spent Tuesday searching out waterfalls and investigating campgrounds in the area. Wagner, Alger, and especially Munising falls were very nice. Pete's Lake Forest Campground would be a very acceptable (no electricity) campground. We could have spent another day wandering the broader area but thought we should move on.
Wednesday morning we were on our way to Tahquamenon Falls. We filled our tanks in Newberry because the little town of Paridise is very small and isolated.
Of the two state parks in the area, we decided to use the Tahquamenon Falls State Park - River Unit ($14) south of Paradise. While a little farther away from the falls, the falls were not our only interest. Both of the Tahquamenon Falls (the larger upper falls and the many smaller lower falls) were as pretty as our last visit. A lot of iron colored water flows over them. These falls were also accessible to the handicapped.

We investigated four forest campgrounds. When we do our investigating or exploring we do not take the fifth wheel with us. On this particular investigation we traveled 37 miles on sand roads and narrow rutted tire tracks ending up at Little Lake Harbor of Refuge, a safe harbor on Lake Superior.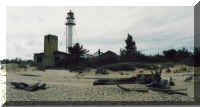 Thursday was another exploring day. When you are in the Tahquamenon Falls area, be sure to visit White Fish Point and the Shipwreck Museum ($6 per person) north of Paradise.
Andrus Lake Forest Campgound, a short distance north of Paradise, looked acceptable for a short stay. They offer no electricity, water is available at a central pump and only pit toilets.
Sault Ste. Marie was our Friday destination. We were looking forward to the Soo Locks Tour Boat ride ($13 per person).
It is a great tour. Our campsite was in Aunne Marie Campground ($15) just east of Sault Saint Marie on the shore of the St. Marys River.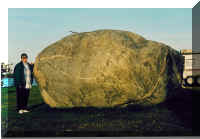 This rock was in the site next to ours. Our day of exploring was preceded by lunch at the Antlers Restaurant - an interesting place where 300 stuffed animals watch you enjoy their good food.
We returned to the locks at night to watch the operation under the lights. We were too late for the movie at the visitor center but the woman at the desk answered several questions for us.
Next visit we will include a visit to the Museum Ship Valley Camp which is on a retired Great Lakes freighter.
Saturday morning, feeling we had accomplished what we wanted to on our Upper Peninsula vacation, we had to make a tough decision, where to go now. We still had a couple days of vacation remaining. After crossing the Mighty Mac heading south, we decided to visit Historic Mill Creek Saw Mill in the Mackinaw City area. Mill Creek provides a saw mill demonstration and interpretive programs. Because there were few people visiting on this day, the demonstration was very casual and personal.
Saturday afternoon we arrived at South Higgins Lake State Park ($14) near Roscommon. It has been our family's favorite spot for water sports for many years. We spent our last two days unwinding from our vacation. It is a challenge to unwind from a relaxing vacation … but … we can do it. We took a ride to Reedsburg Dam State Forest campground, north of Houghton Lake. The water level was higher than we had ever seen it. Almost all the stumps were covered.
This vacation was as close to retirement as we will get for a few years. It and many other trips confirm the correctness of our plan to travel extensively in a RV after retirement.
9-1-04