The General Jackson Showboat - Nashville, TN - 2011
Updated: 10/08/11
One of the optional tours at the HitchHiker International Rally was a lunch cruise on the General Jackson out of Nashville, TN. The rally was being held in Lebanon, TN about 35 miles away.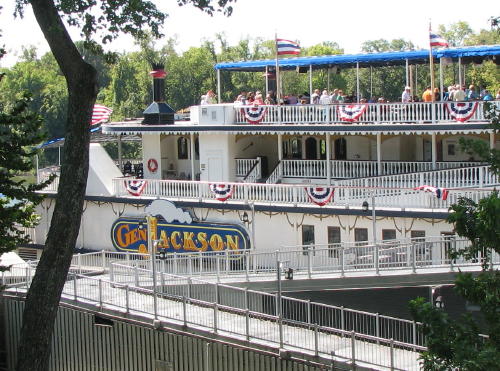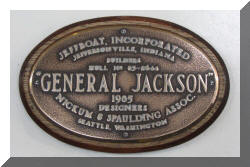 The General Jackson is a 300' long paddlewheel showboat.
It cruises on the Cumberland River to downtown Nashville and turns around and returns to its dock.
Prior to lunch in the Victorian Theatre and as passengers were boarding, we were entertained on the upper deck.
When the staff was ready, we were ushered to our assigned tables for lunch. Salad, herb chicken, ham, mashed potatoes and mixed veggies were served family style. Pumpkin cheesecake was served for dessert.
We spent time on the decks to see the sights along the shoreline.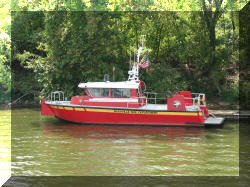 Nashville Fire Department fire boat . . .
Getting close to the turn-around spot . . .
LP Field ( Louisiana - Pacific Corporation ) in downtown Nashville. It was a beautiful day for a football game.
Downtown Nashville . . .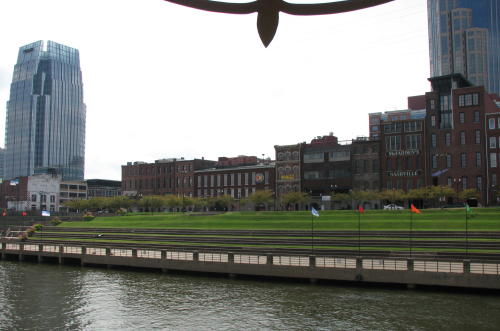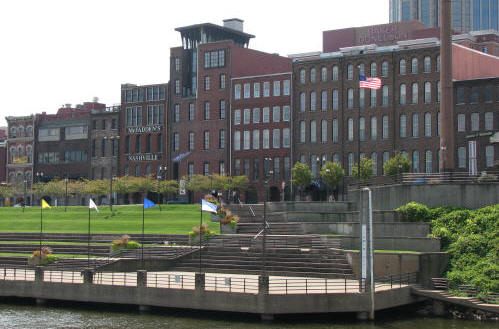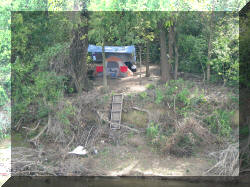 Camping on the bank of the Cumberland River . . .
Barges loaded with material for market . . .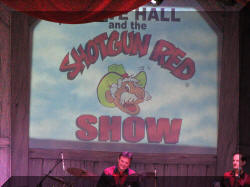 The stage entertainment was Steve Hall and the Shotgun Red Show.
The balcony was not in use. After lunch, we found a location at the back of the balcony where we could watch the show and occasionally go out on deck to photograph the sights.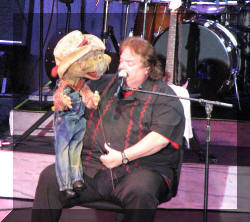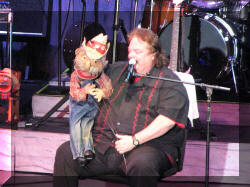 He had some good jokes and automotive acronyms.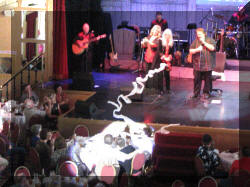 The entertainer had been 'picking on' a guy at the front table.
So, he said he had a gift for him - they blew a roll of toilet tissue on him.
People on PWCs were actively enjoying the river as well.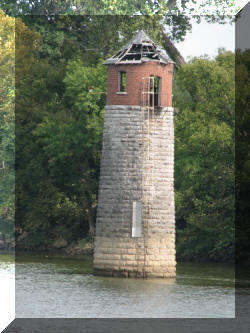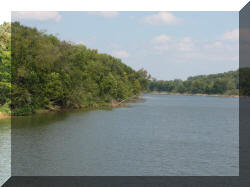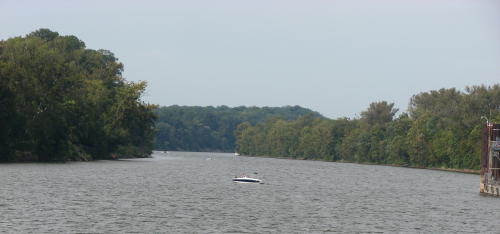 This pleasure craft waited until the last minute to weigh anchor and move.
In May of 2010, thirteen inches of rain fell in two days on Nashville. The Grand Ole Opry, the Opry Mills shopping center, Opryland Hotel and many other buildings were flooded. The shopping center was still closed as repairs continue in September, 2011. The Cumberland River reached nearly 12' above flood stage at 51.9 feet - the tenth highest in Nashville history. The record remains at 56.2 feet in 1927.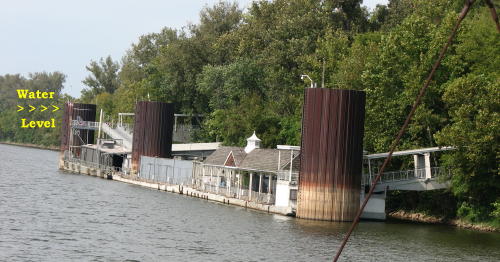 The long white line on the mooring cell at the end of the General Jackson's dock, we were told, is the water level as a result of the 2010 flood.
The General Jackson was tied to the top most ring on the mooring cells according to a local resident on the showboat deck.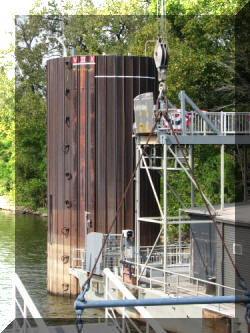 There is no dress code for the General Jackson. You would feel comfortable with a casual outfit. A few men wore sport coats, most did not. Flat shoes for women would be appropriate due to the stairs that must be used on the showboat.
We also cruised on the General Jackson in 2002 when we attended our first HitchHiker International Rally . . . Nashville - 2002