Olympic Torch - 2002 (A page in our Photo Album)
Updated: 11/09/08
The Olympic torch passed through our neighborhood on Sunday January 6, 2002.
We and many others took the opportunity to see it. It was our first time and several people we talked to were as excited as we were. Many people brought their flag for the occasion. The children made snowmen and the snowmen were given flags.
Vans like this one each carried torch bearers - those who are going to run and those who already ran.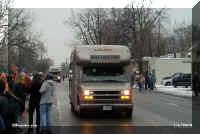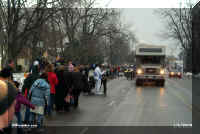 The new torch bearer is waiting for his turn.
He is dropped off by one van and the prior torch bearer is picked up by the next van.
The flame is passed.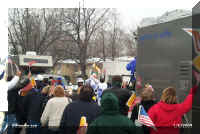 The new torch bearer is on his way.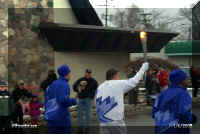 9-1-04