Homemakers Class - September 10, 2001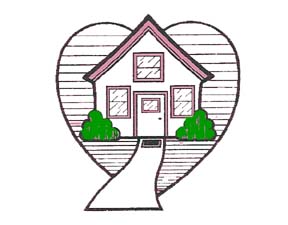 The following photographs were taken at the 60th Anniversary Celebration of the Homemakers Class held on Monday September 10, 2001.
Because of the large number of photographs, this page will load slowly.
Note: All photographs on this page are thumbnails - permitting you to view a larger image by clicking on the thumbnail using your left mouse button. It may take few seconds for some of the larger photographs to appear.
To return to the original page, click on the "back arrow" on your browser.
* * * *
Fellowship Hall was beautifully decorated.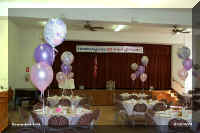 The people came from near and far.
We shared a good dinner. The cake was not only beautiful - it tasted great.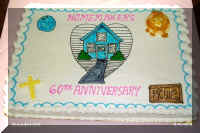 The program was enjoyed by all.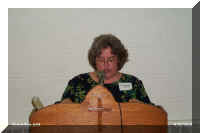 The Invocation was given by Rev. Ede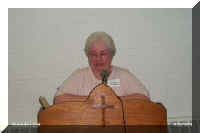 Marilyn welcomed everyone to the celebration.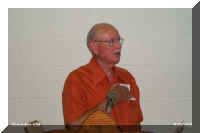 Fred led the group in the Pledge Of Allegiance to the American Flag.
The group was led in singing by Dottie with Jo as accompanist.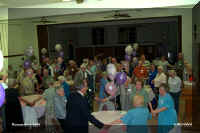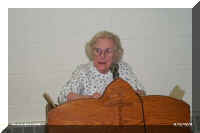 Blanche, our resident poet, read the poem she wrote for the event.
Her poem, "What Homemakers Has Meant to Me"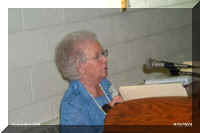 Lorena led us in devotions. As you will note, I could not see her from my position in front of the podium and had to photograph her from the side. Yes, she was standing.
Homemaker members who wanted to say "A Few Words" about what the group has meant to them spoke.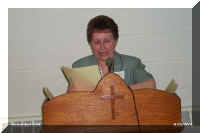 Those who could not attend the celebration were invited to send a written message. Mary Lee read some of them. (Marilyn read the rest of the messages.)



Later, Mary Lee read "Margaret's Dream" - a humorously worded request that everyone put the Homemakers 75th Anniversary Celebration to be held Monday September 12, 2016 on their calendar.
Rev. Ede also said the benediction.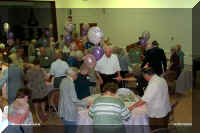 * * * *
The committee worked hard and succeeded in providing a memorable celebration.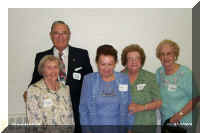 Bill, Margaret, Jean, Evelyn, Marguerite
The Homemakers - A 60 Year History
Most of the evening was a celebration of the past. Photographs of the members and prior events were displayed around the room.
(Some of the following photographs of the old photographs displayed have been posted at a larger size so you can better identify the people.)

All are thumbnails, click and enjoy.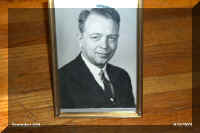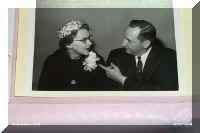 * * * *
Everyone who attended the celebration had a great time sharing the fellowship of longtime friends and reminiscing about events of the last 60 years.
We hope you enjoyed our photographs.

These photographs are in the Photo Album of our personal Web site. If you would like to visit our Web site, click on the link below.
Fred and Mary Lou