Melanie and Scott's Wedding - May 14, 2011
A weekend of fun and celebration with family and friends
Updated: 06/09/11


The Inn at Bay Harbor - Bay Harbor, Michigan
Please do not post our Web site domain name on Facebook, Twitter and the like.
While we encourage you to share our Web site and the wedding photographs with your family and friends, please do so in person, using private messages or e-mails.
We publicize our Web site but keep it somewhat private by excluding last names, identifying comments and editing some images.
This is done to protect family members and avoid having public visitors relate our travel schedule to our vacant residences. Thanks.
FOLLOW THE LINKS BELOW TO THE WEEKEND'S EVENTS
Best viewed at full screen ...
THURSDAY Casual Time Evening Get-Together
FRIDAY Rehearsal Rehearsal Dinner Welcome Celebration
SATURDAY Hanging Around Our Suite Hair and Makeup Melanie and Bridesmaids Dress
Formal Photographs of the Bride
SUNDAY Brunch
OUR FAMILY WEDDINGS Family Wedding Photographs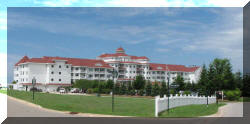 Some of the guests arrived at the Inn on Thursday. Upon arrival, guests received a 'Welcome Bag' with bottled water, snacks, an informational letter and area map.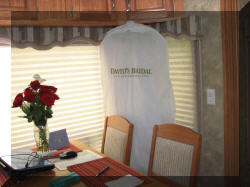 We moved from our fifth wheel parked in the Petoskey Magnus Park to the Inn.
Melanie's wedding dress had been lovingly transported and cared for by her Mom.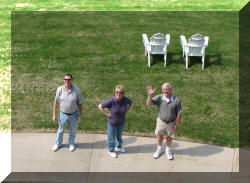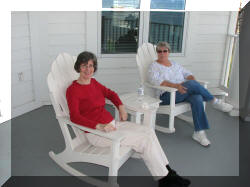 Sitting on our balcony, Kathy and Mary Lou started talking to someone.
Scott's parents (Kip, Nancy) and friend (John) were chatting from the sidewalk below.
It was a great day for making photographs by the water.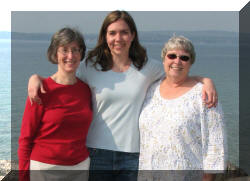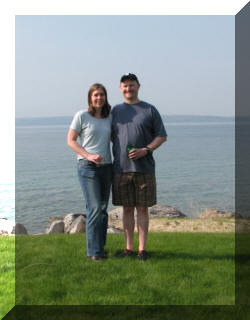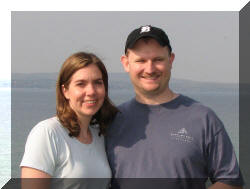 Kathy and Mary Lou Melanie and Scott
Go back to LINKS
Friends and family gather in our room for a Taco Dinner, conversation and watching a hockey game on television.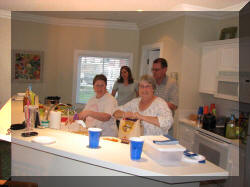 Kimmie helped Mary Lou by preparing some of the beverages.
Kathy had helped set the food out.
Melanie and Kip were watching or sampling.
The food and snacks were laid out in the kitchen area. Like most of our parties at home, you serve yourself.
After dinner our balcony was a popular place.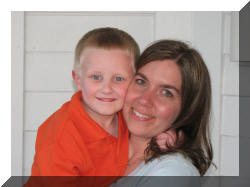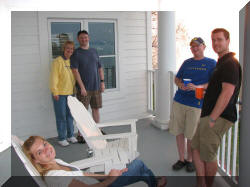 Gretchen, Nancy, Scott, Tim and Kyle . . .
Trevor likes Melanie for some reason.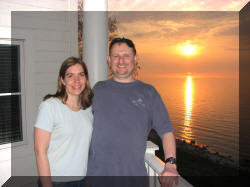 The soon-to-be bride and groom . . .
Some people stayed to watch the Detroit Red Wings game.
Go back to LINKS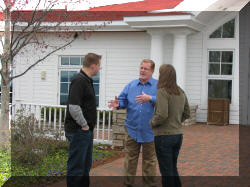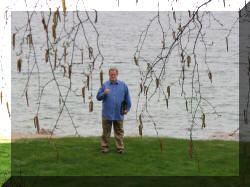 After some last minute words with Melanie and Scott, Joe took his 'official' position to begin the rehearsal.

He was joined by the men . . .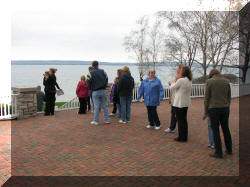 The families, bridesmaids, ring bearer, bride were lined up in the proper order and ready to go. Well, all except for Andrea who was caught in a traffic jam on the road close to the Inn. One of the planners asked if Michelle could stand-in until Andrea arrived.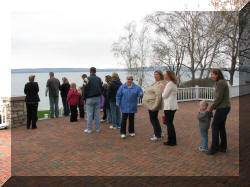 Of course she would. But, when you get these girlfriends together, you never know what they will come up with.
Kathy and Michelle decided that Michelle had to stuff her purse under her coat in order to properly impersonate Andrea who is pregnant. (Andrea arrived just as Michelle reached the grass line.)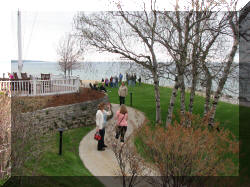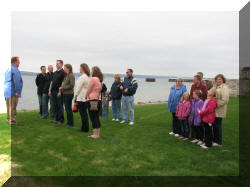 Soon everyone was in position.
While Joe went blah, blah, blah for the ceremony and Melanie and Scott did not recite their vows, the kiss was fully rehearsed.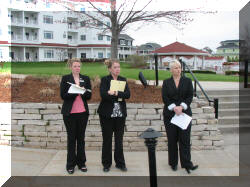 The staff stood by to insure all went well. An outdoor wedding was 'Plan A' if weather permitted. However, Melanie and Scott were very comfortable with 'Plan B' - an indoor wedding.
Go back to LINKS
Rehearsal Dinner was a good selection of salad makings, chicken wings, pizza and beverages.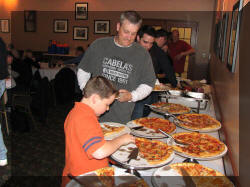 After dinner Melanie and Scott thanked everyone for attending. At that time, they delivered appreciation gifts to their bridal party.
Melanie made sure that Lily's 7th birthday was not forgotten. She had the woman who made her wedding cake prepare a birthday cake for Lily. Everyone in the room sang "Happy Birthday" to Lily. (Very thoughtful Melanie, thanks.)
After the cake was served, it was time for Lily to open birthday gifts. The children had a good time participating in the birthday party.
How appropriate, her parent's gift to her was the Barbie & Ken dressed as bride and groom.
Go back to LINKS
After the rehearsal dinner (and birthday party), the other guests arrived for an evening of conversation, bowling, billiards and putt-putt. This Welcome Celebration was another example of the amount of planning and consideration for their guests that Melanie and Scott included in the weekend.
Go back to LINKS
Saturday - Hanging Around Our Suite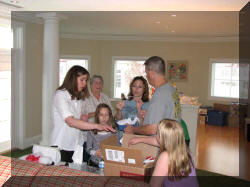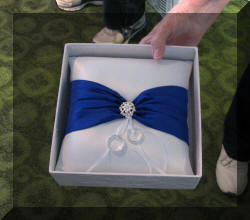 Melanie showed up with last minute stuff to be taken to the golf club. It included her jewelry, headband, veil and the ring bearer's pillow.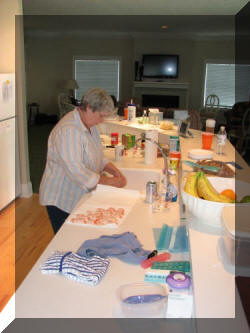 While Mary Lou prepared food for the girls to eat while they dressed, Kathy was busy steaming dresses and the jacket of Fred's tuxedo.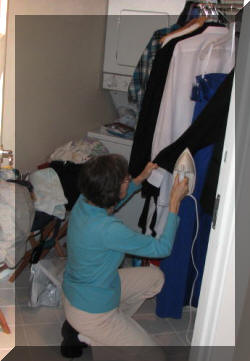 It was nice to see Melanie relaxing, sitting in a chair reading her vows, while her nails dried.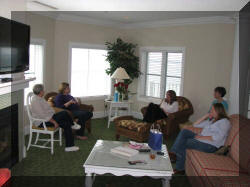 Ah, some time to kill.
Go back to LINKS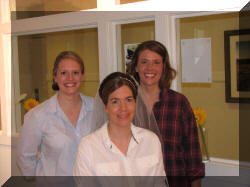 What a trio!
Go back to LINKS
Saturday - Melanie and Bridesmaids Dress
The little girls were in awe at Aunt Melanie in her wedding dress.
The big girls must have been misbehaving based on Melanie's reaction.
Nick looks a little bored.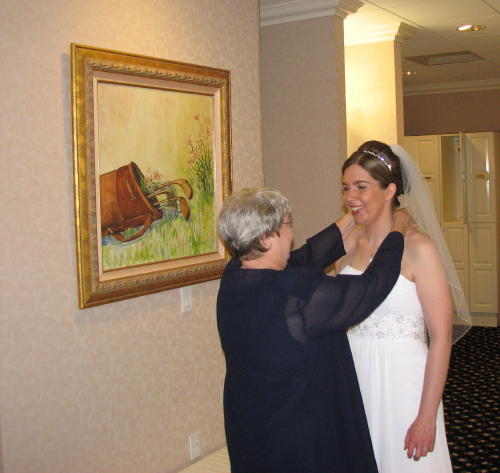 Mom makes a final adjustment to Melanie's necklace.
Go back to LINKS
Saturday - Formal Photographs of the Bride . . .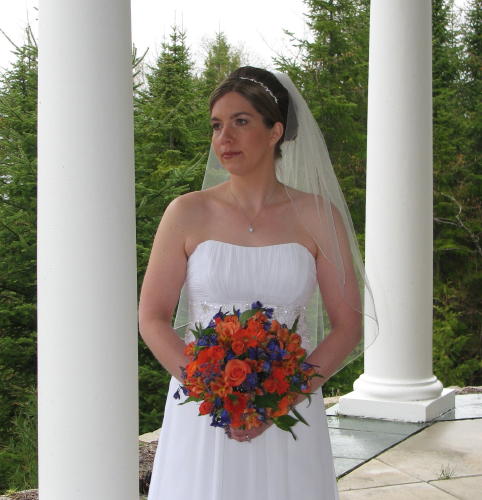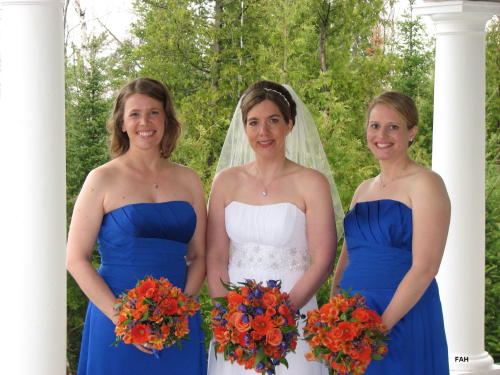 Kathy Melanie Andrea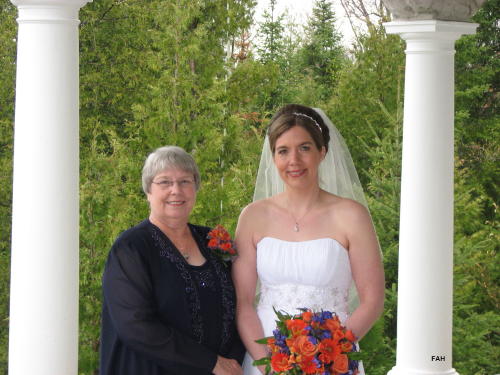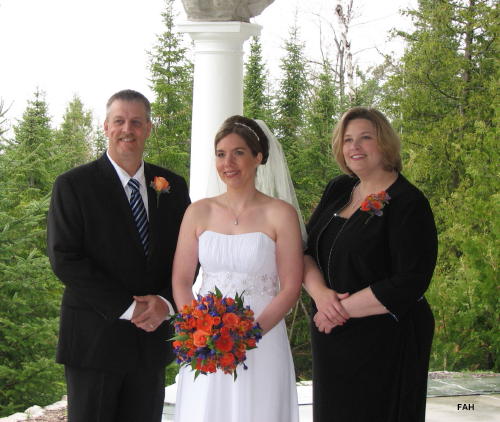 Fred Melanie Michelle
back to LINKS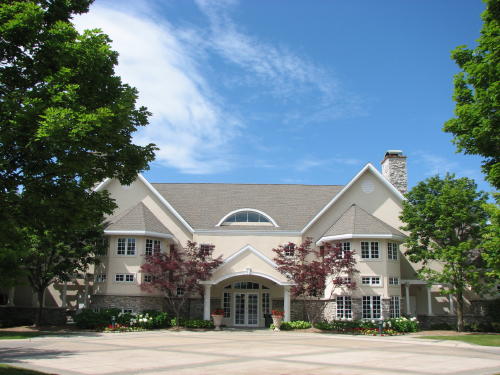 The wedding and reception were held at the Bay Harbor Golf Club.
Fred could not make photographs during the actual wedding ceremony. But, the photographs would not have captured the true essence of the ceremony.
The wedding ceremony that Joe, Scott and Melanie put together was outstanding. It was the perfect combination of personal anecdotes, remembered humorous events, reflections on serious thoughts and spiritual references.
Upon entering the front door, guests were greeted by our son, Fred, who handed them a program.
To their left was a table with seating cards for the reception. To their right was the card box and a framed photo mat that guests could sign. Melanie and Scott used a framed photo mat instead of a guest book.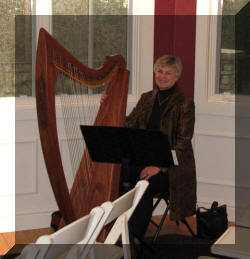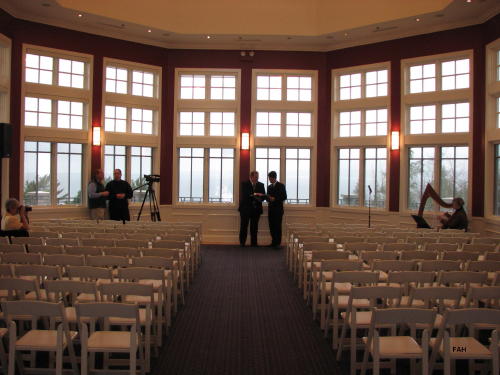 As the guest walked into the room, they could hear the harpist playing.
The sound of the harp added to the elegance of the venue.
The view from the back porch of the golf club was very nice. You can't beat a scenery that includes water and trees.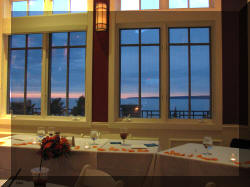 The view through the windows of the club was almost as beautiful - especially late in the evening.
First photo as Mr and Mrs . . .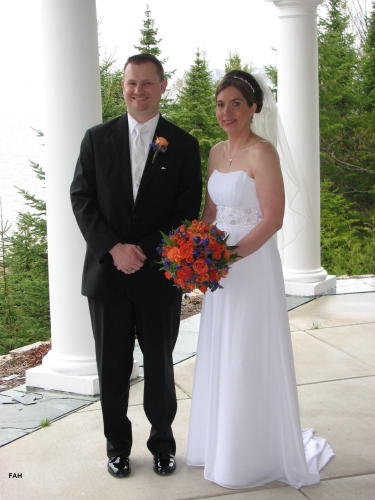 Not to detract from Melanie and Scott . . . this is our new family . . . including our new son-in-law. We are truly blessed.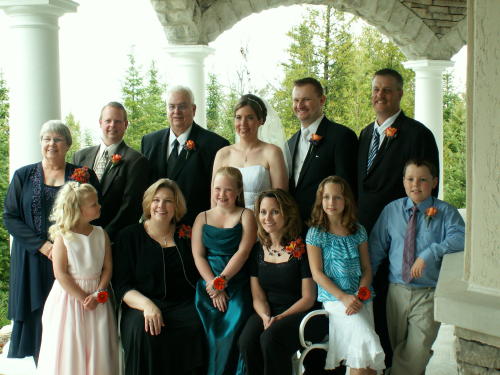 Photograph by Kathy C.
Go back to LINKS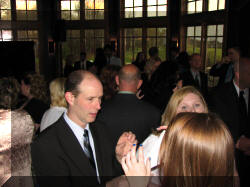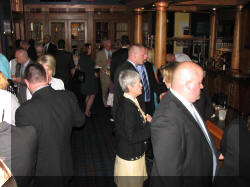 The bar area was a gathering location while the golf club staff converted the room from theatre style seating to seating for the reception.
The area was popular throughout the evening partially because it included the Photo Booth. Guests received a strip of four photos from their trip to the Photo Booth. Melanie and Scott will received a DVD of all the photos. It should be a fun remembrance for them and their guests.
When the photographer finished the group photographs, the parents, wedding party and bride and groom processed into the reception area.
After being introduced, Melanie and Scott cut their wedding cake. They politely served each other the traditional one bite.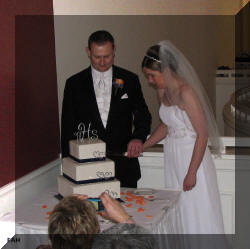 The guests will have a choice of cake. The bottom layer of the was white cake with raspberry mousse, chocolate cake with chocolate mousse filling in the middle layer and carrot cake with cream cheese filling on top layer.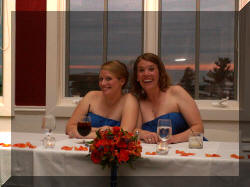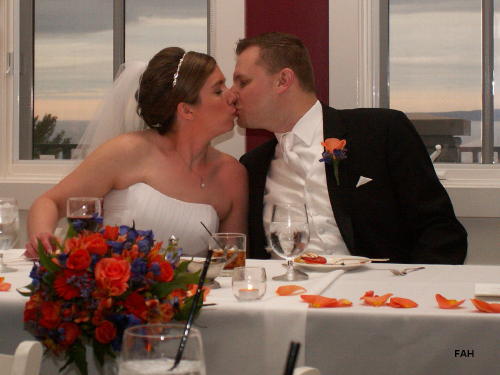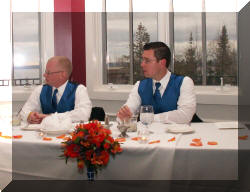 Andrea and Kathy The Wedding Party . . . Tim and Kyle
Kathy and Tim provided toasts for the newlyweds. As you can see from Melanie and Scott's reaction, Tim had some funny stuff.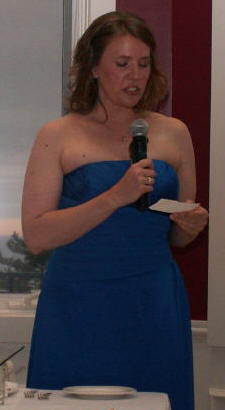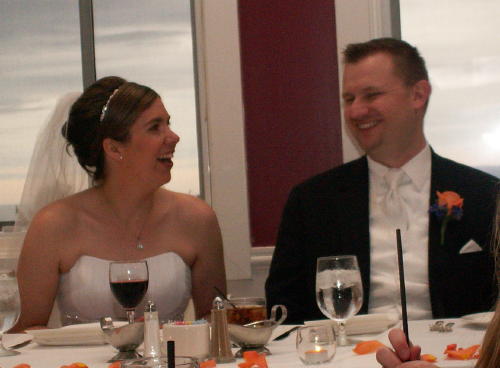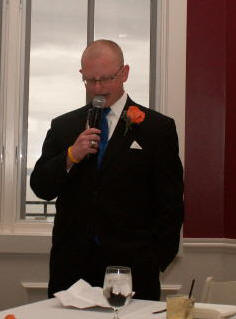 The delicious food was enjoyed by all.
Dinner started with a salad of mixed field greens. The plate of tenderloin medallions and herb encrusted whitefish accompanied by roasted garlic whipped potatoes and steamed asparagus for the adults was garnished with a potato chip and a flower. The children's dinner was chicken fingers and french fries. The wedding cake was served for dessert.
Their dance . . .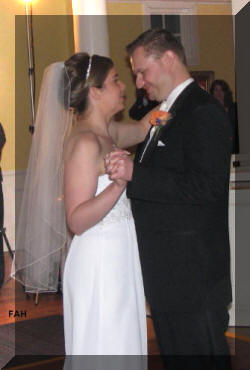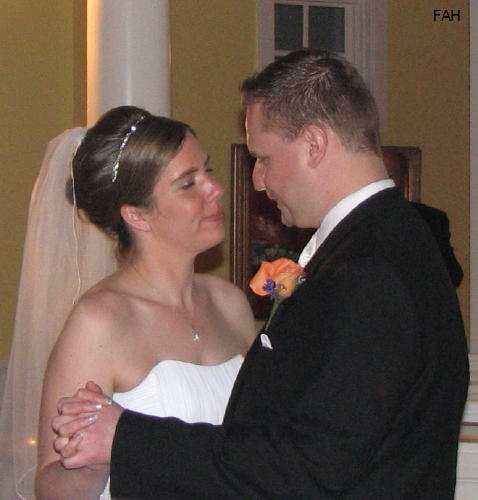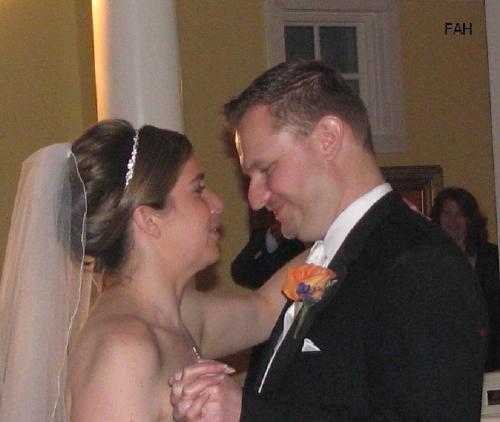 No words are necessary.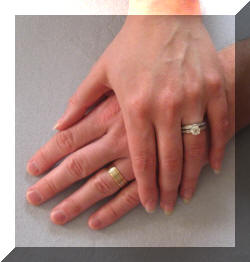 The parents of the bride and groom.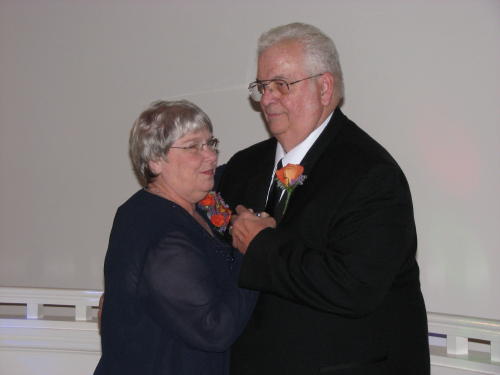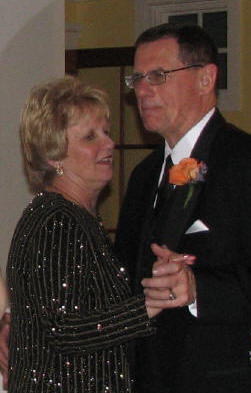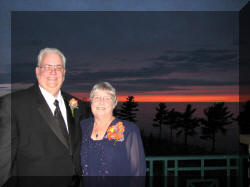 The sunset behind us represents a great end to a beautiful celebration of marriage of our daughter and Scott.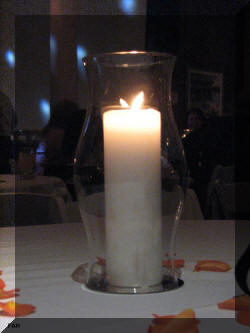 Go back to LINKS
Wedding guests were invited to join Melanie & Scott for a buffet breakfast at the Inn. They arranged use of the South American Grill for the breakfast gathering. It was adjacent to the Sagamore Room where the food was available.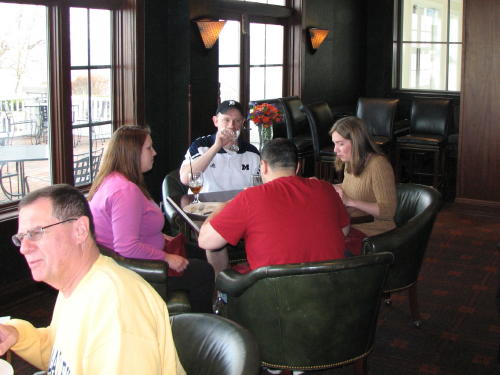 Entering the Sagamore Room the aroma was fantastic. The buffet presented a delicious assortment of breakfast foods, including an omelet station and a waffle bar with a selection of flavored batters and toppings.
After a good breakfast, laughter and hugs, friends and family departed for home.
Melanie and Scott will honeymoon in Aruba.
Go back to LINKS
To end this page, we post the now complete collection of wedding days . . .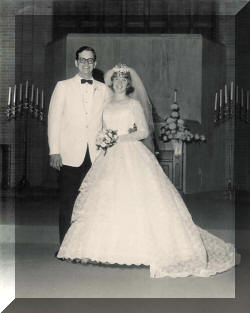 Fred and Mary Lou - 1966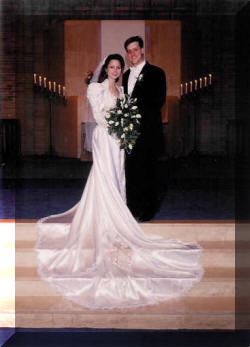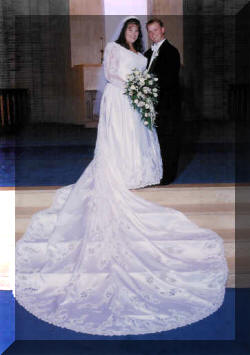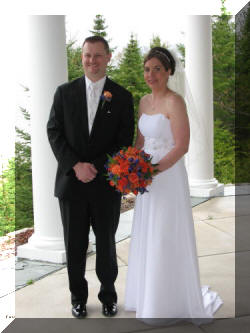 Fred and Becky - 1997 Michelle and Steve - 1998 Melanie and Scott - 2011
Go back to LINKS