Michigan - Mini 2016 ( St Louis, Michigan )
Updated: 09/12/16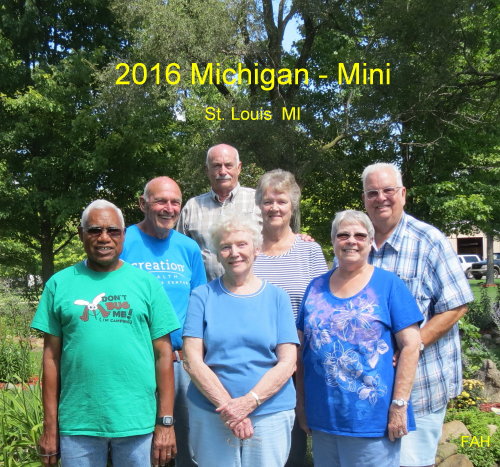 While we were only seven strong, we had a great time.
Being a small group, we got to know each other very well.
We had more laughs during the week, than a group many times our body count.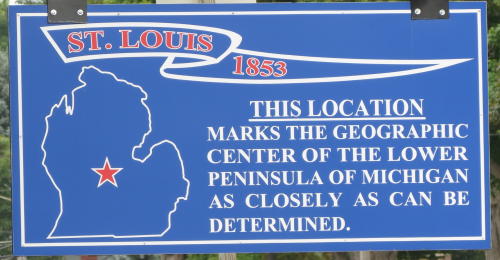 This sign posted in the city park near the street into town
marks the spot St. Louis is known for - "The Center of the Mitten".
In recent years, the area has been 'selling' the power of its moving air or 'wind'. The turbines were numerous. Most of the time they were turning but frequently the energy they generated was not needed and they remained motionless.
Same moving turbine ... three photographs.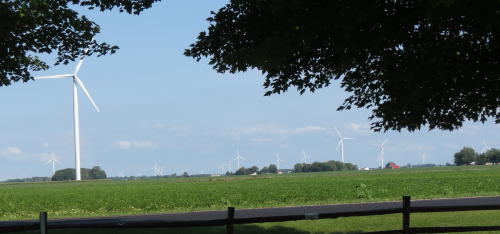 In the daytime, you can see them reaching for the sky.
. . . . . . . .
At night, the sky is filled with blinking red lights.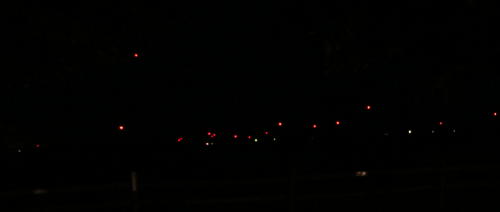 We did not circle the wagons. Our formation was a straight line.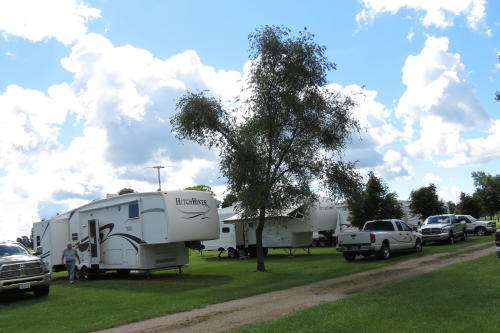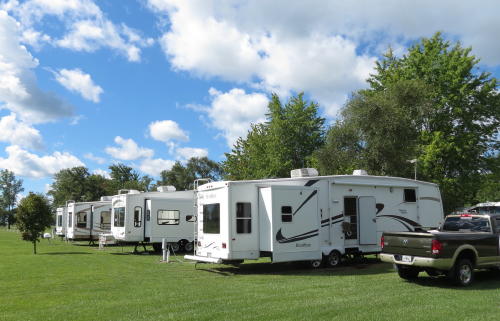 Sunday activities . . .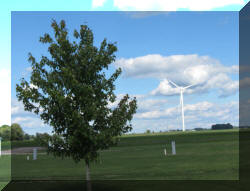 The view behind our HH.
Our "welcome potluck" was held at a restaurant with a menu, J J Rubys. No one objected to the format change.
Tom grew up in St. Louis. He invited a couple of friends to join us for dinner.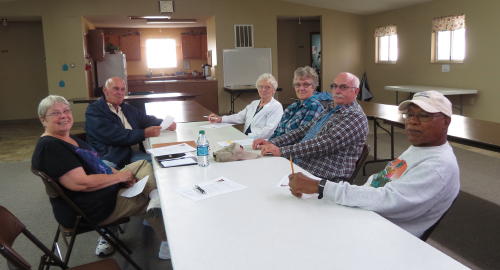 Mary Lou conducted our planning meeting to decide our activities for the week - tough job.
So many opinions, so many destinations to evaluate, so many recommendations.
NOT !
The plan finally resulted in socializing, playing games and eating out. It was decided we could all handle that plan.
Everyday activities . . .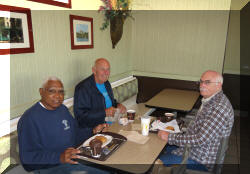 Every morning, Monday thru Saturday . . . 7:50am, the guys headed for McDonald's. Some of the guys really liked getting up early to contribute to the morning economy of St. Louis.
Then there was Fred, who had to set an alarm and roll out of bed 90 minutes ahead of his usual 'get-up' time. He started negotiating for a 9:00am breakfast ... but ... could not get later than 7:50am.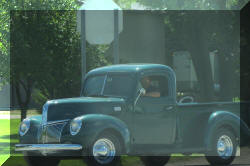 Tuesday, this Ford pickup turned right
from northbound Bagley Road
as we turn right towards town.
A gathering was another 'every day' activity.
The gatherings took place at least once a day.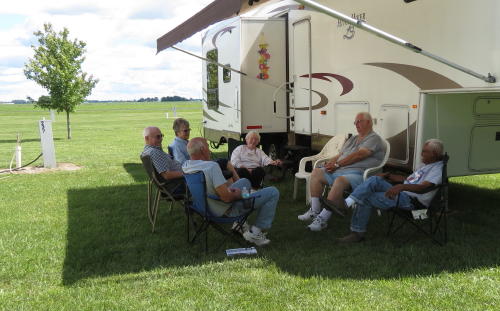 And, every day we ate out at least one meal as a group.
Monday activities . . .
Evening exercise . . . a game of catch.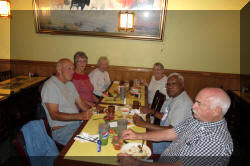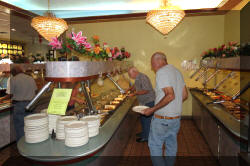 There was no menu for tonight's dinner. We went to The China Buffet in Alma.
Tonight we discussed where the 2017 M&M could be. Tom presented a couple campgrounds on the west side of Michigan.
Someone suggested a dessert night. That was over-ruled by the decision to to have desserts every night. Ah, more eating.
Tuesday activities . . .
An early dinner at the Hearthstone Oven because they close at 4:00pm. This is a popular restaurant whenever we are in the area.
The women went back for breakfast Thursday while the men repeated their daily McDonald's breakfast.
Games . . .
Tonight started the 'game night' schedule. Everyone brought table games for us to share.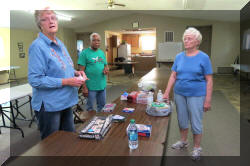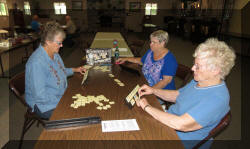 The gals played RummiKub.
Fred forgot to photograph us eating dessert. The table was cleared and wiped off. All we had was one last piece of strawberry-rhubarb pie. So, we had to settle for a photograph of that.
Wednesday activities . . .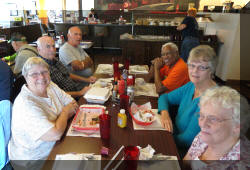 Another restaurant with a menu, Petticoat Junction.
We aren't in a rut, we are open to any form of restaurant service.
Tom left the M&M after dinner because he had an appointment
back home on Thursday.
Games . . .
Rex and Harold kept trying to be polite to the rookie (Fred) but they stomped him again.
Dessert tonight was ice cream with chocolate topping and cookies.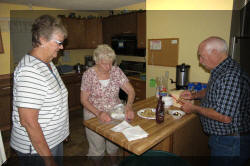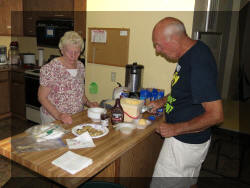 Karen supervises Marylyn ... Harold and Rex are taste testers.
Thursday activities . . .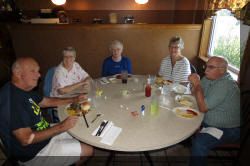 Rex, Mary Lou, Marylyn, Karen and Harold.
Fred, behind the camera.
Our 'farewell dinner' was a return visit to J J Rubys. It was the last night of the 2016 M&M. However, everyone had signed on for another night - an unofficial extension of the M&M.
Games . . .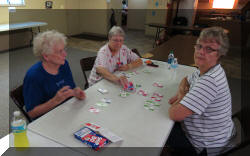 The gals played Skip-Bo tonight.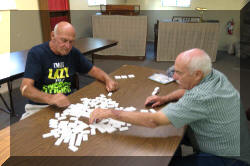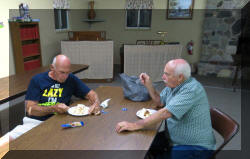 The guys continued playing Dominoes - Fred even won a couple sets.
(For the record: Fred won the game on Friday night.)

Friday was the official end of the 2016 M&M. Because the remaining members of the group all extended their stay until Saturday . . . we had an 'unofficial' day to spend together.
Thanks to those who attended the 2016 M&M. Everyone enjoyed the time together. We got to know each other better. Thanks to those who shared games and desserts.
We got a call from Larry and Karon asking if anyone was staying over a few day in St. Louis. They were returning from the Tall Ship Rally in Minnesota. We were staying until Monday. They decided to stop by Saturday for a visit. So, two HHs enjoyed a second extended 'unofficial' 2016 M&M until Monday. The four of us did continue the 2016 M&M tradition of eating out every dinner.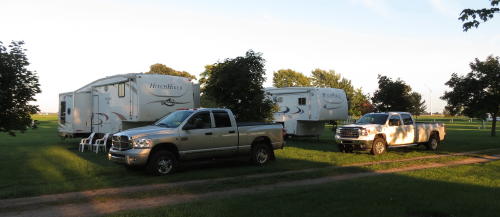 As planned now, we'll see you next year near Kalamazoo.