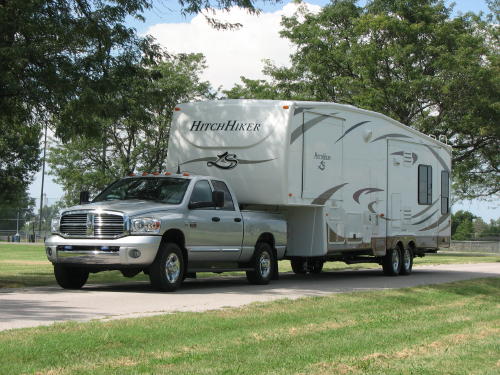 Traveling from Sea to Shining Sea
in our HitchHiker LS RV
Updated: 02/20/18
Welcome to RVTOWSTER . com,
This Web site shares information with our family, friends and fellow RVers through words and photographs. Most photographs are thumbnail 'buttons' - click on them to enlarge the image. If the image does not look like a 'button', it is displayed at its full size. We suggest you use 'full screen' to view our pages so the photographs are positioned correctly on the page.
Our "Show & Tell" page is a good place to start. It displays a current message and provides information about recent updates to our site.
We share information about our children and grandchildren on "Our Family" page.
Current travel plans are listed on our "12 Month Plan +" page . Information and photographs relating to some of the places we have visited are on our "Prior Destinations" page . Individual photographs and collections of photographs from various events, activities and organizations we participate in are displayed in our "Photo Album". Our "Information and Hints" page may be helpful.
Our Web site will be updated as details about our travels, our family or other information becomes available.
Everyday, we check our e-mail hoping to hear, "You've got mail".
We hope you enjoy our Web site, bookmark it as a favorite and visit it regularly.
If you share our Web site with others, we ask your cooperation. For safety and security reasons, we do not use our last name, the last names of others or exact home locations on our Web site. With the growing popularity of SOCIAL MEDIA, our anonymity is more at risk. We ask that our social media friends, their friends and others using social media not associate last names and home locations with our Web site domain name . Please use e-mail or text to share our domain name with your social media friends. Thank you.
Thanks for the visit,
Legal Notice Copyright @ 2000 - 2018 RVTOWSTER.com, All rights reserved.