Family Reunion - 2010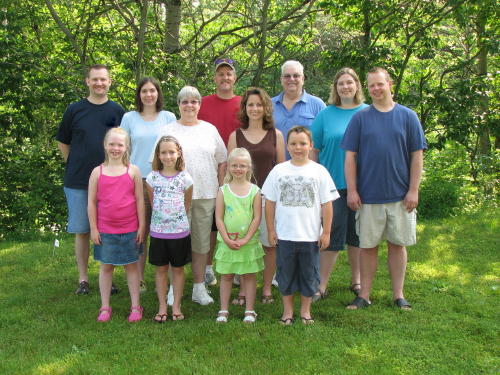 Updated: 06/09/10
Page layout is chronological: Friday Saturday Sunday Monday
Additional pool photographs are here: Pool_Times
Additional dune buggy photographs are here: Dune_Buggy_Rides
* * * *
Friday was the official start of our 2010 Family Reunion. We arrived at Fred and Becky's a week ahead of the family reunion.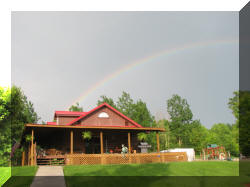 A couple days before the reunion we experienced three inches of rain . . . and . . . a rainbow over the house.
As we waited for the family to arrive, Fred worked a little in the chicken yard, provided fresh water for the chickens and made sure the cistern was full of water for the family's use.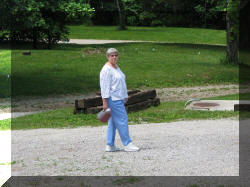 Mary Lou brought her sun tea to the house.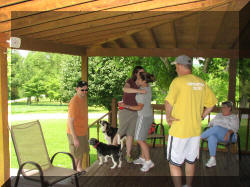 The rest of the family arrived.
>>> Melanie and Scott arrived about 2:00 pm
>>> Michelle and Steve (and family) arrived about 3:00 pm.
The chickens and dogs received attention first. Ashlyn and Lily had not seen the chickens nor Ziva previously.
Melanie's canopy was erected and ready. Providing a spot of shade to enjoy various activities.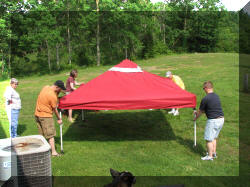 The grandchildren were anxious to get in the new, larger pool.
The pool was the most popular and most used feature at the reunion. It was used several times each day as our schedule permitted. Note: The rest of the pool photographs are at Pool_Times .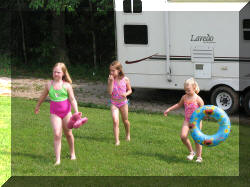 The girls changed into their swimsuits and joined Nick in the pool.
While the grandchildren were in the pool, the adults took the opportunity to catch up on events of the past year. The conversations took place inside or outside - air conditioning or fresh air - our choice.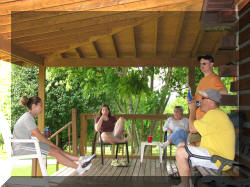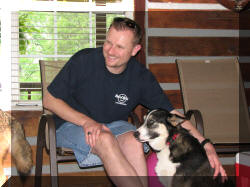 Ziva did not like Scott when he first arrived. Scott gave her a little attention and soon they were friends.
Fred grilled the burgers for dinner. They were very good.
Mary Lou was in charge of movie night. She reviewed photographs from our ten previous reunions, putting them into a slide show. It was a BIG task ... but ... an enjoyable one. The grandchildren took pleasure in seeing themselves younger. It was also noticed that the adults looked younger in the early years as well.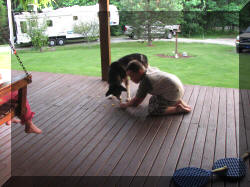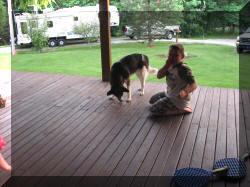 After the slide show, the girls threw popcorn at Ziva to eat. And, what little boy doesn't like to be funny in front of little girls - Nick acted like a dog and stole popcorn meant for Ziva.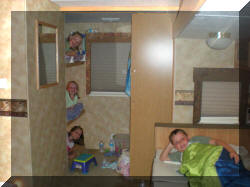 The grandchildren had a meeting and decided a sleepover in the Laredo was a good idea. The idea was brought to Michelle and Steve. They agreed.
The Laredo is perfectly set up for a sleep-over of four.
It was reported that everyone went to sleep easily.
Photo by: Michelle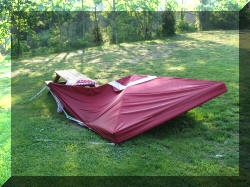 The weather forecast warned us of rain overnight Friday into Saturday. It said nothing of high winds. During the night, a storm came out of nowhere with winds gusts strong enough to shake our fifth wheel. Power was out for over two hours. When we got up in the morning, we saw that Melanie's canopy was destroyed. Timing is everything . . . we rushed to set it up Friday only to have it twisted by the wind before we used it.
Becky and Fred recognized Scott and Melanie's engagement with a card and gift of a wheeled cooler.
The traditional "Bear Claw" reunion breakfast . . .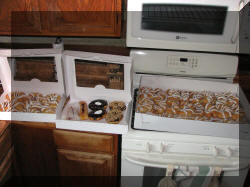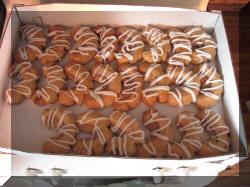 It started in 2000 and used to be on the morning people headed home. That proved too challenging. The tradition stands but we have the big bear claw breakfast on a different day.
We have a tradition of ordering too many 'bear claws' for our Reunion Breakfast. The grandchildren ate the last of them two days later.
Saturday was the official family photographs day. We had the family pose for the photographs right after breakfast.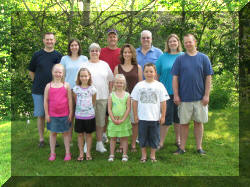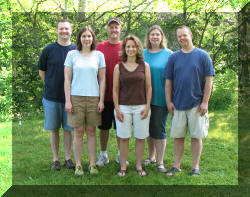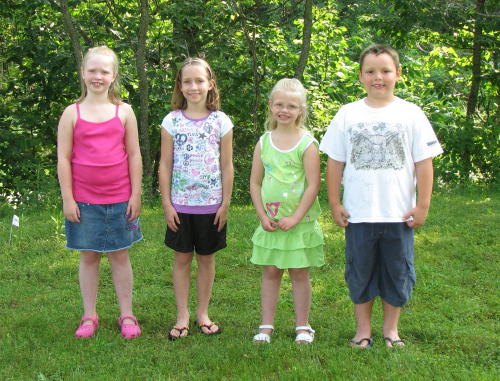 Freetime, no more required family photographs . . .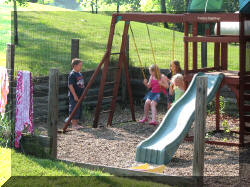 There was usually a nice breeze on the porch.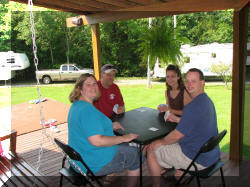 Cards anyone?

Phone break . . .
Lily and Ashlyn watched with anticipation as Uncle Fred pushing the dune buggy out of the shed. Caitlin and Nick saved their money for two years to purchase the used dune buggy and graciously shared it with all who wanted to use it. But . . . helmet required - safety first for riders and drivers.
Fred and Becky's property provided an excellent venue for the rides. The dune buggy was a fun addition to the reunion activities. Even for some of the adults. Note: The rest of the dune buggy photographs are at Dune_Buggy_Rides .
Scott and Nick played catch for a while.
The girls enjoyed checking for eggs each day.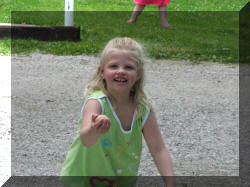 Lily, that is a great egg.
We held our annual 'everybody' birthday party.
Children, cards, gifts and cake - a real birthday party.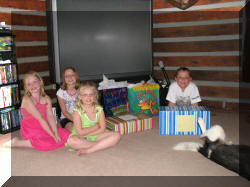 Happy Birthday to Us . . .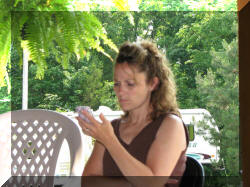 Just have to check Facebook . . .
Steve brought surveying equipment to map the 13 acres we purchased adjacent to Fred and Becky's. Fred followed along as his assistant and to learn about the process. Fred drove our truck to provide an air conditioned 'office' where they could talk/plan the next survey point.
It was a hot day but Steve gathered several dozen points to plot later on his computer.
The grown-ups went to a drive-in theatre Saturday night. The children stayed with Grandma and Grandpa. We had a fun time with the grandchildren. We remark how well they play together every year . . . because it is true.
The grandchildren were tired from the day's activity so fell asleep quickly.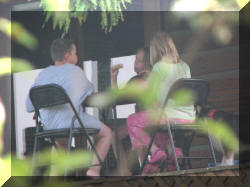 We were on our own for Sunday breakfast before church. Fred made this photograph from the HHII window. It appears Becky sent them out on the porch for breakfast. (You will notice that Lily is missing. She had an upset stomach late Saturday night so she was in the Laredo for her breakfast.)
The schedule called for Fred to cook a BIG brunch for everyone after church.
The girls claimed to be hungry and were under the feet of the cooks. They were given some grapes and sent to the porch until called for brunch.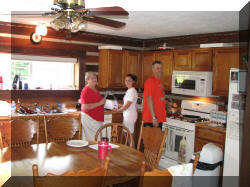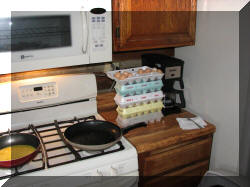 A stack of eggs, pounds of bacon and sausage and a couple assistants - he was ready to start cooking. The fresh eggs from their chickens, bacon and sausage from the butchered pig in the freezer and bread from the local store made for a GREAT brunch.
It was delicious. We had the grandchildren eat first so their parents could enjoy their meal.
Scott and Melanie went with Lily and Michelle to Fred's office after brunch. Fred needed to make a pair of eyeglasses for Lily and wanted to show Scott his office.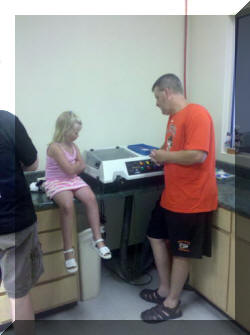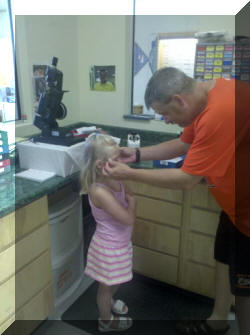 Lily has been telling people that Uncle Fred made her current eyeglasses.
Now, she can tell people she helped Uncle Fred make her new eyeglasses. Fred let her push a couple buttons on the machines.
Lily will have something for 'Show and Tell' at school
- how eyeglasses are made.
When they got back to the house,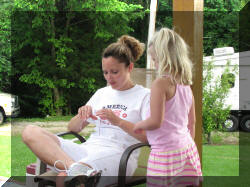 Lily showed Becky her new glasses.

Ashlyn and Becky had a good time with a 'hand' game.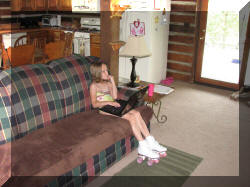 Caitlin doesn't like the hot outside temperatures. So, she took a indoor break.
She would work on the laptop a little, take a couple laps around the kitchen on her roller skates and back to the laptop.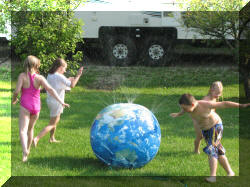 The grandchildren revolving around the earth sprinkler . . .
A healthy snack - apples and grapes.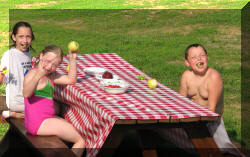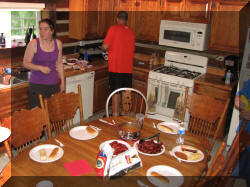 The children had a dinner party on the porch. While the adults enjoyed their grilled smoke sausage dinner inside.
After dinner, badminton competition . . .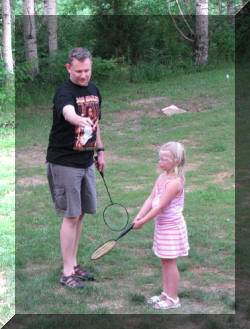 Scott is great with the children.
And, he knew to duck when she took her swing at the birdie.
We ended the day with a trip to the local ice cream store.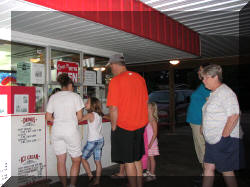 Melanie and Scott said their 'good byes'. They were doing a little touring along their route home Monday.
Monday was the official end of our 2010 Family Reunion.
Breakfast is an informal thing on the final day as packing and hitching up activities had to be done.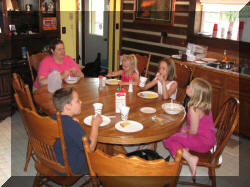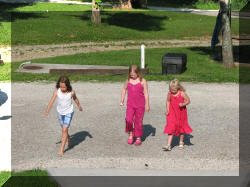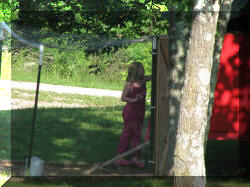 A last visit to the chicken coop was on the girl's agenda.
It was successful visit.

Ashlyn found an egg.
Steve and Fred hitched up the Laredo and Hitchhiker II. Steve so they could head home. Fred so he could tow the HHII around behind Steve so he can pull out of the driveway.
We were staying a couple more days so set up again in our spot on the driveway.
After the family all left, Fred, Caitlin and Nick enjoyed time in the pool.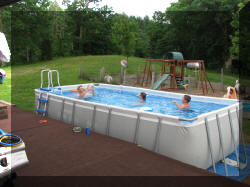 We started our 2010 Family Reunion story with a pre-reunion photograph ... so ... we will end it with a couple post-reunion photographs.
Michelle sent these photographs to us. After traveling about seven hours, the girls finally gave up and;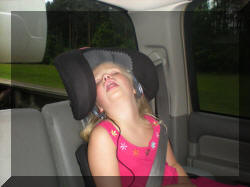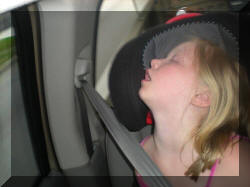 Lily fell asleep seven miles from home, Ashlyn fell asleep four miles from home.
We thank you for visiting our Web site and letting us share our family reunion with you.
Remember, Pool_Times and Dune_Buggy_Rides photographs follow below.
Get ready Steve, here come Lily.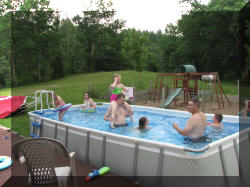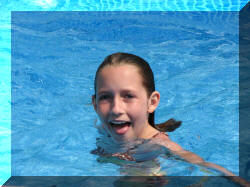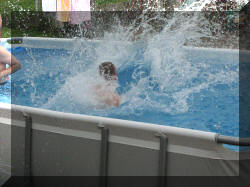 Steve made a splash.
How high can you throw a child?
Melanie resisted a little too much. As she usually ends up being dunked, she should have expected it.
She ended up going in head first.
Of course, everyone encouraged Scott.
When Scott got in the pool for the first time, the children were all over him. They play with him like they play with Melanie. The grandchildren accepted him when they first met him.
Nick, Caitlin and Ashlyn got together and decided to jump in the pool at the same time.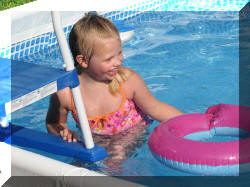 Fred dove in almost without a splash . . . it's an "8".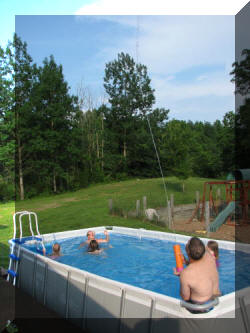 Steve was caught sunning himself a couple times. It is one of the advantages of the children being older.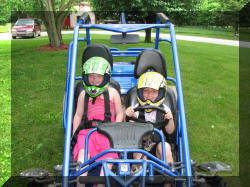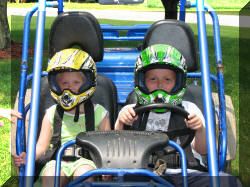 Ashlyn and Caitlin Lily and Nick
Everybody had fun riding or watching the others enjoy the rides.
Can you tell that Melanie had a good time?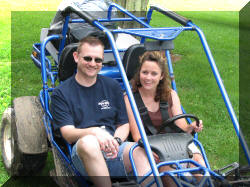 Scott was brave.
'House rules' dictate that new drivers must practice with Fred or Becky first. Then Ashlyn could take her dad for a ride.
Thanks again for visiting our site.