Family Reunion - 2017
Updated: 07/21/17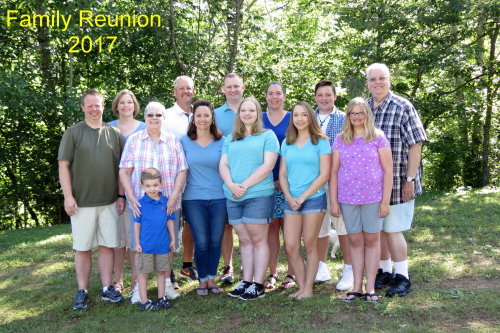 OUR TIME TOGETHER GROUP PHOTOGRAPHS


RIDES GAMES DOGS
We have so many photographs of
rides, games and dogs,
they are grouped under the links above
at the end of our general photographs.
OUR TIME TOGETHER . . .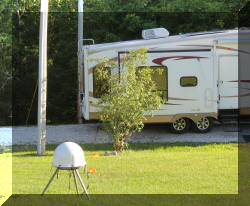 Usually we arrive well ahead of the family reunion to spend time with Fred and his family. This year we arrived on Wednesday, only two days early, due to a mechanical problem with our truck.
As long as we are parked in our spot, plugged into electricity, connected to the satellite for TV and only 50 feet from the house and family, all is well.
Fred was up early Friday to put the briskets on the smoker. They had to be cooked and rested prior to dinner.
FYI . . . They were delicious.
We had enough to enjoy the entire reunion.
Friday was a VERY wet day ... ALL day.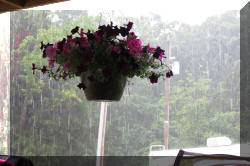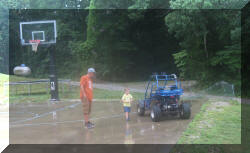 After Melanie, Scott and Wyatt arrived, the rains continued. After Wyatt saw the riding 'toys', he did not care how WET it was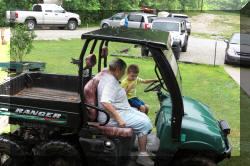 Wyatt had Grandma in the six wheeler for a 'ride' when Michelle and her family arrived.
When Michelle and her family arrived, there was a little excitement. Ziva (the big dog) had forgotten she had already met Lucy and went after her. Once they were reintroduced, all was well - it was a communication problem. No one told Ziva an unfamiliar dog was going to be on the porch when the door was left open.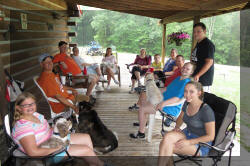 The long covered porch provided
protection from the rain.
.......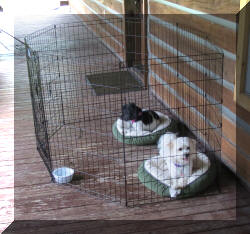 It was easier to feed Lucy and Charlotte
in their pen than with the other dogs.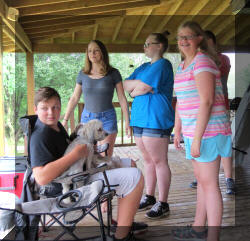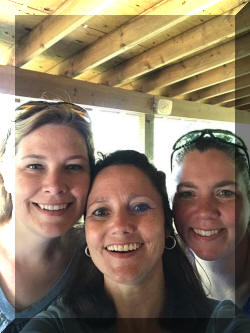 Becky made this selfie of the three moms.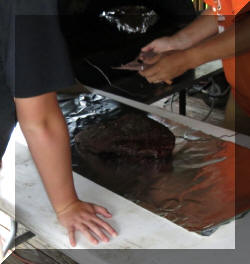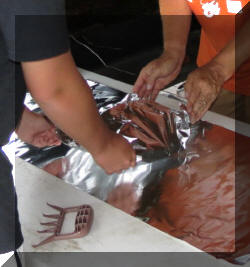 When the briskets finished smoking, Fred and Nick quickly wrapped
them airtight in foil and put them in a cooler to rest for over an hour.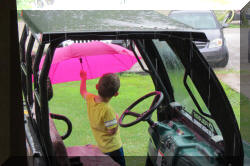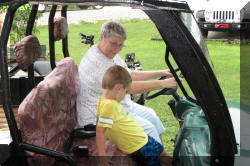 Wyatt pointed out to Grandma that the accelerator was the long pedal over here. When it started raining hard again, he was on his own and had to borrow an umbrella.
Euchre Tournament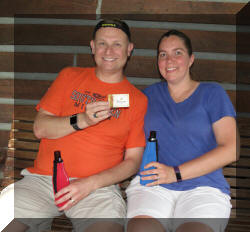 The winners were awarded
a Panera Bread gift card.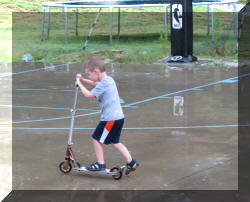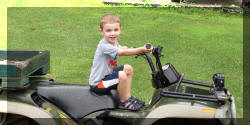 Wyatt didn't care if it was raining, he enjoyed the various 'toys' to ride that he didn't have at home.
He decided ... no umbrella required. It is hard to steer with an umbrella in one hand.

Still raining . . .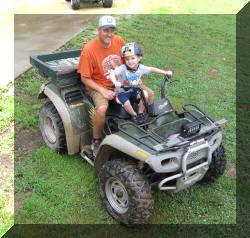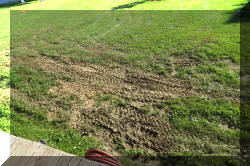 All day long, Fred could not tell Wyatt it was too wet and rainy to ride the vehicles. Not just Wyatt but Lily also.
The grass near the porch will grow back ... eventually.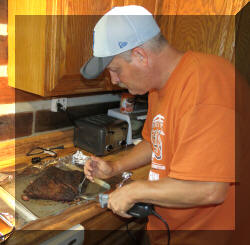 That brisket smells good, Fred.
Fair? Three teenagers against one teen ... Then, two adults against one teen.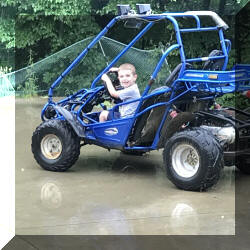 Still wet!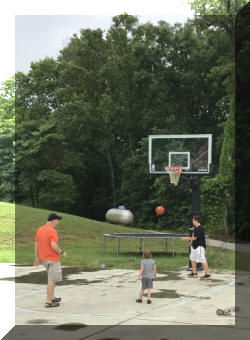 The half-court is starting to dry!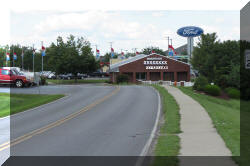 The first order of business on Saturday was a visit to Fred's new (to him) building. He purchased it a couple years ago but this is the first opportunity for his siblings and their families to see it. We had been telling them how great the location is. It looks like it is almost in the middle if the road - .
The family enjoyed the tour of the waiting room, the eyeglass frames area, office, lab and the exam rooms.
Then a game of Miniature Golf . . .
The teams . . .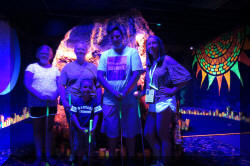 We worked up an appetite ... so ... off to jail for a pizza lunch.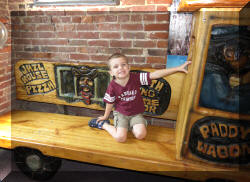 Wyatt waiting on the paddy wagon.
Ordering in the cells . . .
Lunch has arrived . . .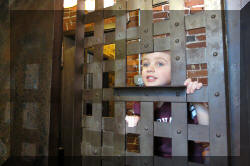 The Ohio River . . .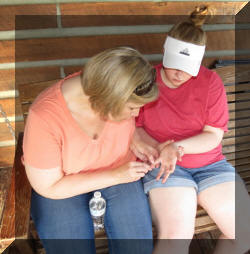 Major surgery - splinter removal.
Wyatt resting in our bed in the HitchHiker.
When we got up on our 51st wedding anniversary, our fifth wheel and the dining room table in the house had been decorated.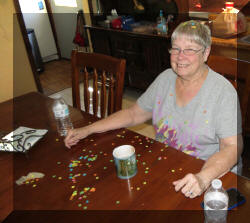 Mary Lou carefully deflated all of
the balloons except one.
The last balloon exploded and the
confetti inside was airborne landing
all over Mary Lou head and all.
Time to chill . . .
The wrap-up of the reunion was a trip for ice cream.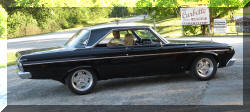 Fred had a car like this two door hardtop at the ice cream store.
Monday called for a game of SkipBo . . .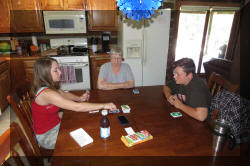 We appreciate the effort the entire family makes to attend and help out to make this and all of our family reunions enjoyable.
GROUP PHOTOGRAPHS . . .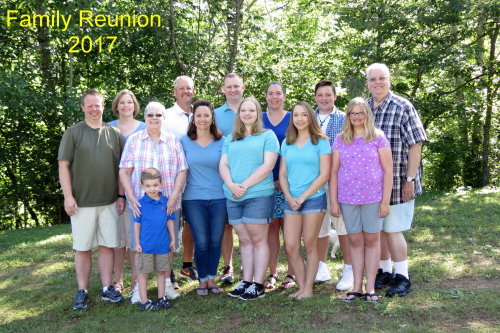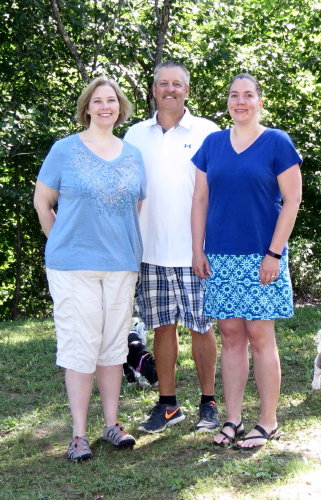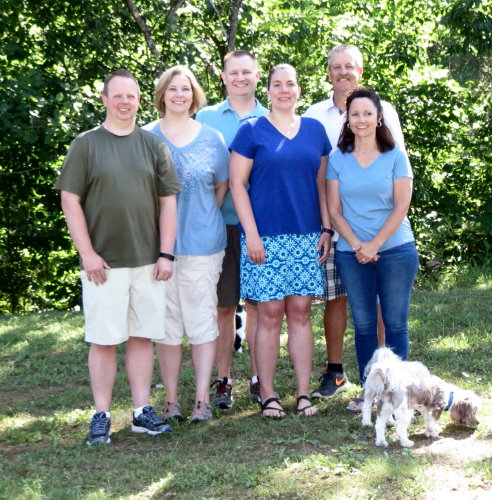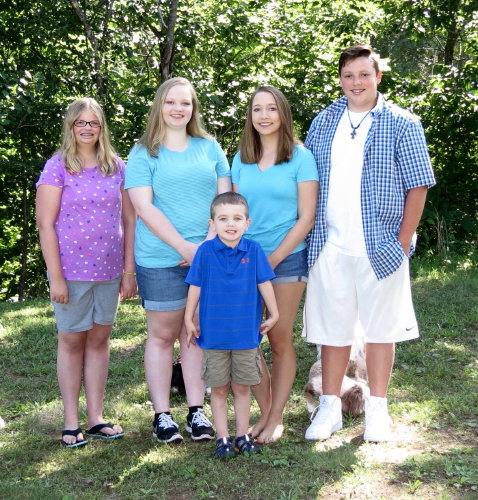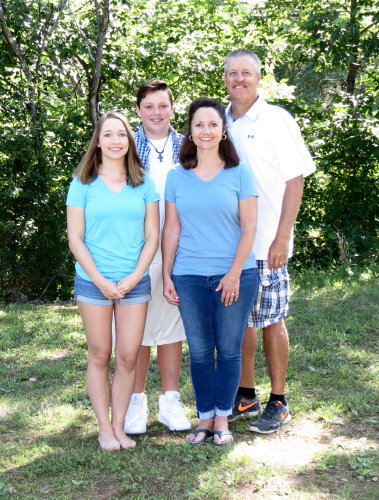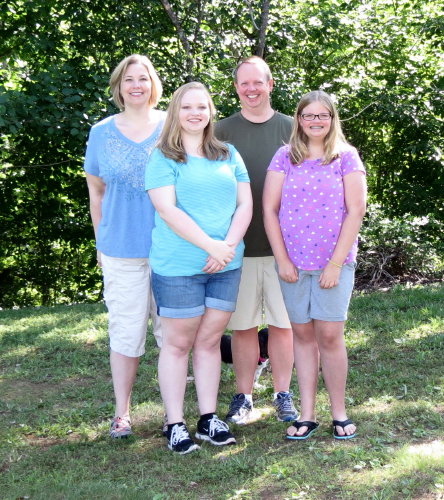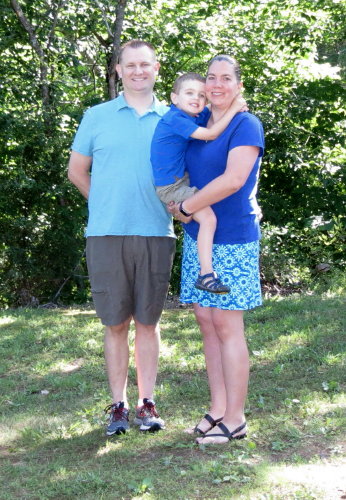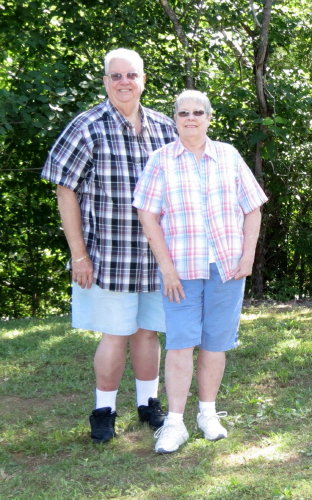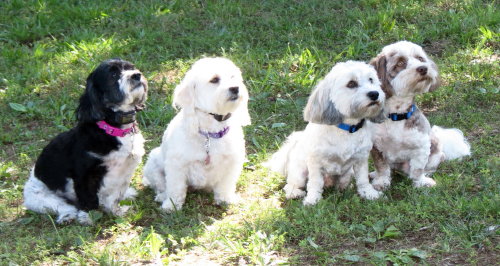 RIDES . . . A very desirable and constant activity during the reunion.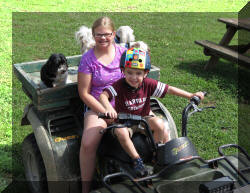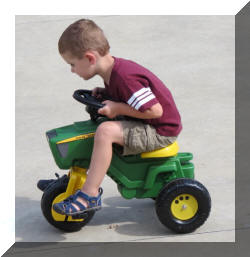 What, a tractor with no motor.
The six wheeler . . .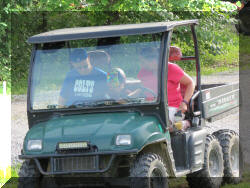 Mary Lou fake driving ... Melanie real driving ...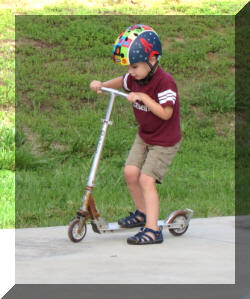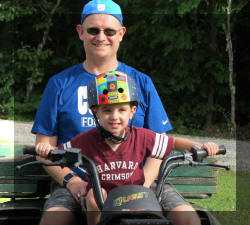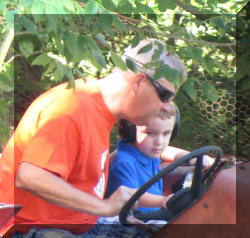 Michelle surprised Fred that she could drive the six wheeler. He didn't know his sister was so talented.
She drives cars, boats, snowmobiles and ATVs.
GAMES . . . The weather was great this year - outdoor games were enjoyed.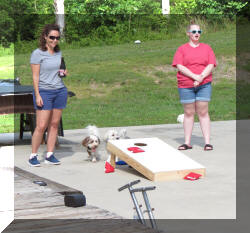 Busy half court . . .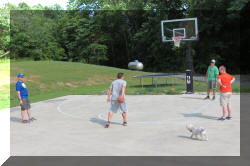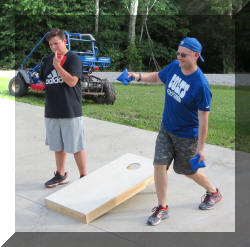 The badminton game was played into the night . . .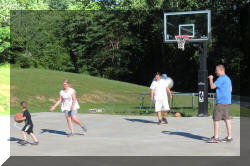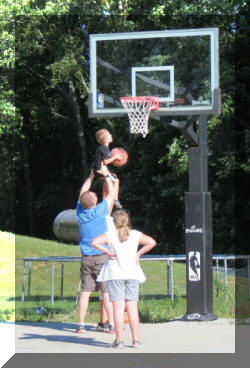 Wyatt says: what, I didn't travel. Dunk shot . . .
DOGS . . . The little dogs get as much attention as a human baby does.
We have many photographs of the dogs and their interaction with the family members.
But, we have to start off with the following two 'humorous' photographs.
Fred and Becky have three dogs and one cat.
Michelle and Steve have two dogs and one cat.
Melanie and Scott have zero pets.
Lily loves all kinds of animals.
Melanie is not an animal person.
(So, now you can appreciate the two photographs.)
A photograph of a dog lover. A photograph of someone asking, what are you doing on MY lap.
And, add this one, another dog lover.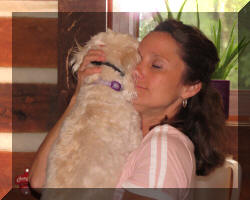 Yes, pets are definitely, family members.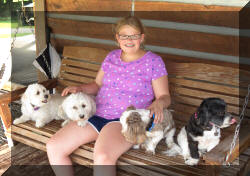 The more the merrier, ask Lily.