Family Reunion - 2016 & 50th Wedding Anniversary
Updated: 08/11/17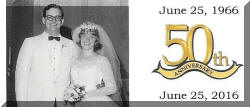 We celebrated our 2016 Family Reunion and 50th Wedding Anniversary in Troy, Ohio. Troy is half way between our condo (and Michelle and Melanie's homes) in Michigan and Fred's home in Indiana. We wanted the 50th anniversary celebration to be a 'no work/all fun' event. So, we reserved four rooms at the Holiday Inn Express and arranged meals for the family at various restaurants in Troy. As we spend the night in the Wal*Mart parking lot (the half way overnight spot) each time we travel to Fred and Becky's, we spent time in the Fall of 2015 and the Spring of 2016 making the arrangements. The motel staff went above and beyond expectations. All the restaurant staffs could not have been more cooperative or more efficient - everything took place exactly as planned. We celebrated both events well. Our thanks to all.
Daily Events: Thursday Friday Saturday Sunday
We arrived on Wednesday, a day ahead of everyone else. Our room was a "king suite'. It was a little larger room because it was going to be the 'hospitality room' for the long weekend - the gathering spot before and after other activities.
Thursday . . .
The family arrived at various times during the day.
Brushing time . . . Phone time . . .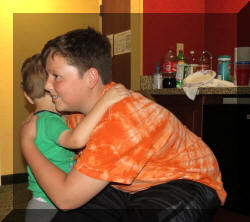 So sweet . . .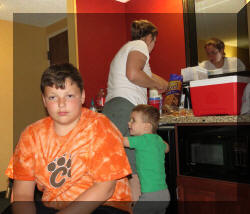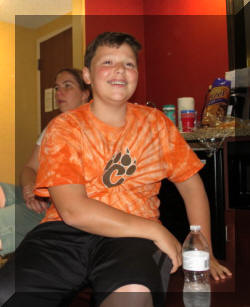 Nick looks tired ... but ... he can still give a smile.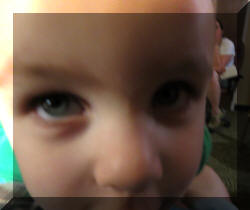 "Hi"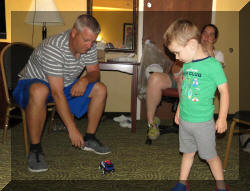 Playing with Uncle Fred with a motorized car.
Hey, Grandpa, they fit me. The 'hang out' play room. Wyatt playing with Aunt Becky and his mom.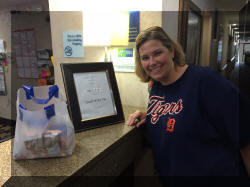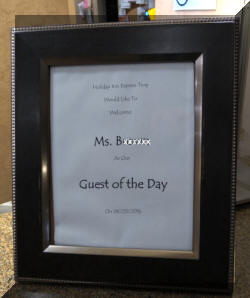 Michelle travels for business. We made our reservations but then added her account number so she got the points in her account.
To her surprise, they posted her as the 'Guest of the Day' on Thursday.
The motel was very cooperative . . . letting us have our arrival evening pizza party in the breakfast area.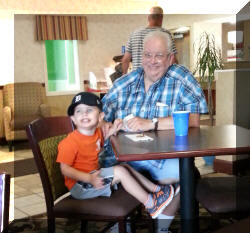 The motel also provided cookies . . .
Pool time . . .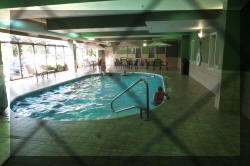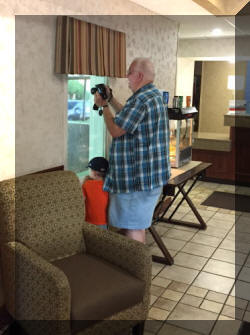 Grandpa, I can't go swimming yet.
All in . . .
Friday . . .
Breakfast at the motel . . .
Stepping out ... lunch at McDonalds.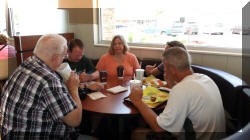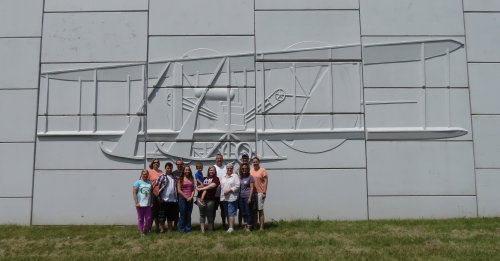 The agenda called for a group photograph in front of an embossed
airplane on the side of an I-75 overpass on the road to Scene 75.
Scene 75 . . .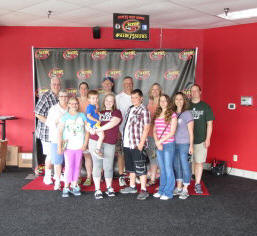 This is a family friendly indoor entertainment center. As you view our photographs, you will have a flavor of all the offerings. It is in a large warehouse building just north of Dayton so we did not get into a lot of traffic - that was nice.
Because everything for the weekend was in 50s and 5s, we purchased $50 play/ride/game cards and $5 cash for a beverage and a snack for all the adult and teens. Wyatt and Grandpa received smaller valued cards. The staff event planner was very cooperative when we met with her in the Spring - gave us a tour and gave a $25 gift card to Mary Lou. When we arrived, all the cards we specified were ready for us. This was a great event for all.
We went to Scene 75 on a weekday - good decision.
NOTE: because of the number of photographs made at Scene 75, there will not be a lot of narrative in this section. Enjoy the smiling faces.
Spin Zone = 'Dodge Cars'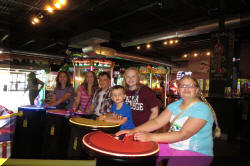 Miniature golf . . .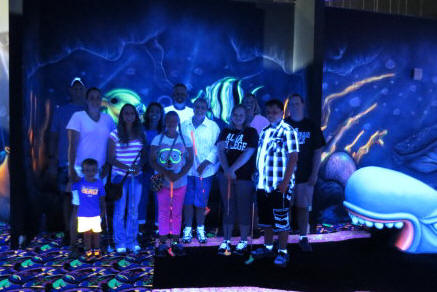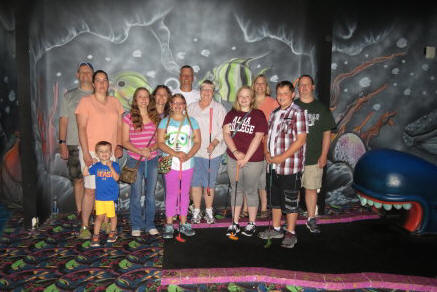 Bowling was a fun time . . .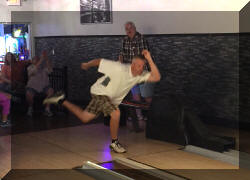 OK! We get it.
The GO CARTS were a blast ... look at all the smiles and the 'fun' competition in some eyes.
Get ready,
Get set,
Go,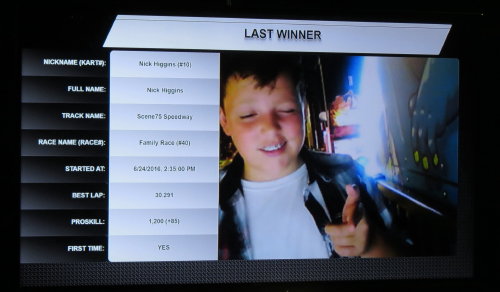 Next, Rider X . . .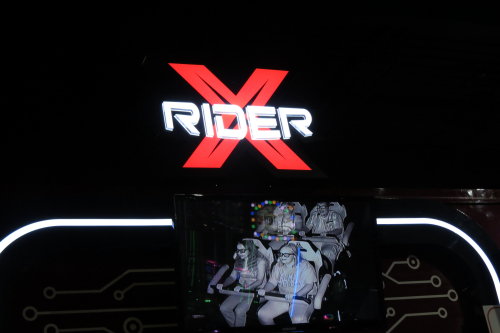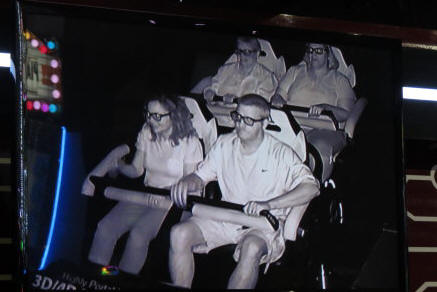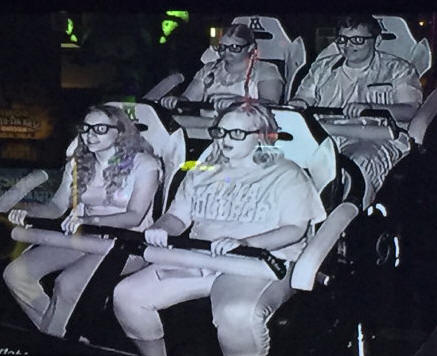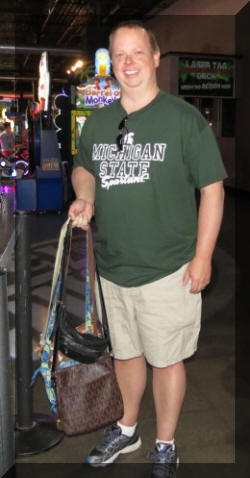 Riders on Rider X could not take purses and etc on the ride with them.
So, Scene 75 provided a hall tree to hang your valuables on . . . OOPS, sorry, that's Steve.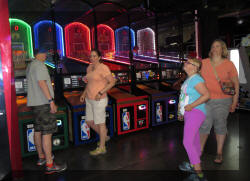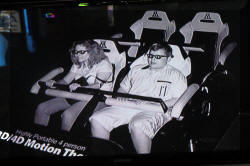 They used the last of the money on the cards on small games .
Cashing in tickets won at the various games for prizes . . .
Dinner at Applebees . . .
Pool time . . .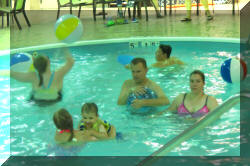 Grandma watching from the lobby. The popcorn gets soggy in the pool area.
Saturday . . .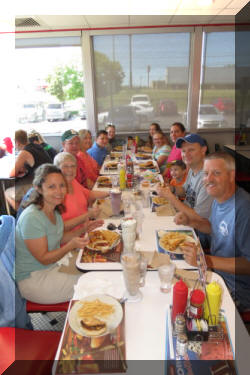 Lunch at the Steak and Shake . . . we say lunch because breakfast was provided by the motel.
It was close to lunchtime.
Then, off to Waco Airfield . . .

A museum video told us the history of The Waco Aircraft Company.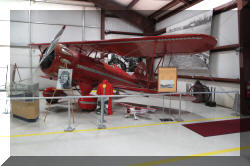 Some model planes were hanging from the ceiling.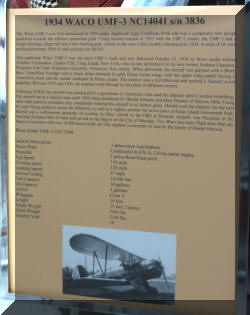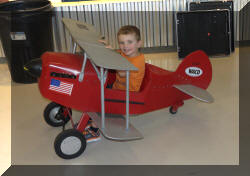 Some of the younger people got a little 'museum tired'.
Others found the flight simulators interesting.
Then, we heard the sound of airplane engines. So, outside we headed. This was the weekend for a fly-in of WWI era planes.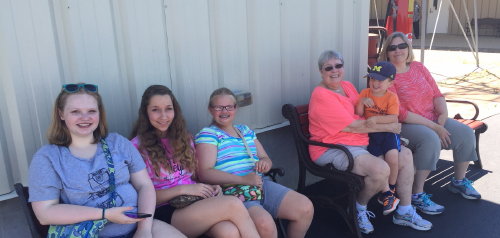 A shady spot to view the planes was appreciated.
Planes were circling to land . . .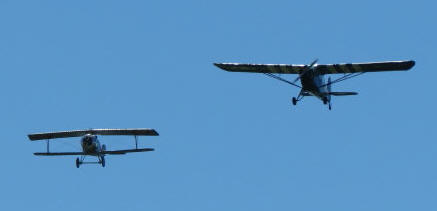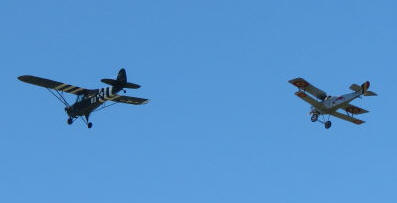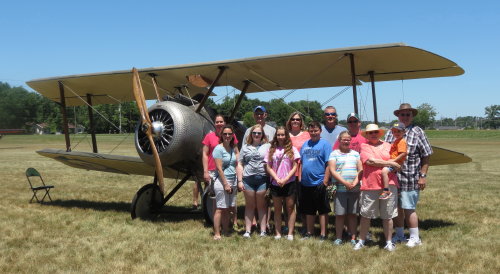 Ultralight planes were also landing.
Pedal planes had already 'landed'.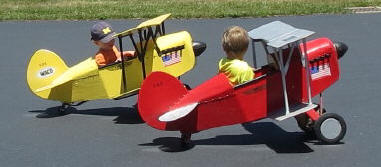 Getting ready to leave after spending the afternoon on the field. This event reminded us of the car shows we see around home and in many towns as we travel. People getting together to talk about their pride and joys.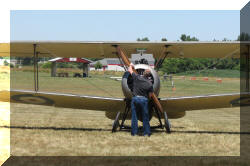 Winding the propeller . . .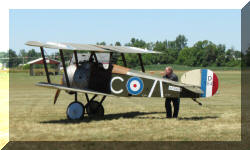 Picking up the tail to move the plane . . .
Climbing in . . .
First, a stop at the fuel pumps. Then, taxiing to the end of the runway.

Taking off . . .
The pilots made a couple circles overhead and flew towards home.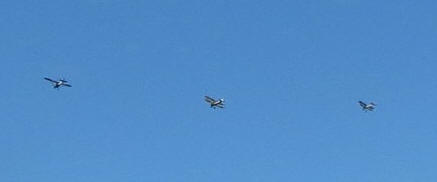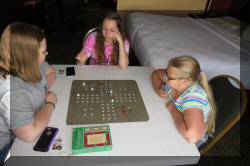 Before dinner, there was time for a game of Wahoo.
The 50th Anniversary Celebration . . .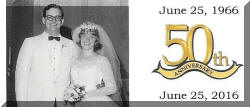 The 50th Anniversary Dinner . . .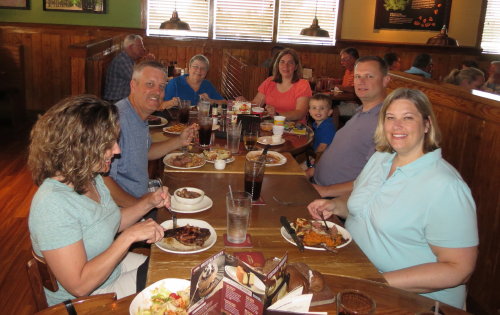 Dinner at Outback . . . providing a menu suitable for everyone.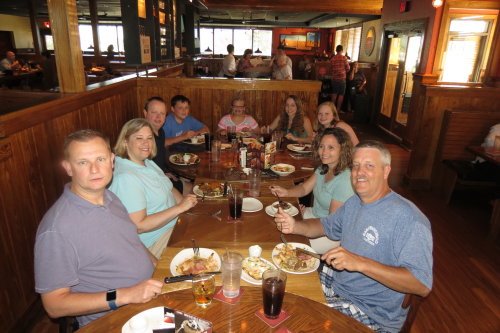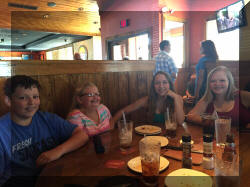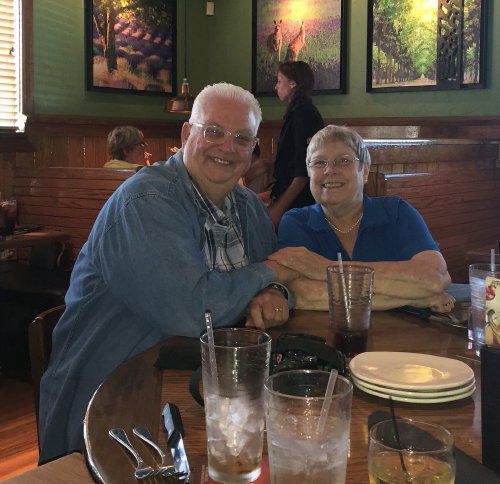 This is one of several photographs Michelle provided for our Web site.
The 50th Anniversary Party . . .
The motel provided and set up their meeting room at no cost to us. When Fred checked it out, he gathered the guys to rearrange the tables a little.
We all agreed that the meeting room made the 50th celebration more enjoyable than having it in our room.
Before going to dinner, we put a keepsake paperweight at each place. Our gift to the family.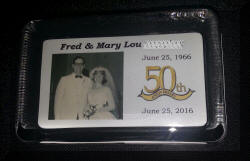 The girls added gifts to the table while we were relaxing a few minutes with the grandchildren in our room after dinner. (We decided later, it may have been a set-up to keep us occupied while they worked in the meeting room.)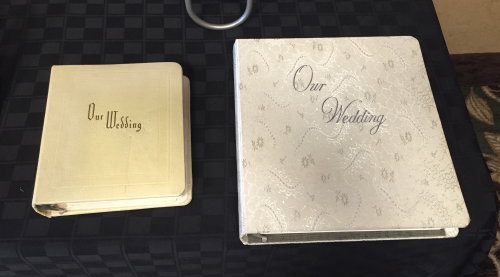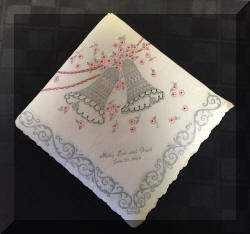 Our Wedding Albums came to the party. Along with an unopened package of napkins from our wedding.
Mary Lou asked everyone to write and read a page listing their favorite memories of their years with us. As they were read, there were tears and laughter. We appreciated the effort they put into the assignment - very touching.
Fred read his remembrances and presented us with a framed poem
written by a friend of his about our 50 years together.
Michelle made the photographs as others read their remembrances so she is not in the photographs.
We wrote and read our comments on our phones. Fred ended his comments on one knee, giving Mary Lou a 50th anniversary ring with five gold (yellow) diamonds.
After the remembrances, we were honored with unexpected gifts from the family.
A Christmas tree ornament Fred's framed poem . . .
from the grandchildren . . .
Michelle put together a Shutterfly photo album with photographs provided by the family members ... and ... many many photographs she found and copied (using her cell phone so she did not lose where it came from) on our CDs, in albums and in Xerox boxes of photographs, some still in 35mm K-Mart envelopes, going back 50 years. The album included two facing pages for each of the 50 years of our life together. It weighed a ton, reflecting the 50 years of marriage and family life we experienced.
(Fortunately, we traveled enough in the spring for Michelle to dig through our backup CDs, photo albums and Xerox boxes in our basement. Lily said they were there so long sometimes they ate dinner in our basement. Friends invited us to dinner to give Michelle additional 'basement time' and called her when we left their house giving her family 20 minutes to vacate our condo. It was a HUGE task - but, HUGELY appreciated.)
There was a lot of interest in the album because this was the first time the family saw the finished product. As we turned each page, memories popped off the page. It is an excellent collection of photographs.
The last page in the book was also framed for us to enjoy everyday. It has a place of honor next to the TV in the condo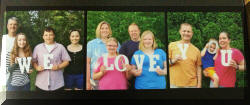 A horizontal view . . .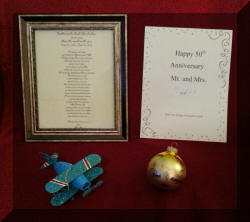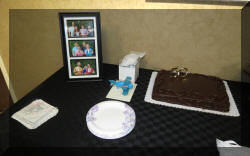 The photo album . . . Gifts . . . The party items . . .

Everyone enjoyed the airfield event so much,
Melanie added a airplane to the gifts.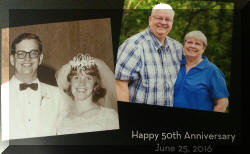 We haven't changed at all.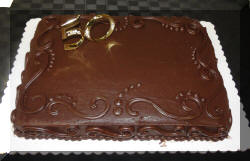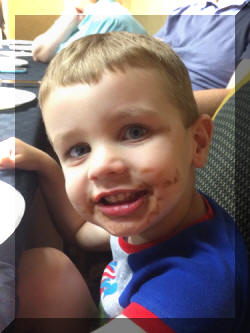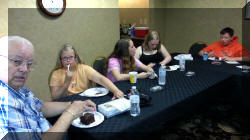 You can't beat a chocolate on chocolate cake. Wyatt agreed. So, did the others.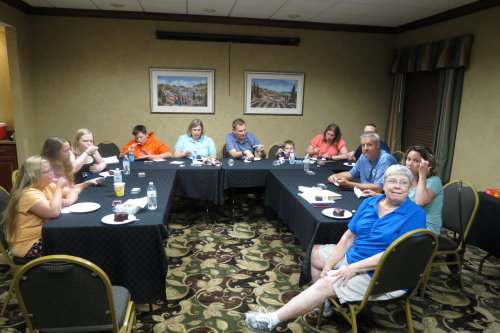 Everyone had a great time . . . especially us. It was a celebration of our 50 years together just like we wanted ... and ... more.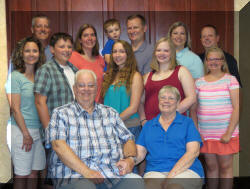 There was a mini-party afterwards in our room.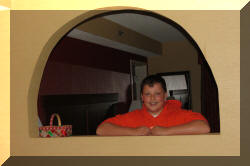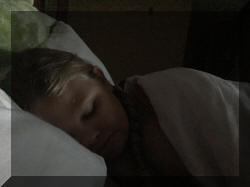 Nick thought the arch in our room was neat.
Lily was exhausted, she was sleeping.
Sunday . . .
Brunch at Bob Evans ... again, seating for 13 waiting for us. It was prearranged and we arrived on time.
Our combined Family Reunion and June 25th 50th Anniversary Celebration was coming to an end. How convenient that our actual anniversary date was June 25th. We appreciated that the family cleared their calendars to celebrate on that day. Nick got excused from basketball camp - he still made the team.
It was time for good-byes.
Michelle's family headed home from the restaurant, We were 'forced' to watch Wyatt (with Caitlin and Nick assisting) while the rest packed. It was a tough job, but as it is said, someone has to do it. What a joy!.
Nick showed Wyatt how to blow up balloons and let them fly.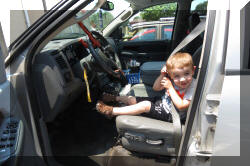 Wyatt loves to ride in Grandpa's big truck.
But, he had to ride home in his parent's SUV because
Grandma and Grandpa are staying in Troy another day.
Our thanks to our family for their loving actions
to make and exceed our expectations
for our 50th Anniversary Celebration.
It was a great weekend.
ps We enjoyed reliving our fantastic
weekend with our family as we
posted this page to our Web site.